Numbers Game: All the stats from Germany's fourth World Cup triumph
Germany are the first European team to win a World Cup in the Americas.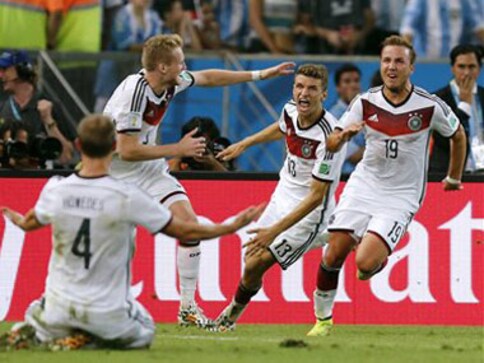 Germany beat Argentina 1-0 in extra-time to win their fourth World Cup — here are the tops stats from the final.
- All four of Germany's World Cup final wins have been by a one-goal margin. (1954: 3-2, 1974: 2-1, 1990: 1-0, 2014: 1-0 AET).
- The last five World Cup winners all wore blue shirts and/or blue shorts in the final. The last without: West Germany in 1990.
- At 22 years and 39 days, Mario Götze is the youngest scorer of a goal in a World Cup final since Wolfgang Weber in 1966 (22 years, 33 days).
- James Rodríguez becomes the 2014 WC top scorer. In last 8 WCs, only one Golden Boot winner also won World Cup title (Ronaldo 2002).
- Lionel Messi wins Golden Ball (player of the tournament). Last player to win the award from a winning side is still Romário in 1994.
- Andre Schurrle (assist) and Mario Gotze (goal) were the first players born in a unified Germany to appear for the side. Also, Toni Kroos has become the first player born in East Germany to win the World Cup. The goal was the first ever World Cup goal in a final scored and assisted by substitutes.
- Sami Khedira is the 10th player to win the European Cup/Champions League & World Cup in the same season.
- Mario Götze is the first player to score a winning goal as a substitute in a World Cup final. He has now scored 5 goals in his last 10 appearances for Germany in all competitions. He wasn't even born the last time Germany won the World Cup in 1990 (Gotze birthday: June 3rd 1992).
- Only Maradona (53, 1986) and Jairzinho (47, 1970) completed more dribbles in one World Cup (1966-2014) than Lionel Messi (46).
- Argentina failed to have a shot on target in a World Cup game for the first time since the 1990 final against Germany.
- Argentina trailed for only seven minutes at the 2014 World Cup. All 32 teams have now trailed at the 2014 World Cup.
- Germany averaged 24 touches in the attacking penalty area per game at this tournament entering today, but only had 12 in regulation
- Both teams with more than three WC titles (Brazil, Italy) secured their 4th 24 years after their 3rd title.
- Germany had 14 players aged 25 and under in their squad compared to just 10 for England.
- Germany are the first European team to win a World Cup in the Americas.
- UEFA (European teams) have won the World Cup for three successive tournaments, a confederation record.
- Germany have scored 18 goals this World Cup tournament, the most for a team in one World Cup since Brazil 2002 (18).
- 2014 is now the joint-highest scoring World Cup in history (level on 171 goals with France 98).
- It was the first World Cup goal Argentina have ever conceded in extra-time.
- There have been eight matches that have gone to extra-time at the 2014 World Cup, a joint-record along with 1990.
- Only one goalkeeper (Brazil's Julio César) has been penalised for a foul at the 2014 World Cup.
- Five of the last seven World Cup finals have been goalless at half-time. This was Germany's 11th extra-time match in a World Cup – equaling the most by a single side, along with Italy.
- Only Roger Milla has scored more goals as a substitute at the World Cup finals than André Schürrle. Schurrle didn't score in the final, but he got the assist. He has also scored or assisted a goal once every 63 mins at the tournament.
- 4396 are the number of days between Miroslav Klose's two World Cup final appearances, 21 days longer than Pele between 1958 & 1970.
- Schweinsteiger won his 108th cap today, drawing level with Klinsmann (5th place of all Germany players).
- Thomas Müller (2010 & 2014) and Miroslav Klose (2002 & 2006) are the only players to score 5+ goals at consecutive World Cups.
- It was eighty four years ago that France and Mexico played the first match in World Cup history.
Stats courtesy InfoStrada, Squawka, Opta, ESPN and WhoScored
Sports
The young trio of Ridhi Phor, Komalika Bari and Ankita Bhakat defeated Chinese Taipei 6-2 (56-52, 54-51, 54-55, 55-54) in a one-sided bronze medal play-off encounter
Sports
The sixth-seeded Indian mixed team will take on fourth-seeded Turkey in its bid to win country's third bronze medal from the meet.
Sports
FIFA are expected to select three venues each in Mexico and Canada for the first World Cup with three co-hosting nations, with the remainder to be in the United States