India registered a memorable eight-wicket win over Australia in the Chennai Test, where quite a few old records were broken and new ones established during the course of the match.
Here is a comprehensive look at some of the major ones.
- The win by eight wickets is India's largest over Australia by wickets margin. They had beaten Australia by seven wickets on three occasions — at Delhi in 1969-70 and 1996-97; and at Bangalore in 2010-11.
- The win is India's fourth in consecutive Tests at home against Australia. In fact India have not suffered a defeat in the last eight home Tests against Australia.
- MS Dhoni has now won all five home Tests in which he has captained India against Australia.
The win is the 21st for MS Dhoni as captain. With this he equalled Sourav Ganguly's record of winning most Tests as Indian captain.


- All 20 Australian wickets were taken by spinners – 12 by R Ashwin, five by Ravindra Jadeja and three by Harbhajan Singh. This provided only the sixth instance in Test history when spinners took all 20 wickets for a side in a Test.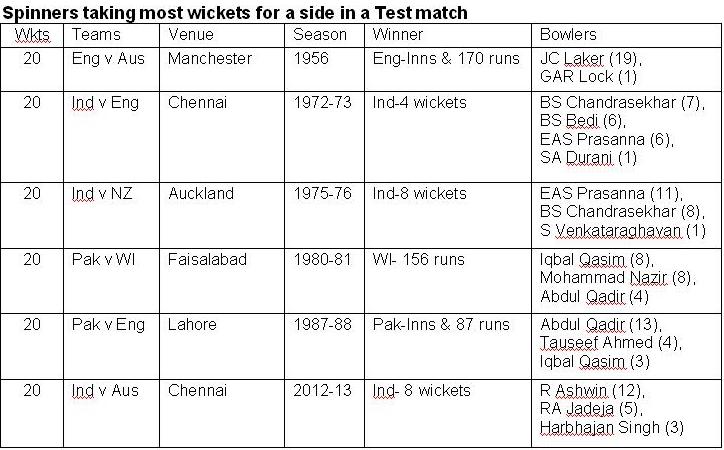 - MS Dhoni played a significant part in India's win by scoring a career best 224, which is also his highest score in first-class cricket, beating the 148 he made against Pakistan at Faisalabad in 2005-06.
- Dhoni's innings is now the highest by a player performing the dual duty of captaining his side and donning the wicket-keeper's gloves, obliterating Alec Stewart's 164 against South Africa at Manchester in 1998.


- Dhoni's innings is now the highest by an Indian captain in Test cricket, beating Sachin Tendulkar's 217 against New Zealand at Ahmedabad in 1999-00.

- Dhoni's innings is the third highest by any captain against Australia, after Wally Hammond's 240 at Lord's in 1938 and Salim Malik's 237 at Rawalpindi in 1994-95.
- Dhoni's innings is also the highest by an Indian wicket-keeper in Test cricket, beating Budhi Kunderan's 192 against England at Chennai in 1963-64.

- Dhoni's innings is also the highest by any number six batsman on Indian soil, surpassing AB de Villiers' 217 not out for South Africa at Ahmedabad in 2007-08. Incidentally Rahul Dravid's 180 — also against Australia at Kolkata in 2000-01 — was the previous highest score by an Indian at number six.
- Dhoni scored 109 runs in the post tea session on the third day. That made him only the sixth Indian batsman to score a hundred in a session after Polly Umrigar, Mohammad Azharuddin, VVS Laxman, Virender Sehwag and Yuvraj Singh. Sehwag has done this on three occasions.
- Dhoni scored 206 runs on the third day and became the first wicket-keeper to score 200 runs in a single day's play.
- Dhoni has now aggregated 2685 runs as Indian captain, which takes him past Sourav Ganguly's tally of 2561 runs. Only Sunil Gavaskar (3449) and Mohammad Azharuddin (2856) are ahead of Dhoni in scoring more runs as India's captain.
- Among the Indian captains who have aggregated at least 500 runs in their career, Dhoni's batting average of 44.75 is second only to Sachin Tendulkar (51.35) and Sunil Gavaskar (50.72).
- During his innings Dhoni also equalled Azharuddin's Indian record of aggregated 8215 runs as captain in international cricket (Tests/ ODIs/ T20Is). Dhoni's tally now stands at 8215 from 220 games at an average of 49.19 in all three formats of the game.
- During his innings, Dhoni completed his 4000 runs in Test cricket. He thus became first Indian and seventh wicket-keeper overall to reach this landmark.
- Dhoni raced to his double hundred off 231 balls, which is the sixth fastest double hundred by an Indian and 11th joint fastest in Test cricket. It is also the fastest double hundred against Australia. Viv Richards, who took 242 balls to race to his double hundred at Melbourne in 1984-85, held the previous record.
- Ravichandran Ashwin (12/198) claimed his second 10-wicket match haul in Test cricket. He had also taken 12/85 against New Zealand at Hyderabad in 2012.
- Ashwin's first innings figures of 7/103 are his best in Test cricket and first-class cricket, beating his 6/31 against New Zealand at Hyderabad in 2012.
- Ashwin has now taken 75 wickets in his 13 Tests. In the entire Test history only two bowlers — Australia's Charlie Turner and England's Tom Richardson reached this mark in fewer Tests (12). Two other bowlers – Australia's Fred Spofforth and Arthur Mailey - also took 13 Tests to accomplish this feat. Among the Indians Anil Kumble was the quickest with 14 Tests.
- The first six wickets to fall in Australia's first innings were all taken by Ashwin. He is the first Indian to do so since Anil Kumble vs Pakistan at Delhi in 1998-99 — when he took all 10.
- Michael Clarke — during the course of his 130 in the first innings — surpassed Don Bradman and Greg Chappell's run-tally to move to ninth place in the list of leading run-scorers for Australia.
- Incidentally, Clarke is the third quickest among Australians to reach the 7,000-run mark — taking 149 innings to do so. Only Matthew Hayden (142) and Ricky Ponting (145) took fewer innings to complete 7,000 runs for Australia (Don Bradman scored 6,996 runs in just 80 innings).
- The 130 was Clarke's third on Indian soil (he had made 151 on Test debut at Bangalore in 2004-05 and 112 at Delhi in 2008-09). He now shares the record of scoring most hundreds for Australia on Indian soil with Neil Harvey.
- Clarke's 130 is the highest innings by an Australian captain on Indian soil, cancelling out Ricky Ponting's 123 at Bangalore in 2008-09.
- Clarke and Dhoni provided the third instance of both captains scoring a hundred in same Test in India-Australia rivalry. The last time this had happened was also at Chennai in 1986-87 when Allan Border (106) and Kapil Dev (119) scored hundreds together. That match ended in a tie.
- Moises Henriques (68 and 81*) became only the second batsman in Test chronicles to score two fifties on debut batting at number seven. Sri Lanka's Dinesh Chandimal is the other one.
- Henriques' match aggregate of 149 runs is the highest for a player making his debut and batting at number seven. England's Matt Prior had aggregated 147 runs against West Indies at Lord's in 2007.
- Bhuvneshwar Kumar achieved the rare distinction of bowling the first over for his team on debut in all three formats of the game – Tests, ODIs and T20Is. Sri Lanka's Chaminda Vaas is the only other bowler to perform this feat.
- Sachin Tendulkar (81) made his 12th score in the eighties – most by any batsman in Test cricket. He was earlier at level with Allan Border, Mike Atherton and Rahul Dravid with 11 such instances.
- Tendulkar, on 60, completed 7000 Test runs at home soil. He became only the second batsman to do so after Ricky Ponting, who has aggregated 7578 runs in 92 Tests in Australia.
- Tendulkar, on 62, completed his 3500 runs against Australia in Test cricket. He became only the second batsman after England's Jack Hobbs to accomplish this feat.
- At the end of match, Tendulkar has scored 3532 runs against Australia. Only three batsmen have aggregated more Test runs against a particular country – Don Bradman (5028 vs England), Jack Hobbs (3636 v Australia) and Allan Border (3548 v England).
- Interestingly, Tendulkar now has the most scores in 80s (12), 90s (10 – record shared) and 100s (51).
- In India's first innings, first four Indian batsmen were all bowled. This provided only the third such instance for India. The other two came in the same series against Pakistan in 1954-55.
- Virat Kohli (107) made his fourth Test hundred – third at home and second against Australia. The hundred was also Kohli's second in consecutive Tests. He had made 103 against England at Nagpur in December 2012.
- Seven batsmen were out bowled in India's first innings- most India have lost in this manner in a Test innings. At Lord's in 1952 vs England and at Kolkata in 1958-59 vs West Indies also, seven Indian batsmen were out bowled.
- The 140-run partnership between Dhoni and Bhuvneshwar Kumar is India's best for the ninth wicket against Australia. Tthe previous record was a stand of 89 between Irfan Pathan and Harbhajan Singh at Bangalore in 2004-05.
- The above partnership is India's third best for this wicket against any country, after the 149-run partnership between Nana Joshi and Ramakant Desai against Pakistan at Mumbai Brabourne in 1960-61; and an unbroken 143-run partnership between Sunil Gavaskar and Syed Kirmani at Chennai in 1983-84.
- Nathan Lyon's figures of 3/215 in the first innings are the joint second most expensive by an Australian in an innings. Chuck Fleetwood-Smith had returned the figures of 1/298 in 87 overs against England at The Oval in 1938. Jason Krejza also conceded 215 runs while picking up eight wickets against India at Nagpur in 2008-09.
- The 10th wicket partnership of 66 runs between Henriques and Lyon was the highest partnership of Australia's second innings.
- Harbhajan Singh became the tenth Indian to play 100 Tests after Sachin Tendulkar (195), Rahul Dravid (164), VVS Laxman (134), Anil Kumble (132), Kapil Dev (131), Sunil Gavaskar (125), Dilip Vengsarkar (116), Sourav Ganguly (113) and Virender Sehwag (103).
- Harbhajan also became only the second off-spinner to appear in 100 Tests after Sri Lanka's Muttiah Muralitharan, who played in 133 Tests.
- Sachin Tendulkar has now moved to the fifth place among the players with longest career span in Test cricket, ahead of John Traicos - who had a career span of 23 years 40 days for two countries (South Africa and Zimbabwe). Now only Wilfred Rhodes (30 yrs 315 days), Brian Close (26 yrs 356 days), Frank Woolley (25 yrs 13 days) and George Headley (24 yrs 10 days) have a longer Test career span than Tendulkar's 23 years 103 days.
Updated Date: Feb 27, 2013 13:49 PM