NRAI President Raninder Singh says shooting federation will 'slowly wean itself off foreign chief coaches'
Given the success of Indian coaches at the junior level, National Rifle Association of India President Raninder Singh has said that the Indian shooting federation will slowly, but surely, start 'weaning the Indian shooting contingent' off foreign coaches
Given the success of Indian coaches at the junior level, National Rifle Association of India President Raninder Singh has said that the Indian shooting federation will slowly, but surely, start "weaning the Indian shooting contingent" off foreign chief coaches.
"The reason is very simple: at the end of the day we have to be self reliant," Raninder told journalists at an event to announce a strategic partnership between NRAI and JSW Sports. "One goes for the best talent in the world, where ever it may be. I find the best talent, in this case, belongs in India. We tried this strategy with the juniors who have all Indian coaches. And we were number one in the world at the World Championships in 2018. If you can be number one in the world in juniors, why can't we be number one in the seniors? I have nothing against foreign coaches — they are great coaches, some of them are the finest in the world. But at the end of the day, we have to look to our own."
While giving a tentative timeline for this shift, Raninder said that after the 2020 Tokyo Olympics, other than the odd foreign chief coach, there will be all Indian coaches even at the senior levels.
Raninder said that the success of the junior shooting coaches had proved to be decisive in the decision.
The junior shooting contingent is currently coached by Mansher Singh (shotgun), Deepali Deshpande (rifle), Jaspal Rana (pistol) while Suma Shirur also works with the rifle shooters.
"If you look at the juniors (based on the World Championship in Changwon), we are No 1 in the world, especially in the pistol events. One of the big reasons for that is that we have taken a conscious decision to wean ourselves away from foreign coaches (at the junior level) and develop our own talent and our own coaches for the future," he said.
Raninder also said that he had not consulted with shooters about this idea. However, he said that shooters would have the option of bringing in their own private coaches as they do now.
He also added that the strategic partnership with JSW Sport would not affect private organisations sponsoring athletes individually.
"While going from foreign coaches to Indian coaches, it is also my earnest desire to not be reliant on Government of India for a single rupee. We must be a self-sustaining sport. Whatever it takes for us to get there, we're very far from it. Therefore, we have to have strategic partnerships (like the one with JSW)," he said before adding, "Our need (to have this strategic partnership) was to bridge the gap. We can't have a coach of the calibre of Jaspal Rana being paid a pittance a month should we stick to government norms. The government can't help with these things because they have norms. They cannot violate those norms themselves. So it is for us to find strategic partnerships to bridge the gap. In government norms, for sports sciences there is no provision. There is one for physiotherapists, for around Rs 2,000 a day. At the World Championships, we had 128 athletes and one physio!"
Sports
The National Rifle Association of India (NRAI) today decided to refer the case involving top foreign coach Stanislav Lapidus, accused of seeking sexual favours from junior shooters, to its Athletes Commission that also includes complainants Anjali Bhagwat and Suma Shirur.
Sports
The highly-successful national coach, Rana didn't seem to be in agreement with the NRAI's plans to have shooters train in India only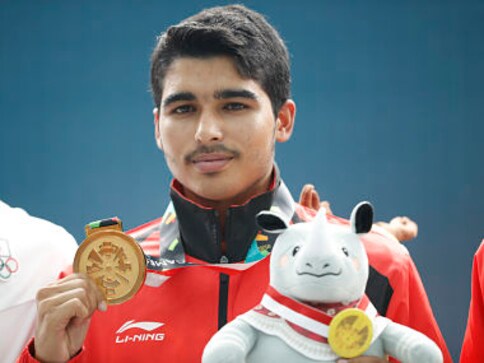 Sports
Jaspal Rana has claimed that a tweak in selection policy kept 16-year-old Asian Games gold-medallist Saurabh Chaudhary out of the national team for a year.