Novak Djokovic's Career Slam journey: From sick-note Serb to Grand Slam King
Paris: Novak Djokovic was once the sick-note Serb whose undoubted promise was at the mercy of a variety of frustrating aches, pains and assorted strains.
But after securing a first French Open on Sunday to become only the third man to hold all four Grand Slams at the same time, the 29-year-old world number one is now the sport's greatest warrior.
He is now also halfway to a calendar Grand Slam, a feat only achieved by two men, Don Budge and Rod Laver, the last of which was in 1969.
He also has 65 titles to his name while 2016 has seen him defeated just three times in 47 matches.
"I'm honoured to be a part of the legends of our sport and to manage to win this many Grand Slam trophies," said Djokovic, who started playing tennis when he was four-years-old before leaving for Germany when he was 12 to escape NATO bombs which were blasting Belgrade.
The Serb's ability to thrive amongst the greats was never in doubt, but the size of his heart certainly was.
At Wimbledon in 2007, he retired with a back injury in the third set of his semi-final against Nadal.
He also quit at the 2006 and 2007 French Opens at the third round and quarter-final stages respectively, while at the 2009 Australian Open, where he was defending champion, he pulled out of his quarter-final with Andy Roddick citing heat exhaustion.
But at the 2012 Australian Open, nobody was questioning his stamina anymore when he beat Nadal in the longest Grand Slam final of all time, a draining 5hr 53min marathon.
Djokovic captured the first of his 12 majors in Melbourne in 2008, but it was three years before he added his second.
He dropped gluten from his diet, his lithe physique allowing him to chase down lost causes, transforming him into the rubber man of tennis.
Djokovic also refused to be resigned to the dominance of Federer and Nadal who were carving up majors at will.
After leading Serbia to a maiden Davis Cup in 2010, he raced through the first half of 2011, building up a 48-1 winning run.
Only a semi-final defeat at the French Open prevented him from becoming just the third man to celebrate a calendar Grand Slam.
Despite that, he still finished 2011 with a 70-6 win-loss record, a haul of 10 tournament victories and as year-end number one for the first time.
People's champion?
Back-to-back Australian Opens followed in 2012 and 2013 although the French Open remained frustratingly out of reach with three heart-breaking losses until Sunday's breakthrough.
He now holds six Australian Open titles, three at Wimbledon and two at the US Open to add to his Paris trophy.
Djokovic is now just five majors behind Federer's record of 17 but is the best part of six years younger than the Swiss whose last Slam came at Wimbledon in 2012.
Nadal's 14 is his next target.
Djokovic is also the model of consistency. The last time he failed to make at least the quarter-finals of the majors was when he slipped to a third round loss at the 2009 French Open.
In Paris this year, he became the first player to break through the $100 million barrier in prize money.
He is also not afraid to innovate, bringing in Boris Becker as part of his coaching team for the start of the 2014 season. He became a vegetarian this year.
Off court, Djokovic married long-time girlfriend Jelena Ristic in July 2014 and they have a son Stefan born in October that year.
Despite all his achievements and rare support from the Paris crowd on Sunday as he defeated Andy Murray in four sets, Djokovic appears doomed never to be held in the same affection as the clean-cut, majestic Federer or Nadal, the humble assassin.
There are those that see something a little more calculating in the Djokovic make-up.
In last year's French Open semi-finals, he was castigated for taking an eight-minute medical time-out after dropping the third set against Murray.
The Scotsman had lost the first two sets but the momentum was with him when play was halted for the night.
Djokovic completed victory the following day.
At Indian Wells this year, he was roundly criticised for his comments on equal prize money for women.
In this claycourt season, it was his temperament that was questioned when he pushed the arm of an umpire in Rome.
Then, in Paris, he admitted he was lucky not to have been disqualified when a his racquet slipped from his hands and came within a whisker of hitting a line judge in the face.
But those indiscretions were forgotten in Paris on Sunday as Djokovic hammered home his right to be regarded as the greatest player of all time.
Sports
Chief Justice James Allsop and Justices James Besanko and David O'Callaghan on Thursday released a 27-page explanation of why they rejected Djokovic's challenge.
Sports
French Sports Minister Roxana Maracineanu told radio station France Info that Djokovic, who has openly been sceptical about the vaccine, would benefit from a special case scenario in France for major events such as the French Open.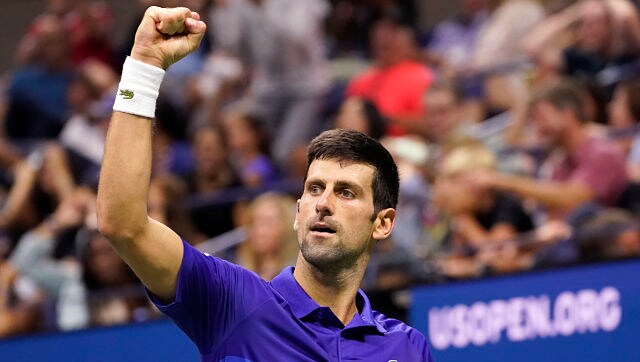 Sports
Djokovic is awaiting court proceedings on Monday that will determine whether he can defend his Australian Open title or whether he will be deported and the world has shown keen interest in his temporary accommodation