Novak Djokovic expresses 'disappointment with court ruling' after losing deportation appeal
In a statement after the verdict, Djokovic said he was 'disappointed with the ruling' but clarified he will 'respect' it.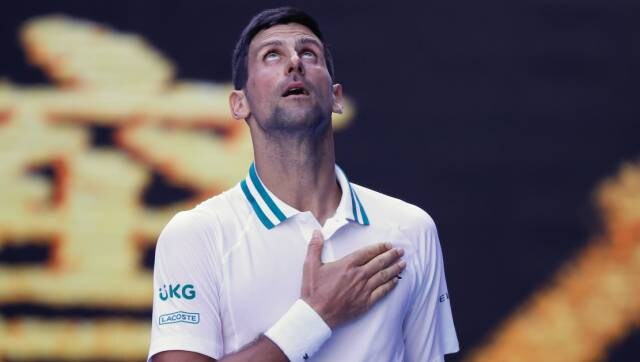 Novak Djokovic lost his final bid to avoid deportation from Australia on Sunday, ending a sensational 11-day battle over his Covid-19 vaccination status and dashing his dream of a record 21st Grand Slam.
In a few dry words, the chief justice of Australia's Federal Court, James Allsop, Sunday dispensed with the unvaccinated tennis superstar's attempt to reinstate his cancelled visa.
"The orders of the court are that the amended application be dismissed with costs", Allsop said announcing the unanimous decision, on the eve of the first matches at the Australian Open.
The 34-year-old defending champion and first seed had been scheduled to play in the evening of the first day. If he had retained the title he would become the first men's tennis player in history to win 21 Grand Slams.
Instead, the openly anti-Covid vaccine tennis superstar is now set to be kept in detention pending a quick flight out of Australia.
Three Federal Court justices had listened to a half-day of feisty legal back-and-forth about Djokovic's alleged risk to public order in Australia.
In a statement after the verdict, Djokovic said he was 'disappointed with the ruling' but clarified he will 'respect' it.
"I would like to make a brief statement to address the outcomes of today's Court hearing. I will now be taking some time to rest and to recuperate, before making any further comments beyond this."
"I am extremely disappointed with the ruling to dismiss my application for judicial review of the decision to cancel my visa, which means I cannot stay in Australia and participate in the Australian Open."
"I respect the Court's ruling and I'll cooperate with the relevant authorities in relation to my departure from the country."
"I am uncomfortable that the focus of the past weeks has been on me and I hope that we can all now focus on the game and tournament I love. I would like to wish the players, tournament officials, staff, volunteers and fans all the best for the tournament."
"Finally, I would like to thank my family, friends, team, supporters, fans and my fellow Serbians for your continued support. You have all been a great source of strength to me."
Men's tennis body ATP Tour in a statement later said, "Today's decision to uphold Novak Djokovic's Australian visa cancellation marks the end of a deeply regrettable series of events. Ultimately, decisions of legal authorities regarding matters of public health must be respected. More time is required to take stock of the facts and to take the learnings from this situation."
"Irrespective of how this point has been reached, Novak is one of our sport's greatest champions and his absence from the Australian Open is a loss for the game. We know how turbulent the recent days have been for Novak and how much he wanted to defend his title in Melbourne. We wish him well and look forward to seeing him back on court soon."
"ATP continues to strongly recommend vaccination to all players."
Sports
Djokovic is chasing a sixth title in Rome ahead of Roland Garros and dealt with Casper Ruud on his way to a 12th final at one of his favourite venues.
Sports
Carlos Alcaraz became the youngest player since the start of the ATP Tour in 1990 to beat three top-five players at the same event.
Sports
Rafael Nadal, who turns 36 on 3 June, is playing his final warm-up in Rome this week before attempting to add to his record total of 13 French Open titles.