'Not the most wonderful time of the year for some:' Twitter reacts as Manchester United and Jose Mourinho part ways
A compilation of Twitter reactions to Portuguese manager Jose Mourinho's departure from Premier League club Manchester United.
Manchester United manager Jose Mourinho has left the club with immediate effect following a dismal start to the season, the Premier League side announced on Tuesday.
United have made their worst start to a league season in 28 years and were beaten 3-1 by arch-rivals Liverpoool on Sunday in what was Mourinho's final match in charge of the club.
"Manchester United announces that manager Jose Mourinho has left the club with immediate effect," United said in a statement.
Expectedly, the statement saw football fans, players and pundits descend on social media in ravenous hordes, Twitter fingers hastily typing out gleeful shots at the expense of the Portuguese manager. Whilst a minority of the responses to his termination were sympathetic, Mourinho's acerbic personality has left him with few fans in the footballing world, and that was evident in some of the tweets we decided to compile for your viewing pleasure:
Although a few Manchester United fans wrote heartfelt messages for Mourinho, the majority of tweets were slightly more celebratory in nature.
A number of people pointed out a significant shift in the values Manchester United has often held above all else, stating that Mourinho's departure was contrary to what many have come to expect from the club.
Mourinho has provided more than his fair share of viral moments in an eventful spell in charge of Manchester United, giving fans an abundance of ammunition to lob his way.
Of the many things that can be said about Mourinho's departure, no one can say they didn't see it coming, with people mentioning that it was long overdue.
Several people were rather quick to point out the fact that Mourinho has a record of being pushed out the door right around the festive season.
Mourinho's on and off battles against his players have been followed closely by the media over the course of the past six months, and Twitter users figured a certain Paul Labile Pogba would be particularly relieved after reading Tuesday's news.
Whilst United explicitly stated that Michael Carrick will take over as interim manager until the club can figure out a slightly longer (?) short-term replacement, it definitely didn't stop people from letting their imaginations run wild.
And while this has been an important development, a few people chose to remind everyone that there are bigger things at hand, namely the IPL Auction.
With inputs from Agencies.
Football
Gomes, who won the Copa Libertadores last year, moved to Molineux despite interest from Lyon
Football
Sean Dyche, who has agreed a two-and-a-half-year contract, has a tough first match -- up against Premier League leaders Arsenal at Goodison Park on Saturday.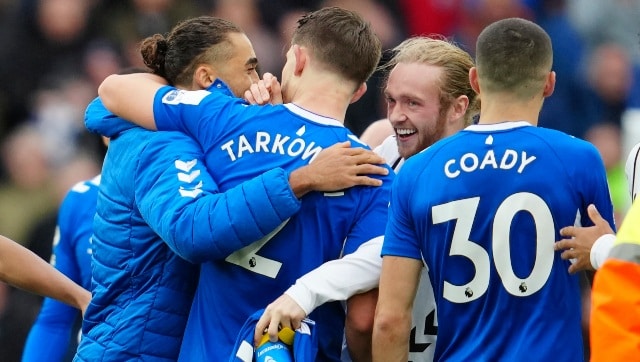 Football
Arsenal remain five points clear of Manchester City at the top of the table but may rue a huge chance to extend their advantage as they aim for a first league title since 2004.