Not realistic to expect a medal: Indian hockey coach Oltmans says team will target a top-six finish at Rio Olympics
Indian men hockey team's chief coach Roelant Oltmans today said it would be unrealistic to expect a gold medal-winning performance from the past masters of the game in this year's Rio Olympics.
Bengaluru: Indian men hockey team's chief coach Roelant Oltmans today said it would be unrealistic to expect a gold medal-winning performance from the past masters of the game in this year's Rio Olympics.
Oltmans said a top-six finish is what they are eyeing and anything above that would be a bonus.
"In last Olympics, India finished 12th and stood sixth in the World Cup a couple of years back. So, how realistic will it be to expect a medal? If we reach top six position and manage to achieve even more, that could be a bonus," he told reporters after a training session at the SAI Centre here.
Oltmans said his approach of winning a tournament is very different from the Indian approach where people aim for medals.
"Our approach is different from Indians who dream of winning gold, a silver or the cup. Unlike I approach a tournament to win one match after match," he said.
The Dutchman said he is not worried about the outcome in any tournment as for him the important thing is to execute plans successfully.
"For me, the outcome of the tournament is not the most important thing but executing our plans well against the best sides in the world," he said.
Talking about the current Indian team, Oltmans said the players are very keen to learn all aspects of the game.
"This current Indian side is really eager to learn - the technical, the physical and mental aspects of the game everyday. We are together every moment and they are able to change the mindset and looking to play like improved players," he said.
Asked which areas he was focusing on to improve, Oltmans said, "We always make sure that we have the right balance in the side. Of course we focus on improving goalkeeping. In fact our goalkeeper is one of the best goalkeepers in the world, but still we bring specialists to work with him."
"We also have four penalty corner specialists, and we are working on them too. The most important thing, however, is to adapt to the match situations," he said.
Oltmans said Indian players will not find it tough to play in Rio as the weather there would be fine.
"The playing condition in Brazil will be fine. It is really not hot and it is not really cold. It is somewhere in between. So, the condition there will be fine for us to play games. The heat will be somewhere around 18 to 20," he said.
Oltmans feels next month's Sultan Azlan Shah Cup will be an ideal preparation for his boys ahead of the Rio Games.
India will face New Zealand, Australia, Pakistan, Japan, Canada and hosts Malaysia in the 25th edition of the Azlan Shah Cup to be held in Ipoh, Malaysia starting April 6.
With a good mix of youth and experience players up his ranks, the Dutchman feels the squad has what it takes to go all the way.
Oltmans has been laying emphasis on having specialists in the team and the implementation of the same has paid rich dividends in the previous season.
"We have specialists in each department now and that is helping the boys understand their role better. Hockey India League has definitely helped us tap some good talent but now it's all about showcasing their mettle in the international stage," Oltmans said.
India has had a good run in the Sultan Azlan Shah Cup, winning the annual event five times in 1985, 1991, 1995, 2009 and 2010, earning bronze on six occasions and finishing runners-up once in 2008.
"We don't want to put extra pressure on ourselves right now, we just want to focus on one game at a time and then take it forward from there," Oltmans said.
The team has undergone intense training sessions and Oltmans feels they are in good shape leading to the event in Malaysia.
"Sultan Azlan Shah Cup will be a testing ground for all the youngsters of the squad to prove that they are ready for the big stage in Rio this year," said Oltmans.
With 2016 being the Olympic year, tournaments leading to the Games will act as a perfect platform for the squad to blend together and work on their strengths.
Oltmans feels it will also allow him to test his bench strength and find the best possible combinations on ground before the quadrennial showpiece begins in August.
PTI
Sports
"There is enough competition within the core group to make the final squad. I understand this Olympics may be very different from the previous ones. But representing India at the Olympics Games is every sports person's dream," Goyal was quoted as saying by a Hockey India release.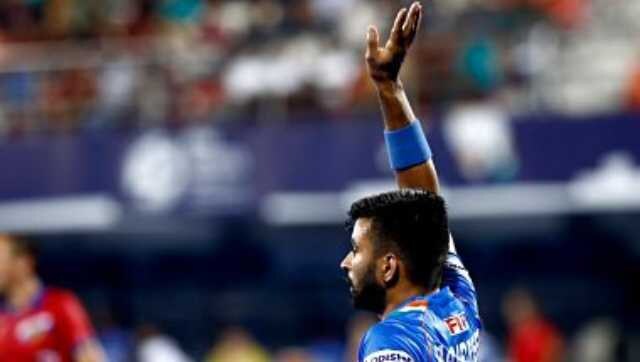 Sports
The Indian men's hockey team was scheduled to play against Spain on 15 and 16 May, followed by the two-leg tie in Germany on 23 and 24 May.
Sports
Lalremsiami also said that she is looking to make a bigger impact for the Indian team this year.