No place for religious or cultural codes in sports, says Indian chess Grand Master Soumya Swaminathan on pulling out from Iran event
This is not the first time that Soumya has played in Iran. She had also played in 2011 in Iran when she was 22 years old and had then worn a headscarf.
"Tournaments should be held in places which uphold the rights of humans," says ace chess player Soumya Swaminathan after withdrawing from the Asian Nations Cup 2018 due to compulsory rule of wearing a hijab.
One of India's finest woman chess players, former World Junior Champion, former Commonwealth Champion and Woman Grandmaster Soumya Swaminathan has decided to pull out of the Asian Nations Cup 2018 that will be held in Iran from 24 July to 4 August, 2018. The reason for her withdrawal is that it is compulsory for women players to wear a hijab/headscarf if they are playing in the tournament.
"I feel wearing a headscarf is violative of my human rights. There is no place for such an enforceable rule, especially while playing sports. In sports there is no place for religious or cultural dress codes. I completely respect people who would like to wear a hijab, but how can you enforce it?" asks Soumya, who is clearly upset at missing out on such a huge opportunity to represent her country.
"I am definitely very sad that I missed this opportunity. Especially because these Asian events are qualifying events for the world level tournaments. I felt very sad and dejected and that is the reason why I decided to write about it."
This is not the first time that Soumya has played in Iran. She had also played in 2011 in Iran when she was 22 years old and had then worn a headscarf. "When I played in 2011 that was my first experience as an adult. I learnt something from that experience and the moment I came back home, I made a decision. I knew that at some point there would be an important tournament that will be held in Iran for which I could qualify, and that's when I decided that I won't play there if a rule to wear the headscarf is implemented".
Hailing from Pune, 29-year-old Soumya has studied law. "In 2011 I was a law student and that is the reason why I thought about it in this way. Of course, my personal values also helped me to think in this direction, but my legal background did make a difference."
This is not for the first time that we see a chess player pulling out of a tournament that is being held in Iran. In 2017, the Women's World Championship was held in Iran and the American National Champion Nazi Paikidze took a stance that she will not play in the competition. Asking Soumya about the incident, she said, "I also signed Nazi Paikidze's petition when she decided not play in the Women's World Championship in 2017 and shared it. I was completely in agreement with her decision."
What has been the stance of the All India Chess Federation (AICF) on this issue? "AICF has given me the right to choose whether I want to play this tournament or not. I am thankful to them for that. With regards to my teammates, we didn't have a big discussion on this subject. I think every person is entitled to their opinion. And every person can make their own decisions based on their priorities."
Soumya doesn't blame anyone for this situation, but she does think that a positive change should be brought about. "I think the body which allots tournaments and the host federation which is holding the event should both work together to ensure that the rights and the welfare of the players are upheld. I really hope that in future things change and the players' rights are taken care off. And I am quite positive that this will happen."
Since Soumya made a Facebook post, a lot of people have supported and applauded her decision. The number of likes on her Facebook page has also grown from 2000 to 9000!
"I am very pleasantly surprised and grateful about all the support that I received. I wrote this Facebook post only so that I could clear my stand and thought that if some chess players read it, it would lead to some sort of a conversation and we could hope for a positive change. But this reaction was not at all expected. I am so grateful to everyone who understood my stand and have supported me," she said.
Does Soumya fear that things are going out of proportion? "As far as the decision goes, I was very clear about it. I had no fear. I think you should never take any decisions in life based on fear. People have understood my decision for what it is, and this means a lot to me."
As a final note Soumya says, "There are many countries in the world and federations that uphold the rights of human beings. The logical conclusion would be that tournaments should be only be held in places where players' freedom and rights are given importance. I took my decision and wanted my voice to be heard. If other players are of the same opinion as me, then we can come together and make a change."
Sagar Shah is an International Master in chess and the CEO of ChessBase India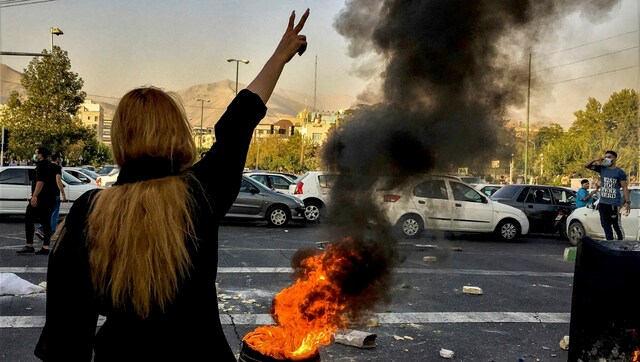 World
The penalties will apply to women who are caught flouting the mandatory hijab rule in public spaces like restaurants, government offices, schools and universities
World
Mohammad Saleh Nikbakht was accused of conducting interviews for the purpose of his ongoing cases, including that of Mahsa Amini