Nick Kyrgios agrees to see sports psychologist, will only face three-week suspension
Tennis Australia said Monday wayward star Nick Kyrgios will seek a reduced ATP ban and see a sports psychologist to avoid a longer suspension.
Sydney: Tennis Australia (TA) said Monday wayward star Nick Kyrgios will seek a reduced ATP ban and see a sports psychologist to avoid a longer suspension.
The ATP has ordered Kyrgios to see a sports psychologist or face an eight-week ban after his tantrum at the Shanghai Masters last week.
A TA spokeswoman told AFP Kyrgios had agreed to seek help, but the 21-year-old's season was over once the reduced three-week ban had expired on 7 November.
"We have spoken to his management and Nick has agreed to seek the help of a sports psychologist and will now be available to play in the Hopman Cup in early January," she said.
The Hopman Cup mixed teams event is in Perth from 1-7 January ahead of next year's opening Grand Slam the Australian Open in Melbourne on 16 January.
Kyrgios has apologised for his controversial on-court behaviour after the ATP hit him with the conditional eight-week ban and further fines on Monday.
The tennis tour organisers added $25,000 to a $16,500 penalty ordered last week and said the eight-week ban would be reduced to three weeks if he "enters a plan of care under the direction of a sports psychologist, or an equivalent plan approved by ATP."
Kyrgios, who has courted unwanted headlines in his short but stormy career, apologised in a statement and said he would use the time to "improve on and off the court".
"Following the ATP's decision today I would like to take this opportunity to apologise again for the circumstances in Shanghai," he said.
"The season has been a long one as I battled several injuries and other challenges towards the end of the summer.
"The Asian circuit was particularly tough after the long week and win in Tokyo and with the travel throughout the continent, my body finally just gave out in Shanghai both physically and mentally.
"This is no excuse, and I know very well that I need to apologise to the fans -- in Shanghai and other parts of the world -- as well as the tournament organisers in Shanghai who do an amazing job."
Kyrgios said he regretted how his year was ending.
"I regret that my year is ending this way and that I will not have a chance to continue chasing the ATP Finals. This was an important goal for me," he added.
"I do understand and respect the decision by the ATP and I will use this time off to improve on and off the court."
Tennis Australia said it supported the ATP sanction on Kyrgios, but expressed its concern over the troubled star's well-being.
"Nick's health and well-being is a priority and the ATP has offered a reduced penalty on the provision that he seeks appropriate professional advice, which he has agreed to do," TA said in a statement.
"Nick understands the gravity of his actions, has shown remorse and expressed a willingness to improve."
Sports
At 3hr 45min it was the longest best-of-three match this year, the ATP said, eclipsing the 3hr 38min played by Rafael Nadal and Stefanos Tsitsipas in the Barcelona final in April.
Sports
Spain are the reigning champion thanks to its 2019 title; the Davis Cup was called off last year because of the coronavirus pandemic.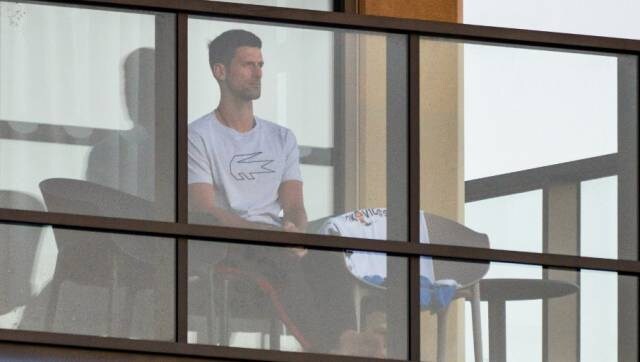 Sports
The email to players from the women's governing body was leaked and contradicts officials earlier statements implying unvaccinated players would not be granted visas.