NBA: With a new season tipping-off in a few hours, here's a ready reckoner to all the 30 teams
Ahead of the 2018-19 NBA season, here's all you need to know about all 30 teams in the American basketball league.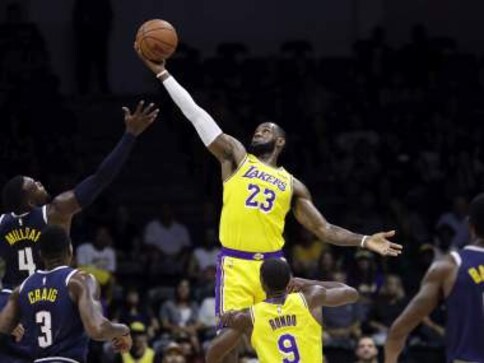 Two-time NBA Most Valuable Player Stephen Curry will enjoy watching the Golden State Warriors hoist another championship banner on Tuesday when they open the 2018-19 NBA campaign against Oklahoma City.
But the 3-point sharpshooter doesn't need to look to the rafters to know the Warriors remain the team to beat as they begin the quest for a third consecutive NBA title and fourth crown in five seasons.
The Warriors boast three other All-Stars in two-time NBA Finals Most Valuable Player Kevin Durant, defensive stalwart Draymond Green and Curry's backcourt partner Klay Thompson — plus a fifth in injured center DeMarcus Cousins, signed in July but still sidelined after left Achilles tendon surgery in January.
Golden State will try to become the first team since the 2000-2002 Los Angeles Lakers to win three consecutive NBA titles and join the 1950s Minneapolis Lakers and 1960s Boston Celtics as the only clubs to win four titles in five years.
The Houston Rockets, who pushed the Warriors to seven games in last season's Western Conference finals, and the Boston Celtics, bringing back injured stars Kyrie Irving and Gordon Hayward to a team that was one win from last season's Eastern Conference crown, figure to lead a pack of rivals who ache for a chance to play for the championship.
No one knows that better than the Rockets, who won a league-best 65 games last season behind NBA Most Valuable Player and scoring champion James Harden. Houston led Golden State 3-2 in the West finals before Chris Paul suffered an injured hamstring and missed the last two games, both won by the Warriors to reach the NBA Finals, where they swept Cleveland for the crown.
While four-time NBA MVP LeBron James left Cleveland for the Los Angeles Lakers, he's unlikely to lift them from 35 wins to title contenders in a season, leaving the Rockets to again offer the best threat in the West to Golden State's supremacy after adding 10-time All-Star Carmelo Anthony to the lineup.
The Celtics have some sorting to do as well in an East up for grabs with James gone from Cleveland. Toronto added Kawhi Leonard and Philadelphia offers young star talent but Boston figures to be the best in the East.
All-Stars Irving and Hayward suffered season-ending injuries that allowed Jayson Tatum, Jaylen Brown and Terry Rozier to make an impact and nearly put the Celtics in the finals anyway. Blending the talent into a formidable lineup over the six-month season figures to make Boston a title threat.
Sports
Jokic has been a rare everyday player this season, a big man who logged big minutes. He's the only player to start all of his team's regular-season games in the last two seasons, being on the floor for tip-off all 145 times.
Sports
Anthony Davis missed half of the 72-game regular season because of a string of injuries. LeBron James, who missed more than 20 games this season with a high right ankle sprain.
Sports
Jae Crowder scored 18 points for the second-seeded Suns, who won three consecutive games to send LeBron James to a first-round series loss for the first time in his 18-year NBA career.