NBA: Wantaway Jimmy Butler likely to start in Minnesota Timberwolves' opener despite publicly criticising teammates
Jimmy Butler has caused relationships in the Minnesota Timberwolves to become strained as the player attempts to force through a move by criticising his teammates.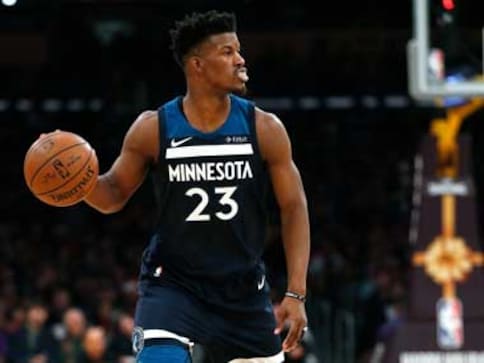 Minneapolis: Jimmy Butler is still suiting up for the Minnesota Timberwolves, with the opener three days away.
Despite his preference to play elsewhere, signs have begun to point to him staying with the Timberwolves at least to start the season. Butler took part in practice on Sunday, the second time he has done so since training camp began with his trade request as the focal point of the team.
"They want me to go out here and hoop to the best of my abilities," Butler said, adding, "make sure I'm healthy, compete, because that's what I love to do, and do it for the guys in the same jerseys as me."
Butler made a surprising, and reportedly disruptive, appearance with the Wolves during their workout on Wednesday. They canceled practice on Thursday, after Butler went on ESPN to try to explain his motivations and frustrations in a wide-ranging interview that included criticism of the consistency of the effort by teammates Karl-Anthony Towns and Andrew Wiggins. When the Wolves played a preseason game in Milwaukee on Friday, Butler stayed back. The team was off on Saturday.
"I can go out there and I can play," Butler said. "It's all about playing hard. I think I can do that. When I'm gassed and I'm tired, I'll look down at Thibs and say, 'Thibs, I need a break,'" he added.
Though Butler stopped short of assuring his presence on the court on Wednesday when the Wolves visit San Antonio, coach Tom Thibodeau said he expected Butler to play against the Spurs as long as he remains on the roster. The official stance of Thibodeau, who serves as the president of basketball operations, and general manager Scott Layden over the last three weeks has been that the Wolves will deal Butler if it makes sense for the direction of the team.
"Everything's fluid," Thibodeau said, adding, "we'll continue to work through things."
Asked whether his relationship with Wolves management has changed, Butler said no. As for whether he's still seeking a trade? Maybe. I'm going to be passive-aggressive like everybody else," he said.
The Wolves face Cleveland in their first home game on Friday, and the crowd at Target Center that cheered so loudly for Butler in his standout debut season in Minnesota is more than likely to produce the opposite reaction if he plays against the Cavaliers, considering the dysfunction his demand has caused.
"Sure, boo me," Butler said, adding, "ain't going to change the way I play. Probably going to make me smile more. Please, come with it."
Despite the distraction he has caused, Butler has continually said he harbors no bad feelings about his teammates.
"I want to help everyone to be better. I want y'all to win games. My name is still attached to this thing. I'm still here, so we'd better win," he said.
Wiggins, for his part, has never expressed any ill will toward Butler. "All I know is, when we start playing the real games, Jimmy is someone you want on your team," he said, adding, "at the end of the day, people can say what they want to say, but he's a winner."
Sports
Grant Williams scored 27 points as the Boston Celtics eliminated the reigning champion Milwaukee Bucks on Sunday with a 109-81 game seven victory.
Sports
Luka Doncic scored 35 points as the Dallas Mavericks completed a stunning upset of the top-seeded Phoenix Suns.
Sports
The Golden State Warriors won 110-96 against the Memphis Grizzlies and advanced to the conference finals.