NBA: Steph Curry, Kevin Durant inspire fourth-quarter comeback for Golden State Warriors against OKC Thunder
The Golden State Warriors got their campaign off to a perfect start, edging past Oklahoma City Thunder 108-100, with Stephen Curry and Kevin Durant inspiring a fightback in the fourth quarter.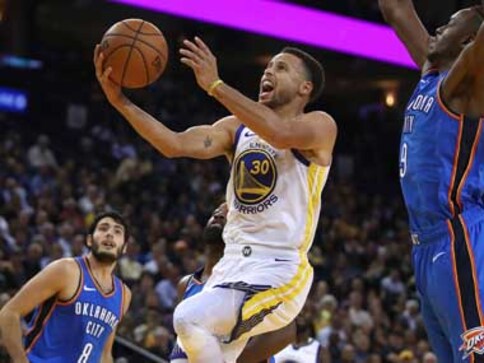 San Francisco: Stephen Curry and Kevin Durant accepted their championship rings on Tuesday for leading Golden State to a third NBA title in four campaigns, then powered the Warriors over Oklahoma City 108-100 in their 2018-19 season opener.
Curry scored 32 points with nine assists and eight rebounds while Durant had 27 points, eight rebounds and six assists as the Warriors held off a fourth-quarter fightback to make a triumphant launch to their quest for a third consecutive crown.
"The first game could go either way with timing and overall execution," Curry said, adding, "we had a terrible third quarter but we withstood the run and were able to get the job done. We've got to take care of the ball better. That will come with more possessions as we get through the season.
"We know what's at stake. Winning three in a row would put us in some very select company. We're not shy talking about it. But you have to do the little things throughout the season. I think we're ready for it," said Curry.
The first game of the NBA season was in Boston, where Jayson Tatum scored 23 points and grabbed nine rebounds while reserve Marcus Morris added 16 points and 10 rebounds as the host Celtics ripped Philadelphia 105-87.
But the night's highlight came when NBA commissioner Adam Silver handed out championship jewelry — Golden State's Steve Kerr taking his fourth as a coach to go with four he won as a player — and praised the Warriors dynasty for far more than on-court skills.
"The Warriors have a tradition of excellence based on universal values like teamwork, respect and unity," NBA commissioner Adam Silver said, added, "they continue a long legacy of NBA players and teams who compete for something bigger than a game by embracing the power of sport to build bridges and make better people's lives."
Then came the final championship banner raising at Oracle Arena, the NBA's oldest arena, built in 1966. The Warriors will move to a new arena in San Francisco next season.
"Last year was an unbelievable journey," Curry told the crowd, adding, "we do all this for you guys. So let's enjoy this all to the fullest."
Curry scored 19 points in the first half, helping the Warriors seize a 57-47 half-time edge, but the Thunder opened the third quarter with a 22-9 run to seize their first lead at 69-66, German guard Dennis Schroder sinking the go-ahead 3-pointer for Oklahoma City.
The Thunder battled Golden State to the finish, a free throw by New Zealand's Steven Adams pulling Oklahoma City within 99-97 with 1:57 remaining. Curry answered with a 3-point play and Kevon Looney added a layup for a 104-99 Warriors edge. Durant followed with an inside jumper with 24 seconds remaining to seal his former club's fate.
The Thunder were without star guard Russell Westbrook, who has not been cleared to return after undergoing arthroscopic right knee surgery last month.
Paul George led Oklahoma City with 27 points while Schroder added 21 and Adams had 17 points and 11 rebounds.
Sports
Reeve said Griner would be "top of mind" throughout the 10-day tournament, and revealed players had been in touch with her to send messages of support.
Sports
Thomas had 14 points, nine assists and seven rebounds in her debut for the Americans, who beat Belgium 87-72 in the tournament opener
NBA
Milwaukee Bucks were seen as frontrunners for the 2023 NBA championship with 43% of the votes.