NBA stars following NFL players in national anthem protest would be 'counter productive,' says Stephen Curry
Curry said there are better ways, such as being active in their communities, for players to make their views known.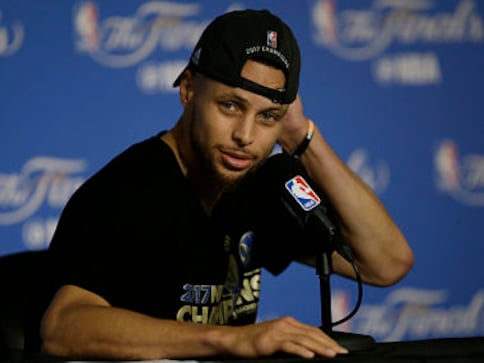 Shanghai: Two-time MVP Stephen Curry said Saturday it would be "counter-productive" for NBA players to follow their NFL counterparts by kneeling in protest during the national anthem.
Scores of National Football League (NFL) players have taken a knee during the anthem in defiance of US President Donald Trump, who two weeks ago blasted the practice as an insult to the country.
Former NFL quarterback Colin Kaepernick first began kneeling last year to highlight perceived unjust treatment of African-Americans.
Curry had previously said he would likely skip the customary visit by his defending NBA champions Golden State Warriors to the White House over Trump's policies, which prompted the president to revoke the entire team's invitation in a Twitter outburst.
"Anything beyond that is, for me, kind of counter-productive," Curry said when asked about the possibility of anthem protests in the NBA.
Curry, whose Warriors are in Shanghai for the second of two China pre-season games against the Minnesota Timberwolves, said there are better ways, such as being active in their communities, for players to make their views known.
"At the end of the day, we all as individuals have an opportunity to be a vessel of light and love ... by how we treat each other and what we stand for," he said.
ESPN reported a week ago that the NBA already had sent a memo to teams saying players must stand for the anthem when the season opens on 17 October.
Kevin Durant, who has bolstered the Warrior's quest for a third title in four years by joining the team this season, said he would not kneel but "wouldn't look at it as a surprise" if other players did.
Retired Los Angeles Lakers great Kobe Bryant, in a podcast released on Wednesday by The Hollywood Reporter, said he would kneel during the anthem if he was still playing.
Trump's tirade against NFL protesters provoked an unprecedented show of defiance two weeks ago when a large number of mostly black players dropped to one knee during the anthem, while other players stood with arms interlocked.
The NBA, in its memo to teams reported by ESPN, said the league has the discretion to discipline players who violate a rule requiring that teams stand for the anthem.
The memo suggested that teams make an effort in their first home game to address the current political climate by having players and coaches give a pregame address to their fans.
NBA commissioner Adam Silver has also said he expects players to stand for the anthem.
also read
NBA
While Heat and Celtics continue to battle it out in the West, for Nuggets, playing their first ever Finals, there is a 10-day wait for the series to begin.
NBA
Denver Nuggets lost at home for the first time since March 30, and for the first time in 10 home playoff games this year.
NBA
Nikola Jokic got a triple-double in his NBA finals debut, Jamal Murray scored 26 points and the Nuggets had little trouble beating Miami Heat in Game 1