NBA: San Antonio Spurs send disgruntled Kawhi Leonard to Toronto Raptors for DeMar DeRozan in major swap
'Told one thing and the outcome another. Can't trust 'em. Ain't no loyalty in this game. Sell you out quick for a little bit of nothing,' DeRozan said. 'Soon you'll understand.'
Disgruntled San Antonio playmaker Kawhi Leonard is going to the Toronto Raptors in a blockbuster NBA trade deal sending DeMar DeRozan to the Spurs, the Raptors and Spurs confirmed Wednesday.
The move sends forward Leonard and guard Danny Green to Toronto for DeRozan, Austrian big man Jakob Poeltl and a 2019 first-round NBA Draft pick.
Leonard played in only nine games for the Spurs last season, missing the first 27 games of the campaign with a right quadriceps injury, then suffering a left shoulder injury.
The Spurs medical staff cleared Leonard to return to the team but the 27-year-old forward received a second opinion from his own doctors that said he needed more rehbailitation.
As he stayed away, the Spurs struggled. Teammates asked him to return but he stayed away and the Spurs were ousted by eventual champion Golden State in the first round of the playoffs.
The Raptors, meanwhile, had the best record in the Eastern Conference and were top seeds before being swept out of the playoffs by eventual runner-up Cleveland. DeRozan and others were criticised for their playoff flop after the best season in club history.
Leonard, who was NBA Finals Most Valuable Player when helping the Spurs to the 2014 title, has averaged 16.3 points, 6.2 rebounds and 2.3 assists over seven NBA seasons, all with the Spurs, and averaged a career-best 25.5 points a game in the 2016-17 campaign.
DeRozan, a 28-year-old guard, has spent all nine of his NBA seasons with the Raptors, averaging a career-best 27.3 points in the 2016-17 campaign. He has career averages of 19.7 points, 4.1 rebounds and 3.1 assists a game and helped US teams win the 2014 World Cup of Basketball and 2016 Rio Olympic titles.
Leonard doesn't want to play in Toronto, ESPN reported, but stands to make $20 million next season and seems to have no health concerns, indicating he might attend the USA national team camp next week in Las Vegas. Spurs coach Gregg Popovich is the US national team coach.
DeRozan reacted in an Instagram posting early on Wednesday, seeming to say the Raptors told him he wouldn't be sent to San Antonio in a Leonard swap only to have it happen.
"Told one thing and the outcome another. Can't trust 'em. Ain't no loyalty in this game. Sell you out quick for a little bit of nothing," DeRozan said. "Soon you'll understand."
While the Raptors risk losing Leonard after one season when he becomes a free agent, DeRozan signed a five-year deal with the Raptors worth $139 million in 2016.
Leonard, who is from Los Angeles, was a target of the Los Angeles Lakers, who added Cleveland Cavaliers superstar LeBron James earlier this month and have saved back salary cap money for free agents for 2019, potentially with an eye on Leonard.
Poeltl, 22, had 6.9 points and 4.8 rebounds last season for the Raptors in his second NBA campaign.
Green averaged 9.1 points, 3.5 rebounds and 1.7 assists in 520 games for the Spurs, helping them to the 2014 crown after starting his NBA career in Cleveland.
San Antonio, can't express the LOVE I have for you, the city, the fans & the organization," Green wrote in an Instagram posting. "I want to thank you all for allowing me to be a part of something AMAZING for so many years.
"Looking forward to my next chapter in TORONTO!"
Find latest and upcoming tech gadgets online on Tech2 Gadgets. Get technology news, gadgets reviews & ratings. Popular gadgets including laptop, tablet and mobile specifications, features, prices, comparison.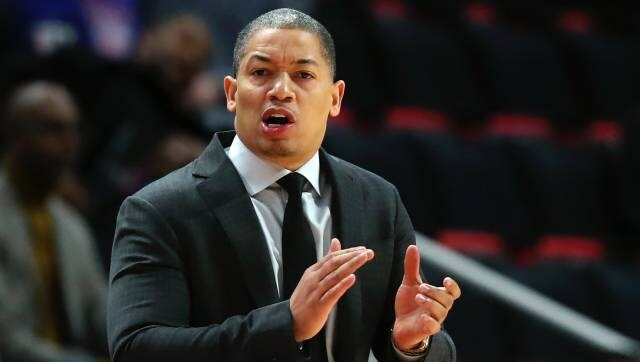 Sports
Tyronn Lue was the head coach of the Cleveland Cavaliers when they captured the NBA championship with LeBron James in 2016.
Sports
The board is targeting a 22 December start to what would be a season of 70 to 72 games, with the NBA Finals ending in June again as has been in the case for many years, according to a person with knowledge of the situation.
Sports
Morey departed of his own choice after guiding the Rockets basketball operations since the 2007-2008 season, making the decision after the Rockets were beaten in the second round of the NBA playoffs in the Covid-19 quarantine bubble in Orlando.