NBA Rundown Week 9: Stephen Curry's mis-step in space, angry Michael Jordan and more
Here are the bits and bobs from another week in the NBA.
One mis-step for Curry, one giant dig by Kings
The Golden State Warriors have made headlines for plenty of reasons so far this season. But this is perhaps the most bizarre. Warriors star Steph Curry suggested — in jest, he has since claimed — that the moon landing never took place.
Put besides Kyrie Irving's belief that the earth was flat, this was probably the most ludicrous thing said aloud by a NBA star in recent times.
Irrespective of whether he meant it or not, you would not expect any rival to pass on the opportunity to score an easy lay-up. So it was that the Sacramento Kings thought it funny to play a video of the moon landing on the big screen before their clash against the defending NBA champions.
The Kings showed moon landing footage during Warriors' intros to troll Steph. 😂 pic.twitter.com/DReQr2ISVE

— NBA on TNT (@NBAonTNT) December 15, 2018
Of course, it seems like all it did was make Curry angry. The superstar scorched the hosts with a 35-point blitz in a 130-125 victory.
Meanwhile, in a bid to course-correct Curry has had a conversation live on Instagram with retired astronaut Scott Kelly, who spent 340 consecutive days aboard the International Space Station in 2015 and 2016. The basketball star will also be visiting the Johnson Space Center in Houston after accepting NASA's offer to visit the lunar lab there.
Lance Stephenson gets a technical foul… for air guitar celebration!
Lance Stephenson has a habit of getting under people's skins. Just his one-time-enemy-turned-teammate LeBron James. But this time, one just thinks he was harshly judged.
In the game against Charlotte Hornets, Stephenson celebrated after nailing a three-pointer with a particularly muted air guitar performance. Yet, much to his and his team's surprise he was penalised!
Lance Stephenson got T'd up tonight for playing his air guitar. 🎸😂#Lakers #NBA

🎥: B/R pic.twitter.com/XWfBMjSjtF

— The Majors LA 🌴 (@TheMajorsLA) December 16, 2018
Charlotte Hornets, feat. angry dad Michael Jordan
Michael Jordan can still be really passionate about making silly errors during games. As second-year guard Malik Monk found out. Monk, along with teammate Bismack Biyombo, ran onto the court to celebrate Jeremy Lamb's 22-foot game-winning shot with 0.3 seconds left on the clock against the Detroit Pistons.
The act caught the eye of the officials, who handed the Hornets a one-shot technical foul for having six men on the floor. This got Jordan so angry that he smacked Monk in the back of his head.
Both men later made light of the incident.
"It was like a big brother and little brother tap. No negative intent. Only love!" Jordan told The Associated Press through his agent.
"Big, big, big brother. But it was nothing. He was just playing," Monk said later.
#Hornets owner Michael Jordan wasn't too happy with Malik Monk after he ran onto the court before the game was over and got called for a technical 😭😂@WCCBCharlotte pic.twitter.com/575UlSeZNz

— Zach Aldridge (@wzaldridge) December 13, 2018
When the ball got stuck
What would you do if the ball got stuck during a game? Throw a towel? What would you do if the towel got stuck as well?
How ... ?!?! pic.twitter.com/JH0idThipd

— NBA on TNT (@NBAonTNT) December 14, 2018
Kawhi metre
What sort of a week has it been, you ask? Allow Kawhi Leonard to tell you.
Find latest and upcoming tech gadgets online on Tech2 Gadgets. Get technology news, gadgets reviews & ratings. Popular gadgets including laptop, tablet and mobile specifications, features, prices, comparison.
Sports
Philadelphia 76ers' Seth Curry spent the first quarter of the game against Brooklyn Nets on the bench before the team was informed that the player has tested positive for COVID-19, reports said.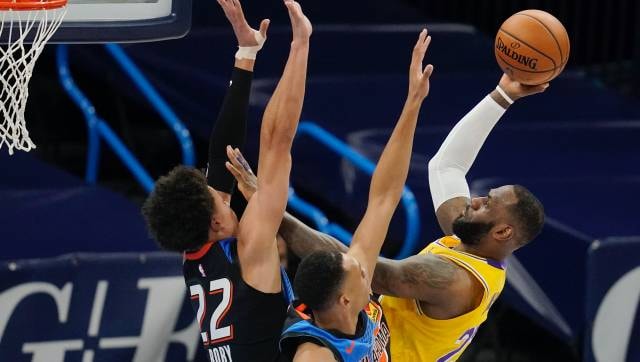 Sports
The defending champions Lakers have won four straight to improve to an NBA-best 10-3. They surpassed the 1985-86 squad with the 7-0 road start
Sports
Dinwiddie will begin rehabilitation next week but there was no timetable announced for a possible return to the court for the Nets.