NBA Rundown Week 6: LeBron James' happy homecoming, Markelle Fultz's impending exit from 76ers and more
LeBron James came back to Cleveland. Rajon Rondo made himself useful despite a broken hand. The Golden State Warriors beat the Sacramento Kings after a wedgie. Here are the bits and bobs from another week in the NBA.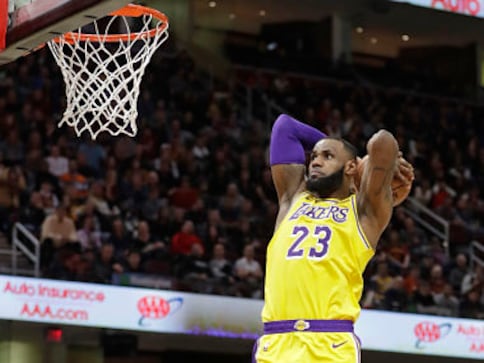 Eight years have passed since the tumultuous night when LeBron James was booed at the Quicken Loans Arena on his return to his old stomping ground in a Miami Heat jersey in December 2010.
Clearly much has changed in Cleveland since then, including the mood of the fans on seeing their homegrown superstar turning out in the colours of another team.
This was evident when LeBron's Homecoming 2.0 became an occasion for the Cavaliers faithful to express their gratitude to the man who guided them to an improbable title in 2016. As the LA Lakers took on the Cleveland Cavaliers, the Akron native was greeted with warm cheers and a warmer video tribute from the franchise.
The night, however, brought a sharp reminder for the home fans of just how much they needed the 33-year-old particularly this season.
The man who singlehandedly dragged the Cavaliers to four consecutive NBA Finals in the last four years — a stretch which included a title — scored 32 points, 14 rebounds and seven assists to inspire the Los Angeles franchise to a come-from-behind 109-105 victory and consign his former team to a record of 2-14 from their 16 matches so far this season.
The Cavs should be grateful, for it could have been a lot worse for them. After all, hadn't LeBron exploded for 51 points just one game before against his other former team, Miami?
The indefatigable Rajon Rondo
It has been 10 days since the other Lakers veteran Rajon Rondo broke his hand in the clash with Portland Trail Blazers. Despite his surgery requiring him to miss at least four-five weeks of action, Rondo has been making himself useful in other ways.
On other occasions, Rondo was seen carrying a clipboard like a coach would and even standing in the coaches' huddle. Not everyone appreciated his enthusiasm to help though, with head coach Luke Walton admitting that he had to ask Rondo to "shut the f*** up".
Why shouldn't you throw your shoe into the stands?
Cause that's what gets you thrown out of the game! Miami Heat's Josh Richardson understands that now.
Whatever Butler can do, Embiid can do too!
Earlier last week, Jimmy Butler made an impressive coast-to-coast play against the Hornets — first making a game-saving block and then coming up with a game-winning triple.
This week, against the Suns, his teammate Joel Embiid too put in a block before going to the other end to score a basket. Probably not as spectacularly as Butler.
Markelle Fultz out of 76ers
This season has already seen a few sagas: first it was Kawhi Leonard's protracted split from the San Antonio Spurs. Then it was Butler's move away from the Minnesota Timberwolves. Then it was Carmelo Anthony's stint at the Houston Rockets coming to an abrupt end after just 10 games! And now comes the impending exit of Markelle Fultz, whose season has been clouded by intrigue. First, there was a lingering shoulder injury — a remnant of last season which saw him miss 68 games after being picked No 1 overall in the draft.
Then there were issues with his wrist, which were causing him discomfort while holding the ball and shooting.
And now with the arrival of Butler, combined with the woeful loss of form, it seems certain that he's out the door in Philadelphia. The question is where?
Car crash after train wreck
The Warriors season in the last couple of weeks has seemingly looked like a train wreck. A lot of it had to do with the fact that their talisman Stephen Curry was out due to a groin injury. A lot of it was also due to the confrontation between the team's other two All Stars, Kevin Durant and Draymond Green. But they franchise was left jolted on Saturday, when Curry was involved in a three-car crash while travelling to their training facility. Luckily, the superstar walked away unhurt.
The Warriors have still looked disjointed despite grinding out a win against the Sacramento Kings on Sunday. It was the kind of exhilarating finish that you would have to see to believe. There was a miss and a put-back jumper from Klay Thompson to give his team a one-point lead. There was a wedgie. There was a tip from the centre of the court. There was a timeout with 0.3 seconds left and a one-point difference between the two sides.
And all of this with 10 seconds left on the clock!
Kawhi metre
Last-second finishes, heartwarming homecomings, and Rajon Rondo shenanigans. What sort of a week has it been, you ask? Allow Kawhi Leonard to tell you.
NBA
Lawyer Maria Blagovolina was quoted by Russian news agencies on Monday as saying the appeal was filed, but the grounds of the appeal were not immediately clear
NBA
Brittney Griner's team the Pheonix Mercury watched the verdict together in the morning right before the team had their pregame shoot-around.
NBA
NBA teams will travel a bit less in the coming season, about 5% fewer miles in the air on average over last season.