NBA Rundown Week 10: LeBron James-Anthony Davis make heads turn with dinner, Boban Marjanovic's facepalm and more
Here are the bits and bobs from another week in the NBA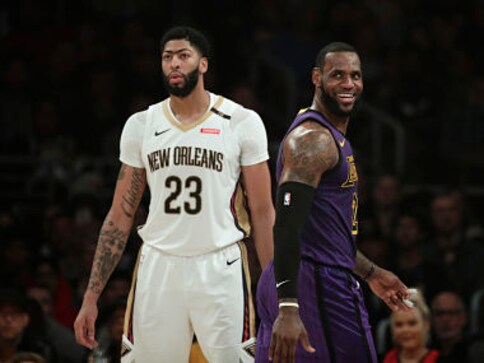 LeBron James and Anthony Davis had dinner. And the NBA took notice
All through this season, talk of LeBron James wanting New Orleans Pelicans star Anthony Davis to join the Lakers has been keeping the grapevine busy. In September this year, the whispers started growing louder when Davis signed with Klutch Sports Group, which also represents James.
Last week, before the Pelicans came to Los Angeles, the previously muted chatter finally became a crescendo of noise, primarily because James answered a question by ESPN about what he thought of Davis joining the Lakers. "That would be amazing, like, duh. That would be incredible," James had said just before their 115-110 defeat against the Brooklyn Nets.
A lot of General Managers around the league had considered his comments as tampering, leading James to clarify his comments.
LeBron James doesn't regret his comments on Anthony Davis from earlier in the week. Says to ask him about playing with KD, Giannis, Embiid — any number of great players, his answer would be similar. pic.twitter.com/cp07UUKgCd

— Kyle Goon (@kylegoon) December 22, 2018
Of course, the Pelicans have been resisting any such overtures, with coach Alvin Gentry even saying, "There's no one in the league that we would trade him for. There's no one out of the league (as well) — not even Beyonce. If we wouldn't trade him for her, he's probably untouchable."
Not it transpires that Davis and James went for dinner together after the Pelicans' clash against the Lakers. In any other situation, this would have been just another case of two friends having dinner. When it involves James and Davis, it immediately caught everyone's interest.
When Russell Westbrook sped past De'Aaron Fox
Earlier this week, Sacramento Kings' De'Aaron Fox claimed that he was the fastest player in the league. "I'm faster than John Wall...I'm faster than Westbrook, Fox told ESPN. "If we're talking about from baseline to baseline with the ball in my hands, I'm definitely the fastest person in the league."
Oklahoma City Thunder's Westbrook clearly did not appreciate the comments. When the Kings faced off against Thunder, Westbrook barreled past Fox before scoring off a layup. In the aftermath, he shouted "Too fast! I'm too fast".
Russ doing it ALL! ⚡️#ThunderUp pic.twitter.com/hWwGmZDa2P

— NBA TV (@NBATV) December 20, 2018
The time Channing Frye passed to a teammate…on the bench
This one's definitely making it to the bloopers reel at the end of the season. Playing against Philadelphia 76ers, Channing Frye drove to the baseline, before passing to Collin Sexton, who was unmarked. But that's probably cause he was on the bench.
Technically, Collin Sexton was open...‍♂️

(: @shaqtin) pic.twitter.com/m0ON14Y8yn

— theScore (@theScore) December 16, 2018
While the Cavs, including Sexton, had a laugh at the incident, it attracted the interest from a former Cav: LeBron James. The LA Lakers superstar had a laugh over the video, and put up a tweet laughing at his former teammate.
Frye himself later explained what went through his mind in an interview.
"By the time I threw it to him, I was like 'Oh...that's not the right dude.'" @Channing_Frye sets the record straight on his pass to Collin Sexton on the bench that went viral. #BeTheFight pic.twitter.com/6ViLlk2Hc0

— FOX Sports Ohio (@FOXSportsOH) December 19, 2018
The season of giving, feat. Luka Doncic
Facing defending champions Golden State Warriors earlier this week, Dallas Mavericks' Luka Doncic crashed into a fan in the third quarter after a layup attempt.
The 10-year-old fan wasn't seriously hurt, but did seem dazed at the incident. Doncic not only checked up on him immediately after the crash — despite the game having started — he also gave the young fan his autographed jersey after the game.
*Final Update*

All good :smiley: pic.twitter.com/VvMsWNAyfF

— FOX Sports Southwest (@FOXSportsSW) December 23, 2018
When Boban facepalmed Salah Mejri!
Boban the rim protector pic.twitter.com/MAESe12QGN

— Bleacher Report (@BleacherReport) December 21, 2018
Kawhi metre
What sort of a week has it been, you ask? Allow Kawhi Leonard to tell you.
Sports
Kings have lost seven of their last eight games to fall to 12th in the Western Conference, prompting general manager Monte McNair to sack Walton after the team's loss to the Utah Jazz
Sports
Jokic connected on 14 of his 19 shots from the floor and handed out five assists in just under 27 minutes on court in his third game back since missing four games in late November with a wrist injury.
Sports
James also had a pair of fans ejected from the Pacers game in overtime, after they heckled him from their courtside seats.