It took twelve hundred and thirty games, 169 days, close to 115 total triple-doubles, nearly twenty-four thousand three-pointers, a 70-point game, and one 'Flat Earth' conspiracy, but the memorable 2016-17 NBA regular season has finally reached its end.
With the popularity of the game more rabid than ever in India, over a hundred million viewers tuned in to watch the season here.
But now, as the heavy appetizer ends, fans will be looking forward to the intense main course: the NBA playoffs. Over the next two months, the NBA's "Second Season" will unfold, pitting the best sixteen teams in a knockout tournament with best-of-seven series to the Finals.
Reigning champions Cleveland Cavaliers, the supremely-loaded Golden State Warriors, the ever-dangerous San Antonio Spurs, and a handful of other squads will be looking to lay their claim at the championship trophy.
With stars like Stephen Curry, LeBron James, Kevin Durant, Russell Westbrook, Kawhi Leonard, and James Harden on deck, expect the good to become greater.
Here are my predictions for the eight matchups for the First Round, and the star players to watch for each series:
WESTERN CONFERENCE
Golden State Warriors (1) vs Portland Trail Blazers (8): Portland will show some pride, for sure, they took the Warriors to six games in the Second Round last year. But the Warriors are too good, too smart, too deep. The Warriors and the Trail Blazers could go blow to blow on the offensive end, but Golden State is an elite defensive team, too.
Keep your eye on the point guard battle between Stephen Curry (Warriors) and Damian Lillard (Trail Blazers) which will ensure some three-point fireworks from both ends. The bonus must-watch player is of course Kevin Durant (Warriors), who will be slowly returning to form from his knee injury.
(Prediction: Warriors win 4-1)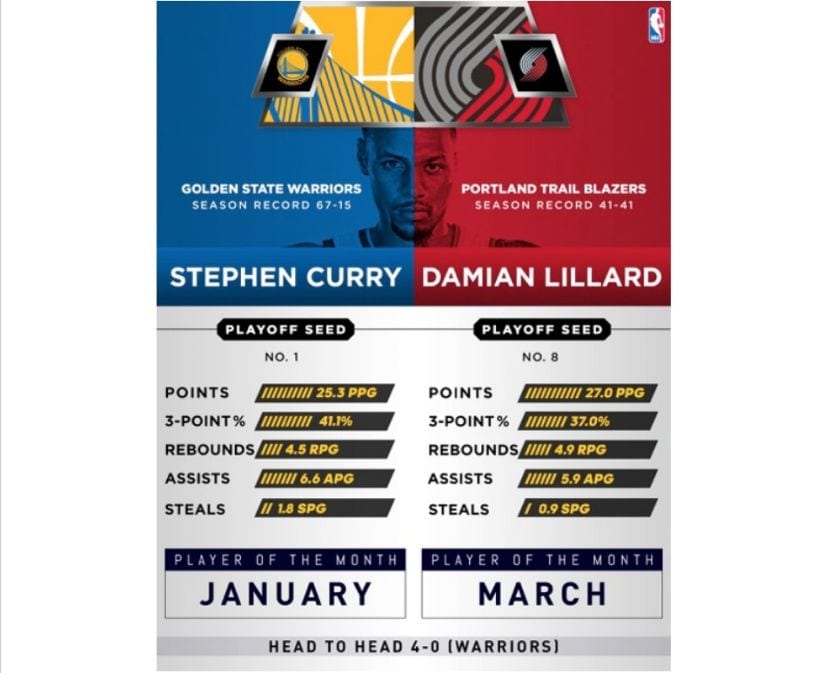 San Antonio Spurs (2) vs Memphis Grizzlies (7): The Spurs will have nightmares of these Grizzlies, who famously upset them in the First Round in 2011. But the gulf in talent is too wide this time around. San Antonio have a legit MVP calibre player in Kawhi Leonard who will be a wrecking-ball on both ends of the floor.
The series will highlight the battle of the giant Spanish brothers Pau (Spurs) and Marc Gasol (Grizzlies). For the Spurs, the main man will of course be Leonard, who will have to prove his role as the team's leader after Tim Duncan's retirement.
(Prediction: Spurs win 4-1)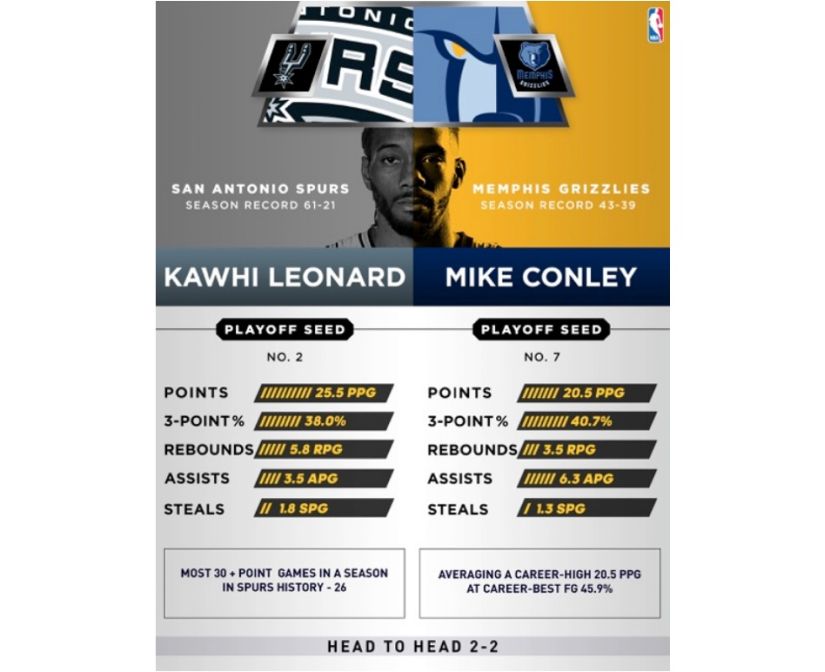 Houston Rockets (3) vs Oklahoma City Thunder (6): An objective breakdown of this series would pit a great three-point shooting team (Houston – number one in the NBA) vs a poor one (OKC – number 26). Mike D'Antoni's Rockets can score points in a hurry and will be difficult to contain by the Thunder, whose fate will mostly be determined by the brilliance of one man.
That man, however is Russell Westbrook, an MVP frontrunner, and he will be facing Houston's James Harden, another MVP frontrunner. Between these two, we have seen some of the most spectacular shows of individual basketball brilliance this season. Houston's offence is brilliant, but will it stand the gritty pace of the playoffs? This series could be a gladiatorial battle between these two superstar guards. I hope for ten combined triple-doubles and expect an upset.
(Prediction: Thunder win 4-3)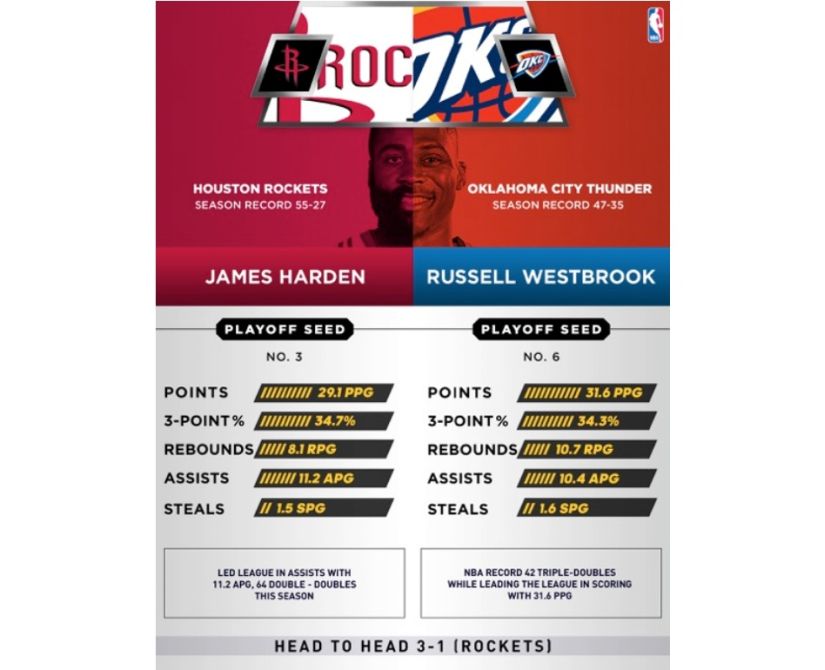 LA Clippers (4) vs Utah Jazz (5): This will be a classic battle between defence and offence: between two teams who are among the league's best in offensive (Clippers) and defensive (Jazz) ratings. The matchup will feature a young Jazz squad's coming-of-age moment against an often-jaded but still explosive Clippers crew.
It's true that usually defence trumps offense in the postseason, and Utah's big man and DPOY candidate Rudy Gobert will be the catalyst of that defensive arsenal. But Utah are otherwise inexperienced, and Chris Paul is too dangerous to allow his side to stumble at this early step.
(Prediction: Clippers win 4-2)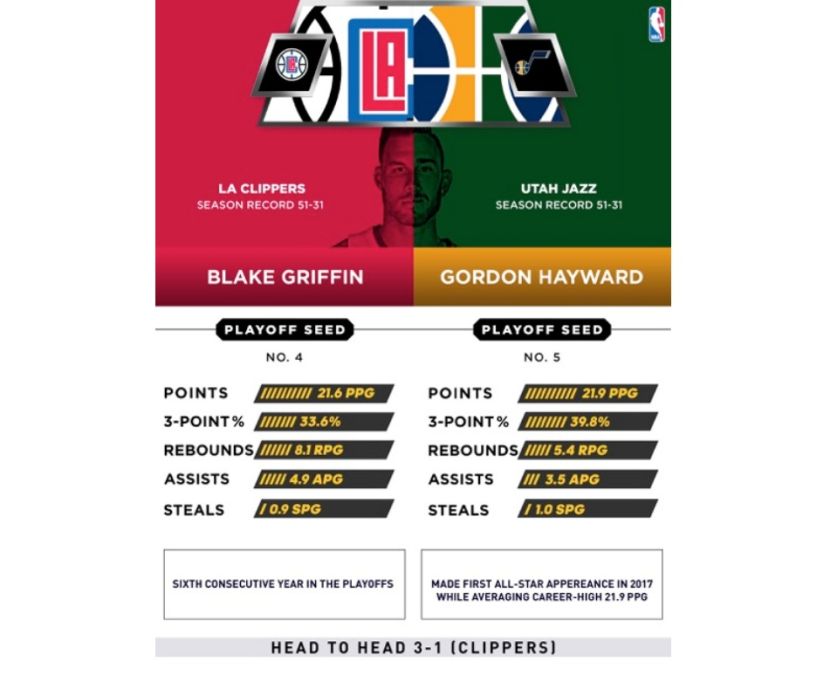 EASTERN CONFERENCE
Boston Celtics (1) vs Chicago Bulls (8): The Celtics are among the top three teams in three-pointers made this season; the Bulls are in the bottom three. And that stat alone, in this era of ever-growing value for the outside shot, should explain why the former is ranked first and the latter only snuck into the postseason on the final day.
Chicago's secret weapon over Boston will be rebounding, and expect them to pound the smaller Celtic lineups on the board on series. Jimmy Butler is amazing and should make this an interesting series, but nevertheless, Isaiah Thomas should be able to lead Boston to a close win.
(Prediction: Celtics win 4-3)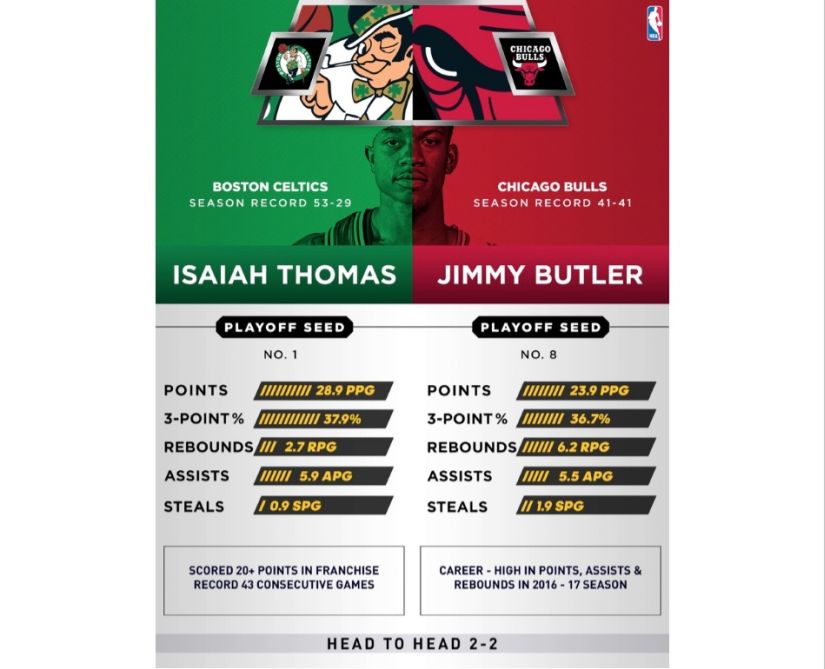 Cleveland Cavaliers (2) vs Indiana Pacers (7): The reigning champions haven't had the most convincing regular season and have the worst defensive rating of anyone in the playoffs. But we all know that counting out LeBron James is a fool's errand, in the First Round against a low seed, or in the Finals down 3-1 to the league's best team. Paul George is going to provide an amazing man-to-man matchup against LeBron, making it their fourth playoff battle in the last six years, but the Cavaliers are too potent offensively and much deeper in their talent pool to be bothered this early.
(Prediction: Cavaliers win 4-1)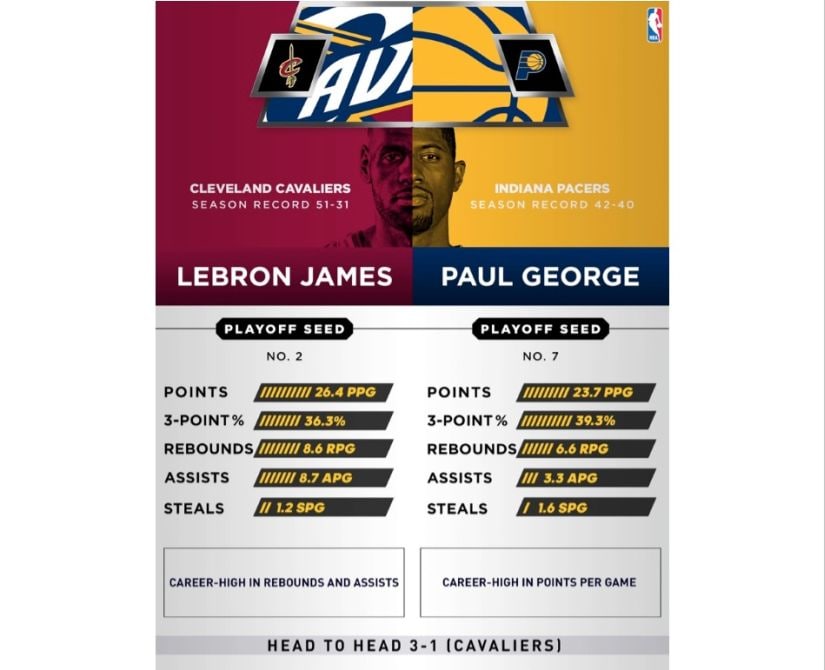 Toronto Raptors (3) vs Milwaukee Bucks (6): I have been extremely impressed with how the Raptors boosted up defensively at the trade deadline, adding Serge Ibaka and PJ Tucker to complement a lineup starring DeMar DeRozan, Kyle Lowry, Jonas Valanciunas, and more. The new additions will make them versatile and balanced on both ends of the floor.
The absolute best talent in this series, however, belongs with the Bucks. Giannis Antetokounmpo is a multi-dimensional young superstar who is going to be a handful all series. The Raptors will survive him, but only just.
(Prediction: Raptors win 4-3)
Washington Wizards (4) vs Atlanta Hawks (5): Led by point guard extraordinaire John Wall, Washington has one of the highest-scoring starting units in the league, who excel both at extending the floor for perimeter shots and attacking the basket with devastating pick-and-roll plays. Their bench has improved somewhat since the start of the season, but they'll need to work on their defence for a longer playoff run.
The problem for the Hawks, however, is exact opposite. They are one of the worst-scoring teams in the NBA and may find it difficult to get easy buckets if All Star Paul Millsap goes cold. Still, these two teams are well-matched and could provide for an entertaining series.
(Prediction: Wizards win 4-3)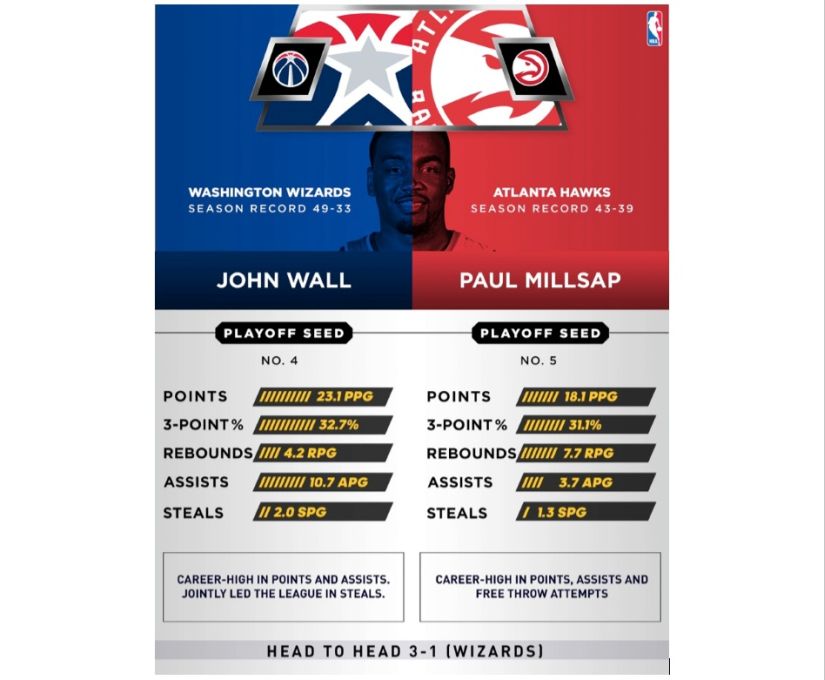 (Graphics courtesy NBA)
Updated Date: Apr 16, 2017 11:50 AM