NBA: Onus on Boston Celtics, Houston Rockets to bring down stronger-than-ever Golden State Warriors as new season tips off
The Golden State Warriors are the best team and the Houston Rockets had the best record, but LeBron James, the best player, is now in LA.
NBA Commissioner Adam Silver will be at the Oracle Arena on Tuesday night, handing the Golden State Warriors what will be their third set of championship rings from the last four seasons.
A banner will be displayed. Highlights will be shown.
And then the Warriors will have to start all over again.
The NBA's 73rd season starts on Tuesday night, beginning a year where LeBron James will play for the Los Angeles Lakers, where Carmelo Anthony will aim to push the Houston Rockets over the top, where Dwyane Wade will take his 16th and final lap around the league. A new arena is opening in Milwaukee, eight teams will have new coaches, and everyone will be looking to see if the Warriors can win a third straight title.
"None of us is ready for this run to come to an end," said Golden State's Draymond Green, part of all three Warriors' titles in this four-year run of dominance. "So we've got to continue to approach it like we've got zero. And that's cliche and impossible to do, but you want to try to get as close to that as you possibly can. And that's my mindset always entering the season."
They will be the overwhelming favourites, with good reason.
The Warriors still have Stephen Curry, Kevin Durant, Klay Thompson and Green, plus added All-Star big man DeMarcus Cousins — coming off an injury — on a bargain $5.3 million deal. And calling all the shots is coach Steve Kerr, who won five rings as a player and now three more as a coach.
"If they don't win, it's a failure," Memphis guard Mike Conley Jr. said. "I know that's how they feel as well. For us, for the other 29 teams, we're the underdogs. We're trying to take what they have. It's a lot easier playing from the underdog perspective than coming in with a lot of expectation."
In this NBA, everybody else is an underdog.
That even applies to Houston — who won 65 games last season, have the reigning MVP in James Harden, an elite point guard in Chris Paul who re-signed for $160 million this summer, a deep-pocketed owner in Tilman Fertitta and an always-tinkering GM in Daryl Morey. The Rockets had the Warriors against the ropes in last season's Western Conference finals, leading that series 3-2 yet falling after Paul was lost to a hamstring injury.
"We've all got one goal, man," Harden said. "You'll keep hearing the same story over and over until I'm not here no more. We've got to win a 'chip. We've all got the same goal. We kind of, a little bit, we kind of know what it takes to almost get there. But we haven't gotten there yet."
The Warriors are the best team and the Rockets had the best record, but the best player is now in LA.
After 15 seasons in the Eastern Conference, James — who has played in each of the last eight NBA Finals — has moved West. He signed a four-year deal in July with the Lakers, one that makes him the biggest star on the league's glitziest franchise. He's teamed up with talented young players like Kyle Kuzma, Lonzo Ball and Brandon Ingram, and former rivals like Rajon Rondo and Lance Stephenson.
"I'm a basketball player," James said. "I play ball. That's what I do and that's what I live by. And when I do it at the level I do it at, everything else takes care of itself."
The only certainty in the NBA this season is that James won't win the East — ending an eight-year run of that, four in Miami and four in Cleveland.
Boston, Philadelphia and Toronto (with the newly acquired Kawhi Leonard) are the top candidates to take over as East champions. The Celtics had a Game 7, at home, to get to the NBA Finals last season and lost to James and Cleveland, but now get Gordon Hayward back and a healthy Kyrie Irving again. Miami have been trying to get Jimmy Butler from Minnesota, and if they do — someone will get Butler before the trade deadline — the Heat may be able to get back into East contention.
It might be Dirk Nowitzki's last season in Dallas. Gregg Popovich no longer has Tony Parker or Manu Ginobili with him in San Antonio, and the Spurs (who have been battered by injuries, including one to point guard Dejounte Murray) are no lock to extend their 21-year run of playoff appearances. Sneakerheads will have a big season because the NBA now says players may wear whatever colours of kicks that they want.
There are plenty of stories.
But in the end, it'll be all about someone finding a way to beat Golden State — or not.
"I'll get back to you when somebody cracks that code," Wade said. "In this game, the most important thing is health. If they stay healthy, it's tough to beat them. There's teams that can, but you've got to do it, and you're going to have to do it four times."
Find latest and upcoming tech gadgets online on Tech2 Gadgets. Get technology news, gadgets reviews & ratings. Popular gadgets including laptop, tablet and mobile specifications, features, prices, comparison.
Sports
Morey departed of his own choice after guiding the Rockets basketball operations since the 2007-2008 season, making the decision after the Rockets were beaten in the second round of the NBA playoffs in the Covid-19 quarantine bubble in Orlando.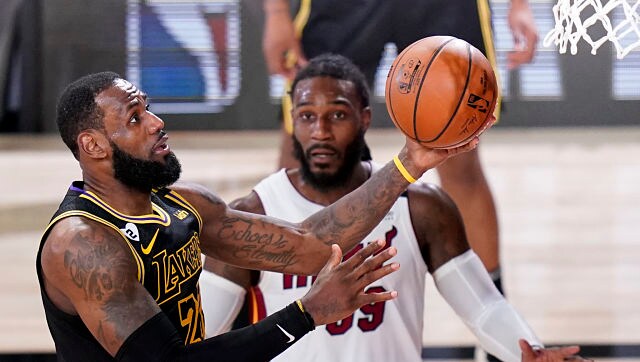 Sports
Lakers superstar LeBron James says, the key to closing out the Heat for a first NBA title in a decade on Sunday will be focusing not on lifting the trophy but on winning a single game.
Sports
It was Butler's determined triple-double that propelled the Heat to a game-five victory over the Lakers that temporarily put their championship celebrations on hold.