NBA: Celtics hand Pelicans 125-114 loss; Morant leads Grizzlies to 8th straight win
Eastern Conference leaders Boston Celtics warmed up for Thursday's crunch clash against Brooklyn Nets with a composed performance to overpower the New Orleans Pelicans
Los Angeles: Jaylen Brown scored 41 points as the Boston Celtics underscored their status as the NBA's form team with a 125-114 win over the New Orleans Pelicans on Wednesday.
The Eastern Conference leaders warmed up for Thursday's crunch clash against Brooklyn with a composed performance to overpower the Pelicans, the third-ranked team in the Western Conference this season.
Brown, averaging just under 27 points per game this season, once again delivered for the Celtics, shooting 15-of-21 from the field with 12 rebounds.
"It's a long season, it's a lot of basketball, day-in, day-out — you've just got to come in ready to do your job," Brown said after his season-high points tally.
"I was able to come out and get something going."
Boston's balanced offense proved too much for New Orleans, with Jayson Tatum also chipping in with 31 points and Malcolm Brogdon adding 20 from the bench.
Al Horford added 14 points for Boston, who were missing starters Marcus Smart and Robert Williams III.
CJ McCollum excelled for New Orleans with 38 points while Naji Marshall added 18 for a Pelicans team missing the injured Zion Williamson (hamstring) and Brandon Ingram (toe).
Boston lead the Eastern Conference with a 30-12 record heading into Thursday's game against the second-placed Nets.
The third-placed Milwaukee Bucks meanwhile kept up the pursuit of the Eastern Conference leaders with a 114-105 win over the Hawks in Atlanta, with Jrue Holiday leading the scoring with 27 points.
Bucks star Giannis Antetokounmpo was restricted to a season-low seven points but still influenced proceedings with 18 rebounds and 10 assists
Holiday was one of five Milwaukee players in double figures, with Brook Lopez adding 20 points and Bobby Portis and Jevon Carter each scoring 13. Pat Connaughton finished with 10 points.
Milwaukee looked to be in total control early in the second half, jumping into a 24-point third-quarter lead and seemingly poised for a routine win.
'We're resilient'
However, Atlanta chipped away at the Bucks total and eventually grabbed their first lead of the game late in the fourth quarter when Bogdan Bogdanovic's pullup jump shot made it 103-101.
Lopez restored the Bucks' advantage with a three-pointer to make it 104-103 and Milwaukee reasserted their control to close out the win.
"We're resilient, we don't like to lose," Holiday said after the Bucks win.
"Close games like that are teaching moments, where we're able to close out games and use all that in the future."
Elsewhere Wednesday, Ja Morant returned from a two-game injury absence to score 38 points as the Memphis Grizzlies claimed a 135-129 win over the San Antonio Spurs.
Memphis's eighth straight victory saw them improve to 28-13, leaving them level with the Denver Nuggets at the top of the Western Conference.
The Nuggets, meanwhile, kept pace with the Grizzlies after destroying the under-powered Phoenix Suns 126-97.
Denver's two-time NBA Most Valuable Player Nikola Jokic just missed out on his 12th triple double of the season, finishing with 21 points, 18 rebounds and nine assists at the Ball Arena.
Denver were out of sight by half-time, pouring in 70 points in the first half to lead by 16 at the break.
The Nuggets kept up the scoring frenzy in the third quarter, stretching the lead to 32 points at one stage in the third quarter as they cruised to victory.
In other games on Wednesday, the Detroit Pistons moved off the bottom of the Eastern Conference with a 135-118 blowout over the Minnesota Timberwolves.
Saddiq Bey led the scoring for Detroit with 31 points as the Pistons snapped a three-game losing streak to climb above the Charlotte Hornets at the foot of the table.
Read all the Latest News, Trending News, Cricket News, Bollywood News, India News and Entertainment News here. Follow us on Facebook, Twitter and Instagram.
NBA
Chicago Bulls handed Los Angeles Lakers a 118-108 loss to tighten their hold on the final Eastern Conference play-in spot and spoil LeBron James' return from a 13-game injury absence.
NBA
NBA MVP Jokic scored 31 points, handed out 11 assists and pulled down six rebounds, and the Nuggets held East leaders Milwaukee to 40 second-half points with the kind of dominant defensive display they've been accused of lacking this season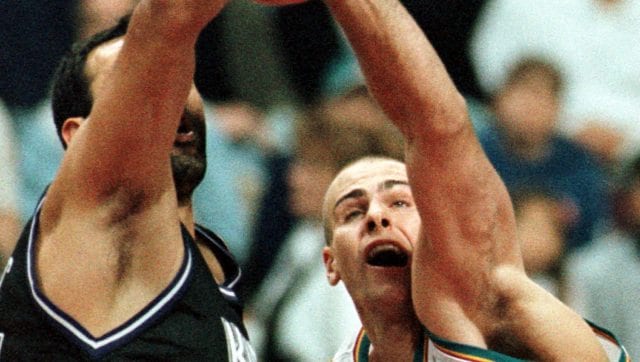 Sports
Montross had his best NBA campaign as a rookie in 1994-95 when he averaged career-highs of 10.0 points and 7.3 rebounds for the Boston Celtics.