NBA: Newcomer Kawhi Leonard hits the ground running as Toronto Raptors beat Cleveland Cavaliers 116-104
Kawhi Leonard had 24 points and 12 rebounds in his Toronto debut, Kyle Lowry scored 27 points as Toronto Raptors handed Cleveland Cavaliers a comprehensive defeat tp extend their streak of winning on opening night.
Toronto: Kawhi Leonard helped the Toronto Raptors extend their success in season-opening games.
Leonard had 24 points and 12 rebounds in his Toronto debut, Kyle Lowry scored 27 points and the Raptors beat the Cleveland Cavaliers 116-104 on Wednesday night, extending their streak of opening-night victories to six.
"I felt good. I'm happy we came out and got a win. I came out of the game healthy, so it's a win-win for me," Leonard said.
Acquired from the Spurs in a July blockbuster that sent four-time All-Star DeMar DeRozan to San Antonio, Leonard was introduced to a thunderous ovation, the final Raptors starter to have his name announced to the capacity crowd of 19,915.
"It was great. They gave me some more energy," Leonard said.
Leonard played 37 minutes in his first competitive game since January with the Spurs. The two-time NBA Defensive Player of the Year was limited to nine games last season because of a quadriceps injury.
"It's fun to watch, it's fun to play with," said guard Danny Green, who was traded to Toronto along with Leonard. "I'm happy for him, that he's playing again," added Green.
Fred VanVleet scored 14 points, Pascal Siakam had 13 and Green 11 as the Raptors gave Nick Nurse a victory in his first game as head coach.
"It's pretty cool. It's good to get it done. It was a little bit nerve-wracking there toward the end," Nurse said. Lowry led Toronto with eight assists and shot 5-for-6 from 3-point range. "Kyle was awesome tonight," Nurse said.
Toronto is the first team since Miami from 2011 to 2016 to win six straight season openers.
Kevin Love scored 21 points and Cedi Osman had 17 points and 10 rebounds for the Cavaliers. "From the jump, our execution wasn't there," Love said.
Cleveland knocked Toronto out of the playoffs in each of the last three seasons, but faces a struggle this season now that former star LeBron James is with the Los Angeles Lakers.
Jordan Clarkson and George Hill each scored 15 points and Rodney Hood had 12 for the Cavaliers, who trailed by as many as 20.
Cleveland had won 15 of the previous 17 meetings between the teams, including 10 straight postseason games.
"We didn't play well but they had something to do with that," Cavaliers coach Tyronn Lue said of Toronto. "This is going to be a top team in the East, a top one or two seed," added Lue.
Leonard missed his first three shot attempts but made three of his next four to score a team-high six points in the opening quarter. Lowry and Siakam each scored five in the first as Toronto led 28-25 after one. Leonard added six more points in the second quarter and Lowry had five as Toronto made five of 10 from 3-point range to open a 60-47 lead at halftime.
Lowry and Leonard each scored nine points in the third, with Lowry making three from long range, as Toronto took a 90-75 lead into the fourth.
A Raptors assistant the past five seasons, Nurse cracked a joke when asked before the game about his journey to becoming a head coach. "For five years, I had a thousand people telling me I was going to be a head coach in the NBA, and when I got the job those same thousand people were shocked," Nurse said.
Find latest and upcoming tech gadgets online on Tech2 Gadgets. Get technology news, gadgets reviews & ratings. Popular gadgets including laptop, tablet and mobile specifications, features, prices, comparison.
Sports
LeBron James had 28 points, seven rebounds and seven assists, and Los Angeles overcame the absence of two injured starters to beat Chicago.
Sports
This was the first time the Timberwolves had held an opponent to under 100 points since 2 January, 2020.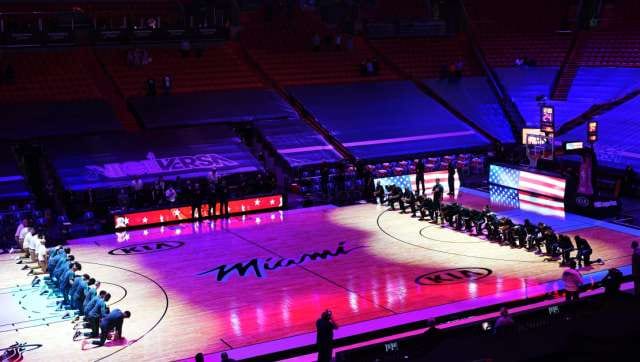 Sports
At the Capitol, a mob delayed Congress from certifying the results of November's election and paving the way for President-elect Joe Biden to be sworn in later this month.