NBA: LaMarcus Aldridge propels Spurs to fourth place; Kevin Durant ejected in comeback game against Bucks
LaMarcus Aldridge delivered 25 points and 11 rebounds as the San Antonio Spurs vaulted into fourth place with a 103-99 victory over the Oklahoma City Thunder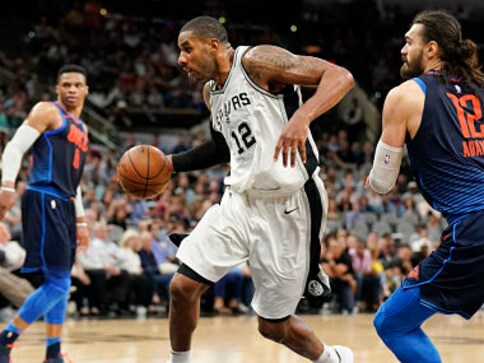 Los Angeles: LaMarcus Aldridge delivered 25 points and 11 rebounds as the San Antonio Spurs vaulted into fourth place with a 103-99 victory over the Oklahoma City Thunder on Thursday.
The Spurs improved to 44-32 on the NBA season to sit just ahead of the fifth place Thunder and the sixth place New Orleans Pelicans.
"It is not like we beat anybody by 20 points," said Spurs coach Gregg Popovich. "But we played through some adversity and we held them to 18 points in the fourth quarter. The defence is where we have to be good at because we are going to have nights where our scoring isn't great."
Aldridge scored 21 of his points in the first half as the Spurs stopped a two-game losing skid. He made a clutch dunk with just under a minute left to give San Antonio a three-point lead.
Paul George led Oklahoma City with 26 points and had six assists. Russell Westbrook tallied 19 points and 11 assists but missed on a pair of three-point attempts late in the game.
Elsewhere, an emotional Kevin Durant got ejected in his first game back after he was slapped with his league-leading fifth ejection as the Golden State Warriors lost 116-107 to the Milwaukee Bucks.
Durant, who was thrown out with just two seconds to go in the first half, didn't think the ejection was warranted.
"I am more upset I didn't finish the game," said Durant who had 10 points and six assists. "I wanted to play after being out a couple of weeks.
"It's a tech. I am sorry. No, I am not sorry. I wish I didn't happen. I can move past it when I wake up."
Durant was sent to the showers in his return after a six-game absence due to a rib injury. Durant's night was over when he lashed out at official Tre Maddox, claiming he was fouled on a drive to the basket.
"Kevin just had a moment. He was frustrated because the game wasn't going well for him and he snapped. It just felt like we lost our poise in general," said Warriors coach Steve Kerr.
Giannis Antetokounmpo scored 32 points and Khris Middleton tallied 23 for the Bucks in the win.
Quinn Cook finished with 30 points and Draymond Green had 11 points and six assists for Golden State.
Elsewhere, Josh Richardson scored 22 points, Goran Dragic made 17 and Miami Heat trimmed its magic number for clinching a postseason spot to one by defeating Chicago Bulls 103-92.
The Heat won a season-best eighth straight game and climbed to within a half game of the Washington Wizards for sixth place in the Eastern Conference standings.
Justise Winslow scored 13 points and Kelly Olynyk finished with 11 for the Heat, who improved to 41-35.
"I think we're pretty solid on defence right now," said Heat guard Richardson. "But it can be better."
One more win 
The Heat need one more win or one more Detroit loss to claim their 20th post-season trip in three decades. The Pistons are in New York on Saturday and Miami is at home against Brooklyn.
"I want to start the playoffs right away," Dragic said. "But first, we need to take care of business and be professional."
In Detroit, Andre Drummond finished with 24 points and 23 rebounds as the Detroit Pistons defeated Washington 103-92 for its fifth win in six games.
Detroit was missing power forward Blake Griffin, who was a late scratch with an ankle problem. Griffin is averaging 19 points and six rebounds since joining the Pistons in January.
In Sacramento, Victor Oladipo scored 13 of his 24 points in the final quarter and the Indiana Pacers held on to defeat the Sacramento Kings 106-103.
NBA
Ben Simmons played against 76ers in his first game since June 2021, making him among a number of big names who got back to basketball action.
NBA
Ben Simmons was devastated by the 76ers' loss to the Hawks in the 2021 NBA playoffs and never reported to training camp the following season.
NBA
Robert Sarver said selling "is the best course of action," although he initially hoped he would be able to keep control of the franchises