NBA: Lakers' LeBron James deepens Cavaliers woes on return to Cleveland; Warriors slump to another defeat
It was an emotional night for James in his first game back in his home region since the 33-year-old playmaker left the Cavaliers for the Lakers in July, but nothing like his 2010 return after departing Cleveland for Miami and leaving angry and booing fans feeling betrayed.
LeBron James made a triumphant return to Cleveland and received a standing ovation from supportive fans before leading the Los Angeles Lakers over the Cavaliers 109-105 on Wednesday.
James scored 32 points, grabbed 14 rebounds and made seven assists to spark the Lakers, who closed the contest with an 18-6 run to win for the sixth time in seven games.
"We cranked up our defense in the fourth quarter," James said. "They played a heck of a game but we kept our composure. We're a young crew. We keep getting better."
It was an emotional night for James in his first game back in his home region since the 33-year-old playmaker left the Cavaliers for the Lakers in July, but nothing like his 2010 return after departing Cleveland for Miami and leaving angry and booing fans feeling betrayed.
After returning from Miami in 2014 and making good two years later on his vow to make the Cavs into champions, "King" James was treated like visiting royalty.
There were cheers when James trotted onto the court for pre-game warm-ups, a huge standing ovation when he was introduced and, after James scored on the Lakers' first possession, a video highlight tribute to huge applause.
"To come back and get the reception I got, it means a lot not only to myself but my family," James said.
"My 11 years I played for this franchise I tried to give everything I could on and off the court."
The Lakers improved to 10-7, their best record since April 2013, while the Cavs fell to an NBA-worst 2-14.
Cleveland's Jordan Clarkson hit back-to-back 3-pointers for a 96-87 Cavs lead, but James sparked a closing rally with a late 3-pointer, dunk and four free throws.
Sixers edge Pelicans
Cameroonian center Joel Embiid outshined New Orleans big man Anthony Davis to power the Philadelphia 76ers over the Pelicans 121-120.
Embiid fouled Davis on a 3-point shot with two seconds remaining. Davis hit two free throws but missed the third and Embiid batted away the rebound to keep the Sixers unbeaten at home (10-0) with a fourth consecutive win.
Embiid finished with game highs of 31 points and 19 rebounds with two blocked shots while Davis had 12 points, 16 rebounds, five steals and five blocked shots.
Australian Ben Simmons had 22 points, eight rebounds and seven assists for the 76ers. E'Twaun Moore and Jrue Holiday each had 30 points for New Orleans.
Elsewhere, Jonas Valanciunas scored 24 points and Kyle Lowry had 21 points, 17 assists and 12 rebounds to spark the NBA-best Toronto Raptors over host Atlanta 124-108. The Canadians rose to 15-4 while the Hawks, led by Jeremy Lin's 26 points, fell to 3-15.
James Harden scored 43 points and Clint Capela added 27 points and 15 rebounds to power the Houston Rockets over visiting Detroit 126-124.
Greek star Giannis Antetokounmpo had 33 points, 16 rebounds and nine assists to power Milwaukee over Portland 143-100, improving the Bucks to an NBA second-best 13-4 and dropping the Trail Blazers from the Western Conference lead.
Moving into the West's top spot was Memphis, which edged San Antonio 104-103 on two Marc Gasol free throws with 0.7 of a second remaining. Mike Conley scored 30 points and Spaniard Gasol had 20 points and 10 rebounds in the victory.
Harrison Barnes scored 28 points to lead the host Dallas Mavericks over Brooklyn 119-113 while Paul Millsap scored 25 points to lead Denver in a 103-101 victory at Minnesota.
Zach LaVine scored 29 points and Jabari Parker added 20 points and 13 rebounds for Chicago in a 124-116 victory over visiting Phoenix.
Sacramento's Willie Cauley-Stein scored 23 points to lead seven double-figure scorers in the Kings' 119-110 win at Utah.
Reserve Trey Burke had 29 points and 11 assists to lead New York over host Boston 117-109 while Jeremy Walker's 21 points led seven double-figure scorers for Charlotte in a 127-109 win over visiting Indiana.
Warriors' slump continues
In the late tip-off of the day, Russell Westbrook recorded his first triple-double of the season as Oklahoma City defeated the Golden State Warriors 123-95. It was a game in which Thunder rookie Hamidou Diallo was carted off on a stretcher with 7:17 left with an apparent left leg injury.
Diallo's left leg was stabilised as he was wheeled away to applause from the Oracle Arena crowd. Diallo was credited for rebounding Jonas Jerebko's missed layup when they both went down hard.
Westbrook began 1 for 6, then hit stride, finishing with 11 points, 13 assists, 11 rebounds. It was his second game back since missing five with a sprained left ankle, then another when he welcomed twin daughters Saturday night.
Paul George had 25 points, nine rebounds and five assists and Steven Adams contributed 20 points and 11 rebounds as the Thunder sent the two-time defending NBA champions to their first four-game skid in nearly six years.
Kevin Durant and Klay Thompson scored 27 points apiece with Durant grabbing a season-best 14 rebounds for the Warriors, who were again playing without All-Star starters Stephen Curry and Draymond Green, as well as key reserve Alfonzo McKinnie.
Clearly in pain, Diallo moved himself off the court and was under basket for several minutes.
In a loss Monday at Sacramento, Diallo became the first Thunder rookie ever to go at least 7 for 7 from the floor. He made both his 3-point tries on the way to 18 points.
Westbrook's 3-pointer 4:17 before halftime put the Thunder ahead 50-37.
The Warriors, who held off the Thunder 108-100 in their season opener on 16 October and had won the last three matchups, trailed 60-46 at halftime with just 11 assists to 10 turnovers but opened the third with a 13-2 run to get within 62-59.
While Golden State dropped 10 of its final 17 games last season, the Warriors hadn't endured a four-game losing streak during the regular season since dropping four in a row from Feb. 26-March 2, 2013. They also lost six straight just before that in February '13.
OKC's Terrance Ferguson returned from a two-game absence as he welcomed a baby, then went down at the 5:41 mark of the first with a sprained left ankle and didn't return.
(With inputs from The Associated Press)
Subscribe to Moneycontrol Pro at ₹499 for the first year. Use code PRO499. Limited period offer. *T&C apply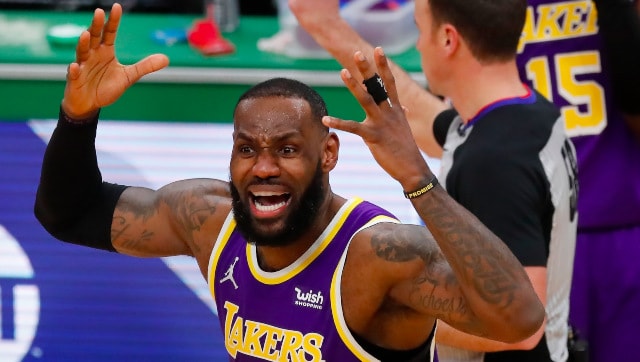 Sports
This is the fourth year of the NBA's playing captain format for the All-Star Game. James is 3-0, beating teams captained by Curry in 2018 and Antetokounmpo in the last two seasons.
Sports
This is a bizarre season for the NBA in a bizarre time for the world. There is, however, one constant. The Eastern Conference standings are a mess.
Sports
LeBron James will stay in Los Angeles for treatment and miss his first game of the 2020-21 season on Wednesday when the Lakers play at Sacramento.