NBA: Kevin Durant nets 26 points to lead Warriors to victory over Lakers; Wizards stun Celtics
NBA Finals MVP Durant also contributed five rebounds and six assists as a Warriors side missing Stephen Curry, Klay Thompson and Draymond Green beat Lakers.
Los Angeles: Kevin Durant scored 26 points as the Golden State Warriors shrugged off their injury crisis to overpower the resurgent Los Angeles Lakers on Wednesday.
NBA Finals MVP Durant also contributed five rebounds and six assists as a Warriors side missing Stephen Curry, Klay Thompson and Draymond Green completed a 117-106 win in Oakland.
The Lakers had gone toe-to-toe with the Warriors during an entertaining first half, holding the NBA champions at 55-55 at the break.
But a lapse in concentration midway through the third quarter saw the Warriors produce a 12-0 run, giving them a 70-59 lead which ultimately proved decisive.
The Warriors improved to 52-16 in the Western Conference, one win back from leaders Houston (53-14). The Lakers, who are outside of the playoff places, fell to 31-37.
With Curry, Green and Thompson all missing, Durant shouldered the offensive burden for the Warriors, with support from Nick Young (18 points) and Zaza Pachulia, who had 10 points and 12 rebounds.
The Lakers scoring was led by Julius Randle with 22 points, while Brook Lopez and Isaiah Thomas both had 20 apiece.
Wizards jolt Celtics
Elsewhere on Wednesday, the Washington Wizards fought back from a 20-point deficit to jolt the injury-hit Boston Celtics with a 125-124 victory in double overtime.
A Jodie Meeks three-pointer with two seconds remaining tied it for the Wizards at 106-106 to send the game into the first period of overtime after the Celtics appeared to have done enough for the win.
Boston rookie Jayson Tatum then blew a chance to win it for the Celtics in the first period of overtime, the 20-year-old levelling the score at 115-115 with a two-point layup but then missing a free throw that would have sealed a win.
Instead, Washington pulled away to open a six-point lead in overtime that saw them improve to 39-30 in the Eastern Conference standings.
The second-placed Celtics, who are battling through a slew of injuries that has deprived them of Kyrie Irving, Marcus Smart, Daniel Theis, Jaylen Brown and Al Horford, fell to 46-22 with the defeat.
The Celtics remain four games adrift of the first place Toronto Raptors, who are on course for the top seeding and home-court advantage through the playoffs.
Bradley Beal led the way for the Wizards at Boston's TD Garden on Wednesday, scoring 34 points with seven rebounds and nine assists.
Markieff Morris had 20 points while Otto Porter Jr. had 18 points. Ian Mahinmi added 14 from the bench.
Boston's scoring was led by Marcus Morris with 31 points, Terry Rozier adding 21 and Tatum 19.
In other games Wednesday, the Orlando Magic pulled off an upset against the playoff-chasing Milwaukee Bucks with a 126-117 victory.
Orlando's Jonathon Simmons scored a career-high 35 points as the Magic improved to 21-48. The Bucks fell to 36-32 with the defeat.
Simmons was ably supported by point guard DJ Augustin, who had 32 points along with four assists and three rebounds.
Montenegrin centre Nikola Vucevic also proved influential, scoring 22 points while finishing with nine assists and nine rebounds.
The Bucks meanwhile leaned heavily on the brilliance of Greek star Giannis Antetokounmpo, who led the scoring with 38 points. Antetokounmpo also led his team with rebounds (10) while adding seven assists.
Find latest and upcoming tech gadgets online on Tech2 Gadgets. Get technology news, gadgets reviews & ratings. Popular gadgets including laptop, tablet and mobile specifications, features, prices, comparison.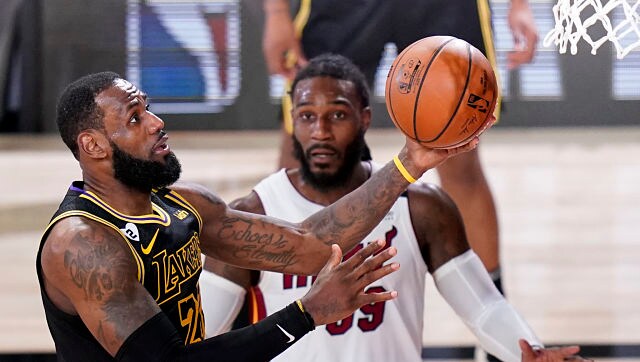 Sports
Lakers superstar LeBron James says, the key to closing out the Heat for a first NBA title in a decade on Sunday will be focusing not on lifting the trophy but on winning a single game.
Sports
The board is targeting a 22 December start to what would be a season of 70 to 72 games, with the NBA Finals ending in June again as has been in the case for many years, according to a person with knowledge of the situation.
Sports
James added another chapter to an epic career, fueling the Lakers with a triple-double of 28 points, 14 rebounds and 10 assists and capturing his fourth NBA title with a third different team, as well as earning NBA Finals Most Valuable Player honors for a fourth time.