NBA: James Harden scores 41 points to propel Rockets to victory over Pelicans; Giannis Antetokounmpo helps Bucks win
Harden finished with 41 points and six assists to become the first player since Oscar Robertson to post at least 35 points and five assists in seven straight games. Robertson did it twice, in 1965 and 1967.
James Harden recorded his third straight 40-point game to power the Houston Rockets to a 108-104 victory over the New Orleans Pelicans on Saturday.
Harden finished with 41 points and six assists to become the first player since Oscar Robertson to post at least 35 points and five assists in seven straight games. Robertson did it twice, in 1965 and 1967.
"That's what I play for," Harden said when asked about being compared to Robertson. "That's what you play the game of basketball for, to be mentioned in the name with the greats.
"Obviously, I have a long way to go, but that's what I put my jersey on for, that's what I lace my shoes up for, to go out there and be the best that I can be and when it's all said and done, be mentioned as one of the best basketball players to ever touch a basketball."
Harden scored 17 points in the first quarter and made all 14 of his free throws during the game. He drained seven of 16 shots from beyond the arc.
Harden scored 26 points in the first half as Houston took a 53-50 lead into the locker room.
Pelicans star Anthony Davis struggled after scoring a season-high 48 points in a victory over Dallas, taking only five shots in the first half. Julius Randle led the Pelicans with 23 points and 11 rebounds. Davis finished with 22.
Houston led 77-76 after three and scored the first seven points of the fourth period. The Rockets extended their lead to 101-86 with just under six minutes left, but the Pelicans went on a 13-2 run to cut the deficit to 103-99.
PJ Tucker made two free throws with 12 seconds remaining in the fourth to seal the win.
Harden will get a chance to score 40 in four straight when the Rockets host Memphis on Monday.
Giannis Antetokounmpo drops 31 points 
Elsewhere, Giannis Antetokounmpo posted his third triple double of the season as the league-leading Milwaukee Bucks won their third straight game with a 129-115 victory over the Brooklyn Nets.
Antetokounmpo finished with 31 points, 10 rebounds and 10 assists for the Bucks, who improved to 25-10 on the season.
"He was phenomenal in the last five minutes," Milwaukee coach Mike Budenholzer said.
Khris Middleton played through the pain of a quad injury to score 29 points and Brook Lopez added 24 points on seven-of-15 shooting from beyond the arc.
Lopez drained five of nine from the arc in the first half to help open up a 19-point halftime lead for the Bucks, who have won seven of eight contests.
The Bucks compiled a 15-point lead with just over three minutes left in the fourth with the help of six consecutive baskets by Antetokounmpo.
"That's what a superstar does. When it's crunch time, when it's time to close a game out — he did it," Nets coach Kenny Atkinson said of Antetokounmpo.
Brooklyn, who were already missing six players, lost forward Rondae Hollis-Jefferson with a groin injury in the first half.
Also, Jamal Murray scored 46 points and made a career-high nine three pointers to lift the Denver Nuggets to a 122-118 victory over the Phoenix Suns.
Murray was 16 for 24 from the field with the second-most points he's scored in a game this season. He scored 31 a night earlier in a win over San Antonio.
In Portland, Klay Thompson scored 32 points, Stephen Curry and Kevin Durant combined for 50 and the Golden State Warriors avenged a loss from earlier this week, beating the Portland Trail Blazers 115-105.
Find latest and upcoming tech gadgets online on Tech2 Gadgets. Get technology news, gadgets reviews & ratings. Popular gadgets including laptop, tablet and mobile specifications, features, prices, comparison.
Sports
Brown had worked with the Australian men's team in the 1990s and early 2000s and again from 2009-12 before joining 76ers. He was hired again in November last year on a short-term basis for the Olympic assignment after Andrej Lemanis quit, and had been expected to do work with the Boomers during the NBA break.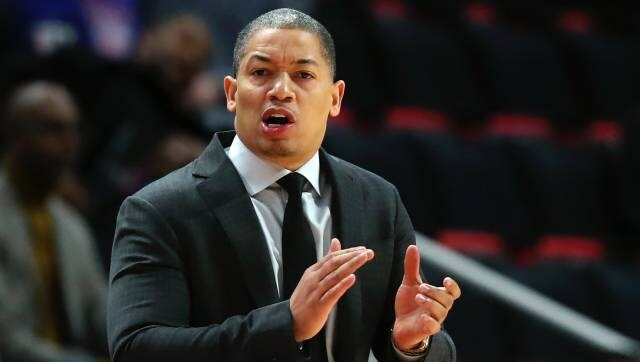 Sports
Tyronn Lue was the head coach of the Cleveland Cavaliers when they captured the NBA championship with LeBron James in 2016.
Sports
The board is targeting a 22 December start to what would be a season of 70 to 72 games, with the NBA Finals ending in June again as has been in the case for many years, according to a person with knowledge of the situation.