NBA: James Harden helps Rockets thrash Warriors even as Kevin Durant, Draymond Green start; Nuggets rout Hawks
Draymond Green returned for the Warriors after serving a one-game suspension meted out by Golden State after his confrontation with teammate Kevin Durant.
Los Angeles: The Houston Rockets humbled the two-time defending NBA champion Golden State Warriors 107-86 on Thursday in a rematch of last season's Western Conference finals.
The Rockets took full advantage of the absence of Warriors sharpshooter Stephen Curry, who missed his fourth straight game with a groin injury.
They posted their sixth victory in eight games after a 1-5 start and climbed to .500 at 7-7 in the still young season.
Draymond Green returned for the Warriors after serving a one-game suspension meted out by Golden State after his confrontation with teammate Kevin Durant.
The Rockets coped with their own upheaval as shortly before the game general manager Daryl Morey confirmed they parting ways with 10-time All-Star Carmelo Anthony, who had played in just 10 games since arriving as a free agent prior to the season.
Whether Curry's absence or continuing tension between teammates played a role, the Warriors endured a horrendous shooting night, connecting on 42.1 percent of their shots from the field and just 22.2 percent from three-point range.
Not a single Warriors starter made a three-pointer — a first since March of 2013. The Rockets, up 47-41 at halftime, pulled away relentlessly — putting the game out of reach with a 21-2 scoring run to open the fourth quarter.
"We're banged up a little physically and we're banged up spiritually — there's no getting around that," Warriors coach Steve Kerr said. "We've got to fill up our cup, get our spirit back, get our energy back, and we're going to. It's a long season."
Green, Durant and Klay Thompson combined to shoot 0-for-9 from beyond the arc while neither Andre Iguodala nor Damian Jones attempted a three-pointer.
Durant led the Warriors with 20 points and Thompson added 10 — not enough as Iguodala and Jones combined for 10. Green came away with zero points, but Kerr liked what he saw from him.
"Draymond may not have had his best night tonight, but I liked his approach," Kerr said. "He was genuine out there. He was competing.
"Now the rest of the team we've got to all lift our spirits up and get back on the saddle."
James Harden led Houston with 27 points. James Ennis added 10 while Chris Paul and Clint Capela chipped in 10 apiece, Paul adding five rebounds, seven assists, three steals and two blocked shots.
"I just thought our guys right from the start were locked in defensively," said Rockets coach Mike D'Antoni. "They did a great job.
"You don't beat these guys like this unless everybody plays well."
Nuggets dominate
In Denver, the Nuggets halted a four-game skid in decisive style, routing the Atlanta Hawks 138-93.
Juancho Hernangomez scored a season-high 25 points and Paul Millsap and Gary Harris scored 18 each as seven Denver players scored in double figures.
It was a welcome return to form for a Nuggets team that was off to its best start in four decades before hitting the skids with four straight defeats.
"We needed the win," said Hernangomez after the Nuggets' most lopsided victory of the season. "We were just playing with freedom. Everybody played hard. Everybody matched up on defense. Off of our defence, it was easy to run get back to who we are."
The Los Angeles Clippers held off the determined San Antonio Spurs 116-111 to notch a third straight win.
Lou Williams's 23 points off the bench for Los Angeles included a go-ahead three-pointer with 40 seconds remaining as the Clippers followed up overtime wins over Milwaukee and Golden State with another close victory.
The Clippers led by as many as 10 in the fourth quarter, but San Antonio knotted it at 107-107 with 1:13 to play on two free throws by LaMarcus Aldridge.
Williams responded with his three-pointer that gave Los Angeles the lead for good, Danilo Gallinari producing four clutch free throws in the final 30 seconds to help seal the win.
Despite 34 points from DeMar DeRozan, the Spurs lost their third straight.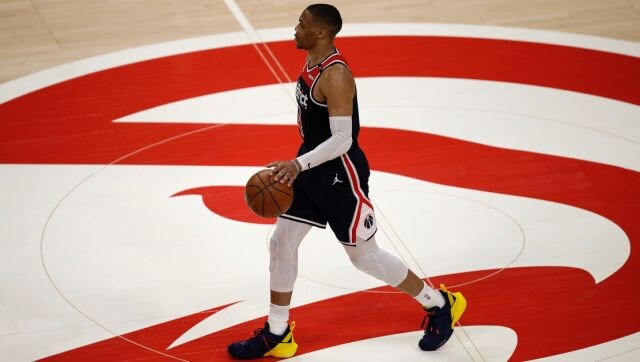 Sports
San Antonio had 87 points in the first half, the second-most the club has scored in any half. The Spurs tied their mark for any half with 12 3-pointers in the first
Sports
Russell Westbrook sealed his record-breaking triple midway through the fourth quarter of the game against the Atlanta Hawks.
Sports
Paul scored 15 of his points in the fourth quarter. The Suns improved to 44-18 on the season and are now two games ahead of the third-placed Clippers and one game back of the Utah Jazz (45-17) atop the West.