NBA: Is Oklahoma City Thunder's Russell Westbrook doomed to never win the Championship?
Mixing correlation with causation is dangerous business but there are only so many times the team can fail with Westbrook at its centre before you start wondering: is it even possible for Westbrook to win a title?
At the dawn of the 2017 season, two superteams were formed with a single agenda: to defeat the Golden State Warriors. The Houston Rockets added Chris Paul to a team which already had James Harden to form one of the most fearsome backcourts in the NBA. The Oklahoma City Thunder went a step further and brought in two All-Stars in the form of Paul George and Carmelo Anthony.
As the two Western Conference giants meet on Tuesday though, they remain more a study in contrast than the Thunder would care to admit. The Rockets are at the top of the league and could very well be the team to dethrone the Warriors. The Thunder would stun most people if they even made the Conference Finals.
The difference — as is almost always the case when the Thunder are involved — is Russell Westbrook.
Ah! Westbrook, forever the antagonist. A man in such a hurry to punish the rim that it is surprising that he doesn't tear himself in half as he barrels through opposition defences like they were ninepins. A teammate so good that everyone who plays with him becomes better (only after they leave his team though). A six-foot-three "point guard" whose dunks are a mandatory feature of every highlight reel which even remotely involve the Oklahoma City Thunder.
Now in his tenth season in the league, Westbrook has already ensured that his name will always be part of NBA folklore. He is a six-time All-Star, two-time scoring champion and the reigning MVP. And with his own signature shoe on the way in 2018, it seems like 'Beastbrook' has it all.
Except an NBA title.
The Westbrook story
Ever since the Thunder (then the Seattle Supersonics) drafted Westbrook fourth overall in the 2008 draft, it seemed that he was destined to win an NBA title long before it was all said and done. A talented scorer in his own right, Westbrook was taking his place alongside one of the purest shooters in the game in Kevin Durant. And when Harden joined the team a year later, it seemed that a dynasty was in the offing.
While that didn't work out for non-basketball reasons, it still seemed that Westbrook and Durant would pull off a Finals victory eventually. Eight seasons together did not yield a title though and in 2016, Durant left for the Warriors. Westbrook then put together the regular season of a lifetime but went out in the first round of playoffs. This season, playing with two All-Stars in George and Anthony, Westbrook is no closer to winning the title than he was a year ago.
Mixing correlation with causation is dangerous business but there are only so many times the team can fail with Westbrook at its centre before you start wondering: is it even possible for Westbrook to win a title?
Two superstars or one: it doesn't matter
The signs were present even in the heady days when Westbrook came into the league. While both Durant and Westbrook guaranteed points and the team was always fun to watch, there was no overall system in place. There was no zippy ball movement, cutters zig-zagging across the floor or smart screen-action to get different shooters free. Instead all plays were aimed at producing one of the following outcomes: mostly an open Durant shot or a Westbrook drive to the basket, sometimes a Serge Ibaka mid-range jumper. If those didn't work, then it was time for either Durant or Westbrook to put up an iso-show and try to shoot over/around their man.
It worked many times of course. Durant is an excellent iso-player who can create a shot from thin air and Westbrook's jumper is nothing to scoff at either. Over a seven-game playoff series though, where the opposition were tuned into all their moves and the game was more deliberate, it didn't work. The Thunder reached the Finals only once and were never really in the reckoning even then.
Eventually, Durant decided that he had pretty much won everything he could on an individual level. He needed to win the NBA title and the Thunder with Westbrook was not the place to do it. He joined the Warriors and wound up as Finals MVP winning the league in his first season in Oakland.
Westbrook never forgave Durant for leaving with even matches this season seeing friction between the two. Westbrook turned the rage into numbers though as he asked the world to witness one of the greatest individual seasons of all time where he ended more than half his regular season games with double-digit tallies in points, assists and rebounds. A deep playoff run was never in the picture though and while Russ picked up an MVP award for his troubles, Thunder knew they had to bring in reinforcements to even have a sniff at the Larry O'Brien Trophy.
Enter George and Anthony
When the Thunder signed George from the Indiana Pacers, most people nodded appreciatively. It seemed to raise the team's level and surely Westbrook would be able to make use of a four-time All-Star who can score as well as defend. Anthony's signing took the excitement to another level however and it seemed like the superteam to challenge the Warriors had arrived.
On the court though, nothing of the sort seems to have happened. While the defence has been surprisingly good (something not many people expected as Westbrook and Anthony are hardly hustlers on the defensive end), the offence has been superlatively bad. Anthony seems more and more like a spent force and has consistently dragged the team down with his iso-play. George has seemed nothing like the man who had kept the Pacers relevant over the last few years though he has still been chipping in with a respectable 20 points a game in addition to 2.6 blocks every match.
Westbrook himself has changed too. Gone is the ball-hog who was the only factor which decided the Thunder's fortunes last season. However, he hasn't morphed into an offense-running, off-ball hustling, modern point guard. Instead, he has been stuck in limbo, showing flashes of individual brilliance and then doing nothing when others have the ball. No cutting, no screening. He literally just walks around after making a pass.
A man (only) for individual honours
Westbrook then seems to be in a catch-22 situation: too talented to truly defer to another superstar, not talented enough to make a really good offence work. The reason why teams are using pace-and-space with cutters and slashers swarming like bees without the ball is because it is more efficient. Golden State, Houston and Boston are all excellent examples of systems at work. On the other hand, Oklahoma is still playing iso-ball with three superstars taking turns to showcase their one-on-one skills.
Oklahoma too is stuck in a catch-22 situation. Westbrook still remains the biggest draw for the fans and they are seemingly committed to him having awarded him the biggest guaranteed contract in NBA history — running through six seasons and paying him $233 million.
But as Harden and the Rockets show everyone how it's done, surely the Thunder are wondering if they let the wrong player go. For while Westbrook will make the highlight-reel every night and will break some more individual records before he is done, a championship ring seems a step too far for The Brodie.
All statistics from Basketball Reference.
Subscribe to Moneycontrol Pro at ₹499 for the first year. Use code PRO499. Limited period offer. *T&C apply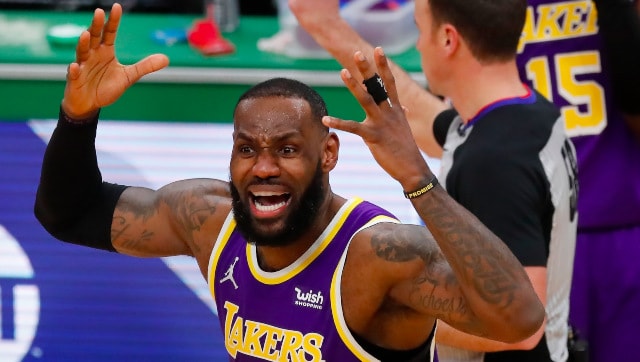 Sports
This is the fourth year of the NBA's playing captain format for the All-Star Game. James is 3-0, beating teams captained by Curry in 2018 and Antetokounmpo in the last two seasons.
Sports
Nets coach Steve Nash had predicted this week that he would return before the All-Star break, but an MRI exam prompted them to revise his return timeline.
Sports
New York State Governor Andrew Cuomo paved the way for the Knicks to welcome back supporters when he announced earlier this month that he would allow stadiums to open at ten percent capacity.