NBA: Gordon Hayward's horrific injury overshadows Cavaliers win, Rockets ruin Warriors' opening night
Gordon Hayward suffered a dislocated and broken left ankle in the Boston Celtics' 102-99 loss to the Cavaliers in Cleveland.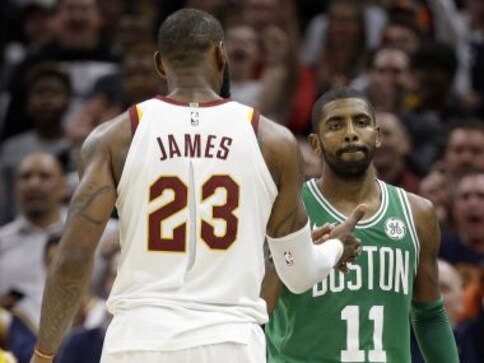 Los Angeles: The new NBA season was less than six minutes old when disaster struck for the Boston Celtics on Tuesday in the form of a gruesome ankle injury to forward Gordon Hayward.
Hayward suffered a dislocated and broken left ankle in the Celtics' 102-99 loss to the Cavaliers in Cleveland.
The former Utah star, who inked a four-year, $128 million deal with the Celtics in the off-season, landed hard 5:15 into the game after a leaping cut to the basket, trying to catch an alley-oop pass from Kyrie Irving.
Players from both teams looked shocked as Hayward, his ankle turned at a sickening angle, was attended by medical staff and rushed off on a stretcher.
Irving, the former Cavaliers star who landed in Boston after a shock off-season trade request, said it was one of the worst injuries he'd ever seen.
"It's not a great sight to see," Irving said.
Irving's return to Cleveland was supposed to be the story of the night.
He was booed lustily by Cavaliers fans -- including when he lofted a shot over superstar LeBron James for the season's first basket.
James said he had plenty of fond memories of playing alongside Irving, reaching three straight NBA Finals and winning a title with him in 2016.
"But once the ball went up, it was kind of back to our regularly scheduled program," James said.
'A work in progress'
The Cavs led 54-38 at half-time and stretched the lead to 61-43 early in the third quarter.
The Celtics fought back and were up 98-95 before Kevin Love made two free throws, James followed with a layup and then assisted on Love's three-pointer that gave Cleveland a 102-98 lead.
Irving missed a driving shot and a three-pointer at the buzzer and the Cavs prevailed.
James scored 29 points with 16 rebounds and nine assists -- but said he still needs to work on his fitness after missing most of the pre-season with a sprained left ankle.
He also said it would take some time before he, Love and new additions Derrick Rose and Dwayne Wade, are operating together at full capacity.
"We've got some things we need to figure out," James said. "It's a work in progress, for sure."
Rockets shoot down Warriors
In Oakland, the revamped Houston Rockets rallied to spoil the Golden State Warriors' opening night festivities with a dramatic 122-121 triumph.
The Warriors started the night receiving their championship rings from NBA commissioner Adam Silver and unfurling their championship banner in the rafters of Oracle Arena.
It looked like they would be celebrating at the end of the night as well as they led by as many as 17 points in the first half.
But driven by James Harden (27 points) the Rockets rallied, taking the lead for the first time 44 seconds from the end of regulation thanks to two free throws from PJ Tucker.
Golden State star Kevin Durant had a chance to win it, and in fact thought he had, but his last-gasp effort didn't leave his hand before the buzzer sounded.
"I thought it had a chance," Durant said. "But I knew it was a little late. I knew it was cutting it close."
Sports
Can a sports league in India function without any involvement of the national federation responsible for that sport? The Prime Volleyball League is hoping to pull off just that. PVL CEO Joy Bhattacharjya speaks with Firstpost on the 'pathbreaking' concept.
Sports
Simmons, the No. 1 pick of the 2016 draft, is a three-time All-Star who had been paired with Joel Embiid as the franchise cornerstones as the Sixers chase their first NBA championship since 1983.
Sports
The National Basketball Players Association has not mandated to players that they be vaccinated, despite the NBA's hope that would be the case.