NBA: Giannis Antetokounmpo records third straight triple-double as Bucks beat Wizards, Nets down Knicks
Antetokounmpo combined for 64 points, 26 rebounds and 21 assists in the two-game series at Washington that Milwaukee swept.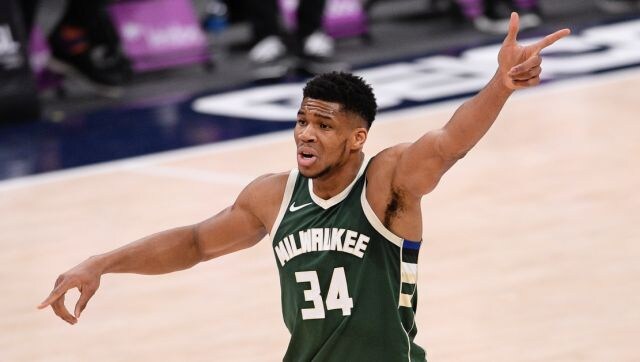 Giannis Antetokounmpo had 31 points, 15 rebounds and 10 assists for his third consecutive triple-double to lead the Milwaukee Bucks past the Washington Wizards 133-122 Monday night for their fourth consecutive victory.
The Bucks pulled away late after letting a 26-point, third-quarter lead slip to five midway through the fourth. When the Wizards got within seven in the final minutes, Antetokounmpo scored the next four points to make it a double-digit game again.
"I'm not Kobe," Antetokounmpo said. "I just try to be a basketball player. I don't look at the clock and say, 'Oh now we are up two or we're down two, let me take over the game.' No, I just make the right decision at the right moment. Sometimes it's going to be score, sometimes it's going to be pass."
Antetokounmpo combined for 64 points, 26 rebounds and 21 assists in the two-game series at Washington that Milwaukee swept. The back-to-back NBA MVP also had 24 points, 10 rebounds and 10 assists in the first triple-double of this run against the New York Knicks last week.
"He's been in a good place mentally," coach Mike Budenholzer said. "The way he's playing and creating for others and creating for himself and getting to the free throw line, he's in a good place. He's playing great basketball.
Antetokounmpo became the third player this season with a triple-double in three games in a row, joining Washington's Russell Westbrook, who did it twice, and Miami's Jimmy Butler. His seventh career 30-point triple-double passed Kareem Abdul-Jabbar for the most in team history, and he's the first Bucks player to have three triple-doubles in a row.
"It's not always about scoring," Antetokounmpo said. "You can manipulate the game in different ways: passing, finding your teammates, putting them in the right spot."
The Bucks kept pace with Eastern Conference-leading Philadelphia and are now two games back with Brooklyn in between.
Bradley Beal led the Wizards with 37 points after sitting out Saturday to rest a sore left knee. Russell Westbrook had 23 points and a season-high 17 assists.
Knicks 112, Nets 117
Kyrie Irving scored 34 points and James Harden posted his 10th triple-double of the season, leading the Brooklyn Nets to a 117-112 victory over the Knicks.
Harden finished with 21 points, 15 rebounds and 15 assists in his first game against the Knicks since arriving in Brooklyn two months ago and turning the Nets into one of the NBA's best teams.
Randle had 33 points, 12 rebounds and six assists, before a number of his teammates had to get off the bench to hold the All-Star forward back as he tried to get near the referees at midcourt.
The Nets agreed to the deal that brought Harden to Brooklyn on Jan. 13, playing short-handed that night at Madison Square Garden in a 116-109 victory over the Knicks. That made them just 7-6, but they are 20-7 since Harden's arrival, including 19-4 when at least two of their three superstars play.
Lakers 128, Warriors 97
LeBron James had a triple-double with 22 points, 11 assists and 10 rebounds, leading the injury-depleted Los Angeles Lakers past the Golden State Warriors 128-97.
Montrezl Harrell backed up James' fourth triple-double of the season by scoring 27 points off the bench on 11-of-14 shooting as the Lakers won the season series with Golden State.
Stephen Curry scored 27 points with four 3-pointers and became the Warriors' franchise assists leader a day after his 33rd birthday and in his 12th NBA season.
Golden State had its home winning streak snapped at four — a day after the Warriors ended a season-worst four-game skid by beating the Jazz 131-119.
Clippers 109, Mavs 99
Kawhi Leonard and the Los Angeles Clippers answered a couple of low moments in their season — and kept rolling on the second night of back-to-backs.
Leonard scored 22 points, Marcus Morris Sr. added 14 in a rare start and the Clippers beat the Dallas Mavericks 109-99.
The Clippers were playing Dallas for the first time since a 51-point blowout on their home court in December, and a night after a 20-point loss in New Orleans. The NBA's only remaining unbeaten team on the back end of consecutive games improved to 7-0 and tied Phoenix (7-1) for the most such victories.
Luka Doncic posted his ninth triple-double for Dallas, finishing with 25 points, 16 assists and 10 rebounds. Kristaps Porzingis scored 22 points.
Paul George scored 15 as seven Clippers finished in double figures. Ivica Zubac had 15 points and 11 rebounds. Nicolas Batum, who sat while Morris made his third start of the season, had a couple of big 3-pointers and scored 14. Reggie Jackson and Patrick Patterson scored 12 apiece.
Kings 116, Hornets 122
Terry Rozier scored 26 points, Gordon Hayward added 25 and the Hornets overcame a 15-point deficit in the second half to beat the Sacramento Kings 122-116 after trailing almost the entire game.
De'Aaron Fox led the Kings with 29 points, while Richaun Holmes had 17 points and 15 rebounds in a game in which Marvin Bagley III left early with a broken left hand.
Rozier and Hayward, who were a combined 13 of 13 from the foul line, helped ice the game with each making a pair of free throws in the closing seconds helping the Hornets outscore the Kings 21-8 in the final 5 1/2 minutes.
Spurs 109, Pistons 99
Dejounte Murray had 19 points and 10 rebounds to lead a balanced attack as the San Antonio Spurs beat the Detroit Pistons 109-99.
The Spurs had lost three of four, including a 35-point loss to the Philadelphia 76ers on Sunday.
Jakob Poeltl had 14 points and 12 rebounds for San Antonio, which had six players in double figures. Rookie guard Devin Vassell finished with 13 points in 21 minutes in his third game back from COVID-19.
Josh Jackson had 15 points for the Pistons, who have lost four straight, while Grant scored 14. With Wayne Ellington (groin) sidelined, the Pistons shot 28% (7 of 25) from the 3-point line.
Pacers 106, Nuggets 121
Nikola Jokic notched his 35th double-double with 32 points and 14 rebounds, leading the Denver Nuggets over the travel-weary Indiana Pacers 121-106.
Michael Porter Jr. and Will Barton each scored 20 points for the Nuggets, who used a big fourth quarter to get the win.
Malcom Brogdon led Indiana with 24 and Justin Holiday had 19. Domantas Sabonis finished a rebound shy of a triple-double with 10 points and 10 assists.
The start of the game was moved back an hour because the Pacers were unable to fly from Phoenix into Denver until Monday afternoon. A snowstorm that officially dropped 27 inches at Denver International Airport closed the runways from late Sunday morning. Four runways were reopened mid-afternoon Monday.
Grizzlies 99, Suns 122
Devin Booker scored 27 points, Chris Paul added 18 and the Phoenix Suns rolled to a 122-99 victory over the Memphis Grizzlies.
The Suns have won six of their past seven games and bounced back emphatically from a 122-111 loss to Indiana on Saturday. They won the season series against the Grizzlies two games to one.
Booker shot 10 of 19 from the field and topped his season average of 25 points per game despite sitting out the fourth quarter. Deandre Ayton added 15 points, nine rebounds and three blocks, while Jae Crowder scored 14.
also read
NBA
Game 7 is on the Celtics' floor, a matchup that'll decide who meets the Western Conference champion Denver Nuggets in the title series
NBA
Carmelo Anthony, who was not in the NBA this season, retires as the No. 9 scorer in league history.
NBA
Jayson Tatum had 33 points and 11 rebounds, Jaylen Brown added 17 points and the Celtics staved off elimination in the Eastern Conference finals