NBA Finals: All-time great LeBron James faces steep climb to inspire Cavaliers to victory over Warriors
Here's how the Golden State Warriors and the Cleveland Cavaliers reunited for a fourth-consecutive match-up in the NBA Finals: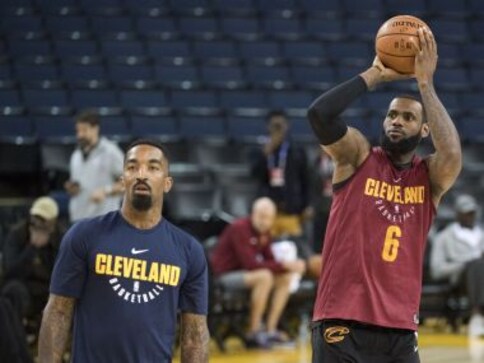 12 June, 2017. With the Golden State Warriors up 129-120 in Game 5 of the NBA Finals, Kevin Durant, the newest Warrior, dribbled out the clock in front of his home fans. The league's best team had defeated the league's best player in a 4-1 series, capping off a trilogy of NBA Finals meetings between the Warriors and the Cavaliers. The 2017 victory gave Golden State a 2-1 lead in what had become a new rivalry for the ages.
Less than a day later, NBA experts were already wondering if these two top squads were destined for a rematch a year from then, an unprecedented fourth meeting at the summit.
Very quickly, however, fans saw that betting on a "four-peat" of Warriors-Cavaliers Finals was going to be a shot in the dark. Other teams around the league weren't happy to simply sit around and watch Stephen Curry, LeBron James and their teams dominate the NBA. They loaded up. Houston Rockets acquired Chris Paul. Oklahoma City Thunder added Paul George and Carmelo Anthony. The Celtics signed Gordan Hayward, and, in a trade that would shake up the Cavaliers, added Kyrie Irving.
While the Warriors mostly stood pat — reupping their core and adding a few minor pieces — the Cavaliers saw massive overhaul in the offseason. They lost their second-best player — the disgruntled Irving — and replaced him with a bunch of faces new and old, including a trio of guards with All Star credentials but concerns of injury and fitness: Isaiah Thomas, Dwyane Wade and Derrick Rose. Midseason, the sputtering Cavaliers made another major overhaul, this time replacing the trio of guards with a new collection of role players.
The Warriors looked good, but injuries to Curry and Durant, and a general air of the championship-hangover took away some of their aura of indestructability. Instead of Golden State, the best team in the league lay in Houston, where James Harden and Paul raced the squad to a 65-win season.
Out East, LeBron and the Cavs fell to fourth place, while Toronto Raptors, Boston Celtics, and Philadelphia 76ers all finished with a better record. The "four-peat" seemed to be in jeopardy. Were the Rockets better than the Warriors, some wondered? Was one James (Harden) better than the other (LeBron)?
After an entertaining six weeks of three playoff rounds, it seems that fate has favoured the continuing rivalry. The Warriors and the Cavaliers showcased brilliance in different ways in their playoff stretch. Here's how both teams carved their way into the Finals once again:
Cleveland Cavaliers
Short answer: LeBron James
Full answer: LeBron James
LeBron's postseason performance has been a unique phenomenon, simultaneously unbelievable and completely inevitable. Entering now his personal eighth consecutive Finals (and ninth overall), LeBron has never had to carry more load single-handedly over his broad 33-year-old shoulders. Averaging 34 points, 9.2 rebounds, 8.8 assists, while shooting over 54 percent from the floor, this has been arguably the best post-season of LeBron's career. He's hit a couple of game-winners, made big plays on both ends of the court, and made superhuman stat-lines seem normal.
The Cavaliers as a whole have been largely inconsistent. In the First Round, the surprising, underrated Indiana Pacers pushed Cleveland to seven games, needing heroics from LeBron to pull off a victory in the final game of the series. Cleveland showed no hesitation against Toronto, the best team (record-wise) in the conference. For the third-consecutive season, LeBron brought an end to Toronto's playoff run, this time in a heart-wrenching sweep.
The conference finals were the toughest challenge, even though the Cavs faced a young and inexperienced Celtics squad who were missing their two top scorers: Kyrie Irving and Gordon Hayward. For the first six games, each team protected their home court. In the high-stakes Game 7, LeBron and Co held their cool while Boston's erratic three-point shooting failed them at home. Cleveland, once again, booked their tickets to the Finals.
Golden State Warriors 
Short answer: They have four All Stars, including two of the best four players in the NBA. Of course, they were going to make it to the Finals again.
Full answer: Injuries, cold stretches, and a lot of three-pointers, and if there is anything that the Warriors' playoff run has proved, it's that nothing is guaranteed, and even the best teams need heroic performances and luck on their side.
Last year, the Warriors swept the entire Western Conference and only lost one game in their championship run. This year was bound to be different. With Curry injured in the First Round and still hobbling in the second, the Warriors were convincing (if not ruthless) against the disciplined Spurs (4-1) and the Anthony Davis-led Pelicans (4-1). Curry showed flashes of brilliance by the time he returned for the Pelicans series. Durant was elite on offence, Draymond Green on defence, and the Warriors — operating at less than 100 percent — were still good enough to make the Conference Finals.
But it was here that they faced the Rockets, perhaps the toughest team they've had to play in the playoffs in the Durant-era. Houston, led by two future Hall-of-Fame guards in James Harden and Chris Paul and a plethora of accurate three-point shooters, were ready to strike down the champions. A back-and-forth series saw Warriors take a 2-1 lead, and then drop two close games to fall down 3-2 when a crucial member of their roster — Andre Iguodala — fell injured.
In Game 5, the Rockets suffered their own, more serious injury: Chris Paul. Without CP3, Houston resorted to taking more threes than ever, a strategy that helped them take double-digit leads in each of the last two games, before losing both in similar fashion to third quarter comebacks by Golden State. Curry, Klay Thompson, and Durant all found their groove back and the Warriors won Game 7 on the road to set up an anticipated Finals' rematch with Cleveland.
The Finals
After all these years, LeBron and Curry must be sick of seeing each other in the Finals over and over again. But this year, there are added wrinkles to the equation. Durant, a relative newcomer to the rivalry, will return to challenge LeBron's place at the top of NBA hierarchy. Meanwhile, the Warriors will be less familiar with this Cleveland squad which has changed its face so drastically over the past twelve months.
The Warriors won both regular season matchups against Cavs, 99-92 (on Christmas) and 118-108 (in January). But on Game 1 on Thursday night (Friday morning in India), they will be facing a team that has changed its identity. At the centre of it all, however, is the constant presence of LeBron. The key to stopping Cleveland will be in containing LeBron. This isn't an easy task, and every team — except the Warriors — has failed to do so in the past four years.
But if LeBron is an all-time great player, then the Warriors are an all-time great team. They have too many weapons, too much shooting, a better offence, and a better defence. Durant has the ability to match LeBron's efforts (like he did last year) and there will be no answer in Cleveland for Curry, Thompson, and Green. The only thing that can beat the Warriors this year is their own carelessness (turnovers, lazy offensive sets) or injury misfortune. LeBron and an off-night by the Warriors might help Cleveland to one win in this series; but expect the 2018 NBA season to finish just as the 2017 did: with Golden State atop the basketball world.
Prediction: Warriors win 4-1
Finals MVP: Stephen Curry
Sports
Kyrie Irving joins a growing list of NBA players, which also includes Bradley Beal, Jonathan Isaac and Andrew Wiggins, who firmly said no, or have expressed great hesitancy, about getting the vaccine.
Sports
Kawhi Leonard and Klay Thompson know it will be a while before they can get back onto the court. Zion Williamson wants to do it on opening night.
Sports
Simmons, the No. 1 pick of the 2016 draft, is a three-time All-Star who had been paired with Joel Embiid as the franchise cornerstones as the Sixers chase their first NBA championship since 1983.