NBA: DeMar DeRozan puts discontent with trade behind him to power Spurs to narrow victory against Timberwolves
DeMar DeRozan and Jimmy Butler put in good performances as San Antonio Spurs just about edged a victory against Minnesota Timberwolves in the dying embers of the match.
San Antonio: DeMar DeRozan responded to a trade he didn't want with his usual boundless energy and fearless style in the fourth quarter for San Antonio. Jimmy Butler hasn't received a trade he's requested, and turned in a similar performance for Minnesota.
DeRozan had 28 points in his San Antonio debut, LaMarcus Aldridge added 21 points and 19 rebounds and the Spurs overcame a 23-point performance by Butler in a 112-108 victory over the Timberwolves on Wednesday night in a matchup of teams coming off a tumultuous offseason.
"It was an extremely long summer for me, extremely long summer. So, just to be in this moment, it feels good," DeRozan said.
DeRozan was acquired from Toronto after the Spurs responded to Kawhi Leonard's trade demands by dealing their star forward and Danny Green for the Raptors' All-Star guard and Jakob Poeltl. The trade shocked DeRozan, but he has since warmed to the Spurs and San Antonio.
Minnesota is facing a similar trade demand from Butler, who has opted to play through it. Butler, who has told Minnesota that he will not re-sign with the team in the offseason, added seven rebounds and three assists in an active 31 minutes.
"I've got 81 games, baby, that's all the matters," Butler said when asked if he expects to remain with Minnesota. "We've got to lock in on today, what tomorrow brings and see where we are at. If that (trade) comes to be, that comes to be, there's nothing I can do about that. But in the meantime, I've got to figure out a way to help us win some games," he added.
DeRozan was initially upset he was traded, but has since embraced San Antonio and those good vibrations propelled him in the fourth.
DeRozan banked in the eventual game-winning shot in the final minute against Butler, driving hard to the basket against the 6-foot-8 forward and then pulling up from 12 feet to give San Antonio a 110-108 lead with 32.4 seconds remaining. DeRozan sealed the victory with a pair of free throws with 7.8 seconds remaining after Minnesota's Derrick Rose missed a runner in lane.
"Hey, I've been doing it for some years now," the 29-year-old DeRozan said about the late heroics. "I just feel out the game, always try to be aggressive and at the end moments, I always want to be there. I'm not afraid to make mistakes, but with that I'm not afraid to try to go out there and win the game," he added.
DeRozan's debut was also the close of the Big Three era in San Antonio. Tony Parker left the Spurs to sign with Charlotte in the offseason and Manu Ginobili joined Tim Duncan in retirement.
DeRozan and Aldridge are now the cornerstones of the team, and each lauded the other in their debut. "I haven't played with a guy as dynamic as him since probably Chris Bosh in my rookie year," DeRozan said.
Aldridge shot 7 for 23 from the field, and had three blocked shots and 11 defensive rebounds.
"He's a great passer," Aldridge said of DeRozan, adding, "he's always looking and probing and I'm too open. I have to get used to being ready and just taking my time. When I figure it out (and) I get my rhythm back, it's going to be way easier out there to score having him."
Rudy Gay had 18 points and Bryn Forbes had 11 points in his first start at point guard for the Spurs. Jeff Teague scored 27 points and Andrew Wiggins added 20 points for the Timberwolves.
Karl-Anthony Towns picked up his third foul with 2 minutes left in the first half and fouled out with 4:18 remaining in the game and the Spurs up 99-92. Towns finished with eight points and nine rebounds in 22 minutes.
NBA
Ben Simmons was devastated by the 76ers' loss to the Hawks in the 2021 NBA playoffs and never reported to training camp the following season.
Sports
Reeve said Griner would be "top of mind" throughout the 10-day tournament, and revealed players had been in touch with her to send messages of support.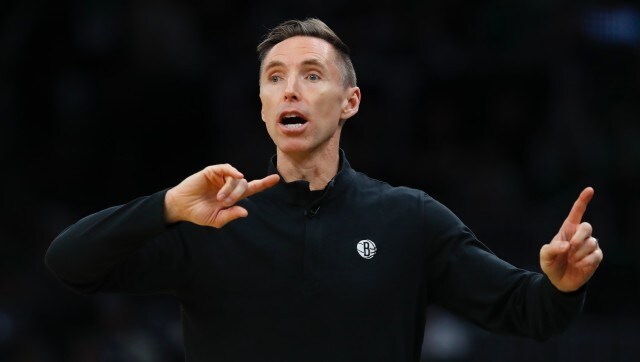 NBA
Durant pointed to how poorly the Nets played while he was sidelined by a knee injury in January and February as one of the reasons for his frustration