NBA: Bottom-placed Cleveland Cavaliers cut ties with JR Smith in post-LeBron James roster revamp
Cleveland Cavaliers' move comes hours after an interview with Smith became public where he said the Cavs, 2-13 overall and 0-8 on the road this season, were trying to lose.
JR Smith, who helped the Cleveland Cavaliers win the 2016 NBA title, will no longer play for the league-worst Cavs as they try to rebuild after losing superstar LeBron James.
The Cavaliers announced that Smith, a 33-year-old guard, "will no longer be with the team as the organisation works with JR and his representation regarding his future." The move comes hours after the release of an interview with Smith by The Athletic that featured him saying the Cavs, 2-13 overall and 0-8 on the road, were trying to lose.
"The organisation wishes JR and his family well and appreciates and thanks him for his contributions in the community, to the team and his role in the 2016 NBA Championship," the Cavaliers said in a statement.
The Cavaliers will try to trade Smith and he will work out away from the team until his future is settled. He won't play or attend Cavs games, including Wednesday's return by James to Cleveland with his new Los Angeles Lakers teammates.
Smith joined the Cavaliers in 2015 from the New York Knicks and was a key outside shooter in the team's 2016 championship run, but is averaging a career-low 6.7 points a game this season.
Smith averaged 12.6 points a game in his first 14 NBA campaigns, which included stints at New Orleans and Denver before a 2011-12 season with China's Zhejiang Golden Bulls and an NBA return with the Knicks.
Sports
With Mike Conley taking the night off to rest a hamstring injury, Mitchell took charge early. He made his first five shots on the way to scoring 28 first-half points — his most ever in a half.
Sports
The first-ever Indian-origin referee in the NBA, Suyash Mehta, abandoned a promising career path as a doctor to make the move to officiating. His first generation immigrant parents thought he was throwing away his life and career.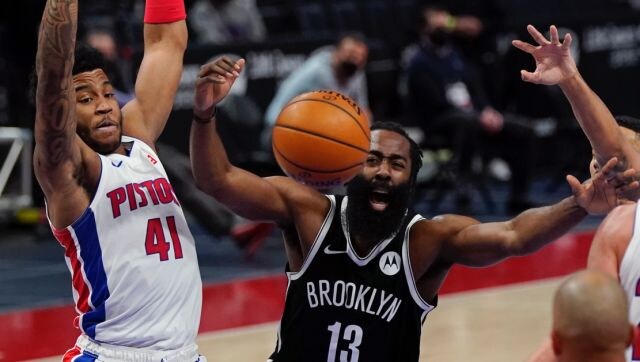 Sports
James Harden was back after missing a game because of neck soreness. He had 44 points, 14 rebounds and eight assists. Brooklyn were still without Kevin Durant (left hamstring strain) and Kyrie Irving (personal reasons).