NBA: Becky Hammon becomes first woman to direct NBA team; Spurs go down to Lakers
Becky Hammon, the assistant coach, took over the San Antonio Spurs in the second quarter after coach Gregg Popovich was ejected in a 121-107 loss to LeBron James and the Los Angeles Lakers on Wednesday night.
San Antonio: Becky Hammon would have preferred a victory over history after becoming the first woman to direct an NBA team.
The assistant coach took over the San Antonio Spurs in the second quarter after coach Gregg Popovich was ejected in a 121-107 loss to LeBron James and the Los Angeles Lakers on Wednesday night.
"I try not to think of the huge picture and huge aspect of it because it can be overwhelming," Hammon said. "I really have had no time to reflect. I have not had time to look at my phone. So, I don't know what's going on outside the AT&T Center."
Hammon and the Spurs already had a lot to contend with against the defending league champion Lakers.
James celebrated his 36th birthday with 26 points, eight assists and five rebounds in the Lakers' third double-digit victory. The teams will complete the two-game set Friday night.
"(I was) trying to get the guys in the right spots," Hammon said. "Trying to get them motivated. Obviously, it's a learning situation for all of us, but I would have loved to have walked out there with a win with the guys."
Popovich was ejected by official Tony Brown with 3:56 remaining in the second quarter. Popovich screamed at Brown and entered the court following a non-call on DeMar DeRozan's attempted layup and a subsequent attempted rebound by Drew Eubanks.
As he exited the court to applause from several of the team's family members in attendance, Popovich pointed a finger at Hammon and had a succinct message.
"You got 'em," Hammon said. "See? He doesn't treat us any differently than he does you guys."
Hammon took over the team's huddles during timeouts and walked the sideline following Popovich's ejection. Hammon was the first full-time female assistant coach in league history.
"Well deserved," Lakers coach Frank Vogel said. "I've talked to her before and she really knows her stuff and obviously she's here for a reason. She's equipped, intelligent (and the) guys have great respect for her. She's going to be a great coach one day."
A three-time All-American at Colorado State, Hammon played for the New York Liberty and San Antonio Stars in the WNBA as well as overseas before retiring to join Popovich's staff in 2014.
"Even in timeouts with Pop as head coach, she is quick on her feet," DeRozan said. "She tells us about defensive assignments, offensive sets we should run. Seeing her in the forefront, it would have definitely been cool to have won for her."
The Lakers contributed to Popovich's frustration and the Spurs' fortunes didn't get much better after the veteran coach exited.
Dennis Schroder had 21 points, Anthony Davis had 20 points and eight rebounds for the Lakers. Wesley Matthews was 6 for 6 on 3-pointers in scoring 18 points off the bench.
The Spurs opened with a 9-2 run, including an uncontested drive through the lane by Keldon Johnson for a two-handed slam. The Lakers responded with an 11-0 run that promoted a timeout by Popovich.
The Lakers took their first double-digit lead at 35-25 on Kyle Kuzma's 3-pointer with 1:14 remaining in the first quarter.
Dejounte Murray had a career-high 29 points, seven assists and seven rebounds.
"At the end of the day, it don't mean nothing, we lost," Murray said.
DeRozan added 23 for the Spurs, who lost their second straight after opening the season with two consecutive wins.
HEAT 119, BUCKS 108
Miami: The Miami Heat engineered a 58-point turnaround against the Milwaukee Bucks in 24 hours. And just like that, an embarrassing loss was avenged.
Goran Dragic scored 26 points, Bam Adebayo finished with 22 points, 10 assists and eight rebounds and the Heat beat the Bucks a day after Milwaukee made an NBA-record 29 3-pointers on the way to a 47-point romp on Miami's home floor.
Tyler Herro had 21 points and grabbed a career-best 15 rebounds for Miami, which trailed by 14 early in the second half and rallied to get a split of the two-game, two-night series against the team that finished with the NBA's best record in each of the past two regular seasons.
Giannis Antetokounmpo had a triple-double — 26 points, 13 rebounds, 10 assists — for the Bucks.
CELTICS 126, GRIZZLIES 107
Boston: Jaylen Brown scored 18 of his 42 points in the second quarter and Boston pulled away to its 10th straight victory over Memphis.
Brown matched his career best of 34 points with three minutes left in the third and tied a career-high with seven 3-pointers made. Jayson Tatum scored 16 points, and Marcus Smart had 14.
Hours after announcing they will be without leading scorer and reigning Rookie of the Year Ja Morant for three to five weeks because of a sprained ankle, the Grizzlies lost for the third time in four games. Jonas Valanciunas had 20 points and 11 rebounds for Memphis.
NETS 135, HAWKS 141
New York: Kyrie Irving shook off three rough quarters to score 17 of his 25 points in the fourth, Kevin Durant had 33 points, 11 rebounds and eight assists, and Brooklyn handed Atlanta its first loss.
In the opener of a two-game series between the teams that was almost entirely about offense — the third game in Nets franchise where both teams had 100 points through three quarters — Irving couldn't get into the act. He was just 3 for 16 from the field and getting badly outplayed by point guard counterpart Trae Young. But he made three 3-pointers in the final period after missing all seven through three as the Nets rallied to win after dropping two straight following their 2-0 start.
Young had 30 points, 11 assists and six rebounds, and John Collins had 30 points and 10 rebounds. The Hawks won their first three for the first time since 2016.
HORNETS 118, MAVERICKS 99
Dallas: LaMelo Ball scored 22 points, Miles Bridges had 20 points and 16 rebounds and Charlotte blew out Dallas in the Mavericks' home opener.
Terry Rozier, who scored 18 points, hit a pair of 3-pointers early in a 14-0 run to start the second half, giving the Hornets a 25-point lead coming off their first win, over Kevin Durant, Kyrie Irving and the Brooklyn Nets.
Charlotte silenced Luka Doncic and the Mavericks, who are still without European sidekick Kristaps Porzingis as the 7-foot-3 Latvian recovers from knee surgery. Doncic had 12 points.
TRAIL BLAZERS 105, CLIPPERS 128
Los Angeles: Kawhi Leonard scored 28 points in his return from a two-game absence, Paul George added 23 points, and the Los Angeles Clippers breezed past the Portland Trail Blazers 128-105 on Wednesday night.
It was the Clippers' second straight blowout win to close out the year. They beat Minnesota by 23 points a night earlier after bouncing back from an ugly 51-point defeat against Dallas last weekend.
Leonard and George came out firing to start the second half. They combined to score the Clippers' first nine points, extending their lead to 85-57.
George had 10 rebounds, while he and Leonard had seven assists each. Six Clippers scored in double figures. Lou Williams added 15 points off the bench.
CJ McCollum scored 25 points, making seven 3-pointers, to lead the Blazers, whose two-game winning streak ended. Damian Lillard made 14 of 15 free throws to finish with 20 points after missing 11 of 14 shots from the field. He was 0 of 8 from 3-point range.
Subscribe to Moneycontrol Pro at ₹499 for the first year. Use code PRO499. Limited period offer. *T&C apply
Sports
Nets coach Steve Nash had predicted this week that he would return before the All-Star break, but an MRI exam prompted them to revise his return timeline.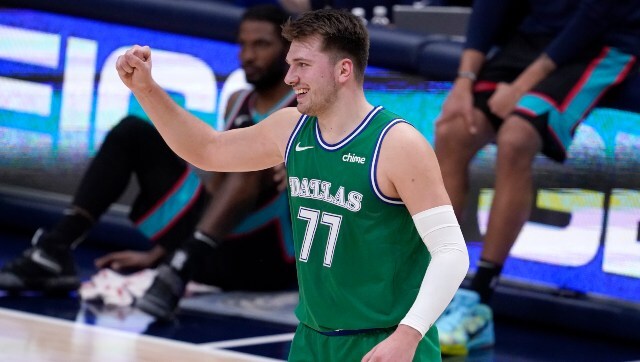 Sports
Dallas were playing for the first time in eight days after two postponements because of a wintry weather blast in Texas. Kristaps Porzingis didn't play after showing up on the injury report the day of the game with back stiffness.
Sports
In Milwaukee, Giannis Antetokounmpo scored 17 of the Bucks' last 22 points in a 105-100 victory over the Los Angeles Clippers.