NBA: Basketball legend Vince Carter calls time on his career after 22 seasons
After 22 seasons in the NBA, basketball legend Vince Carter announced his retirement on Thursday.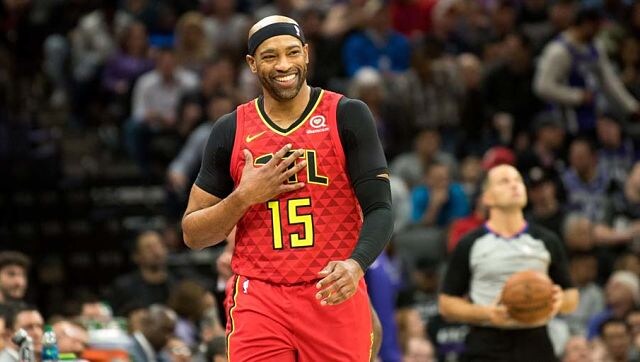 After 22 seasons in the NBA, basketball legend Vince Carter announced his retirement on Thursday.
Carter, who is the only player in history to have had such a long career, had already announced at the start of the 2019-20 season that this was going to be his last. With Atlanta Hawks being among the eight teams to have their seasons prematurely cut short due to the coronavirus
induced break, Carter's announcement was not surprising.
"I'm officially finished playing basketball. I'm officially done playing basketball professionally," Carter said on a special edition of the "Winging It with Vince Carter" podcast.
The eight-time All-Star and Rookie of the Year winner played his final NBA game against the New York Knicks on 11 March. While the game ended in a 131-136 defeat for the Hawks, Carter scored a three-pointer with 13 seconds left on the clock. It would prove to be the last shot he attempted.
"Making my last shot helped the situation. I think if I didn't make my last shot, it would have been a little different. It would have felt a little different. I would have been itching to, at least get back and just play one minute and just make one shot ― I don't care what it would be: free throw, layup, I don't care," Carter said. "As a player playing your last game ― whether you know it or not ― you always want to say, 'well, at least I made the last shot of my career.' And I can actually say that, so I'm happy."
Lauding Carter's influence on their young team, the Hawks released a statement later in the day.
"Over the last two years, Vince Carter has been a committed leader, respected mentor and influential example on the court, in the locker room and in the Atlanta community. Throughout his historic 22-year journey covering an unprecedented four different decades, his evolving career arc was perhaps like none other in league history – from Top 5 Draft Pick to Rookie of the Year to Slam Dunk Champion to superstar and eight-time All-Star to Twyman-Stokes Teammate of the Year and valuable role player. It's an honor to the Hawks organisation that he completed his Hall-of-Fame career wearing Atlanta across his chest and representing our city."
22 seasons in the making. Happy retirement, @mrvincecarter15!

🐐: https://t.co/TtTw0ozXOJ#H15TORY x #TrueToAtlanta pic.twitter.com/Ckd85R9Inx

— Atlanta Hawks (@ATLHawks) June 25, 2020
Earlier this year, Carter became the first NBA player to appear in a game in four different decades. Before his stint with the Hawks, he also played for Toronto Raptors, New Jersey Nets, Orlando Magic, Dallas Mavericks, Memphis Grizzlies, Phoenix Suns and Sacramento Kings.
Known for his dunking prowess, Carter will arguably most popularly be remembered for his stint at the Raptors, where he spent seven seasons.
Sports
The India Open badminton tournament, slated to be held at the Indira Gandhi Stadium in New Delhi from 11-16 May, has been postponed owing to rising COVID-19 cases in the city, BAI announced on Monday.
Sports
Krishna, who became the first Indian woman to bag an individual gold in the CWG by winning the discus throw event in the 2010 Delhi Games, is now admitted at the Rajasthan University of Health Sciences hospital.
Sports
Health officials in Los Angeles County recently relaxed Covid-19 restrictions, clearing the way for about 2,000 people to pass through the turnstiles.