NBA: Anthony Davis scores 44 points as Pelicans beat Nets in double overtime; Warriors coach Steve Kerr wins 250th match
The Pelicans won despite blowing a 28-point lead in the third quarter to the Nets on Saturday in front of a crowd of 16,500 at the Barclays Center arena.
Los Angeles: Anthony Davis scored 44 points and Rajon Rondo had a triple-double as the New Orleans Pelicans ended a three-game losing streak with a 138-128 double-overtime win over the Brooklyn Nets.
The Pelicans won despite blowing a 28-point lead in the third quarter to the Nets on Saturday in front of a crowd of 16,500 at the Barclays Center arena.
Davis added 17 rebounds and Rondo finished with 25 points, 12 assists and 10 rebounds for the Pelicans. Nikola Mirotic had 21 points and 16 rebounds, and Jrue Holiday chipped in 22 points.
"We just wanted to keep fighting, doing what we did to get the lead," said Davis.
Allen Crabbe made eight three-pointers and scored 28 points for the Nets, who appeared sluggish in the first half which put them in a deep hole. They then launched a furious rally in regulation which finished with Crabbe's three-pointer with 12 seconds remaining to send the game into the first overtime.
Spencer Dinwiddie finished with 24 points and 10 rebounds, and D'Angelo Russell came off the bench to score 21 points and nine assists.
"Obviously, we didn't play like us," Crabbe said. "So, coach didn't even come in and yell at us. He said you figure it out and get it together."
Elsewhere, Klay Thompson had the hot hand as the Golden State Warriors gave head coach Steve Kerr his 250th career win with a 122-105 victory over the San Antonio Spurs.
Thompson scored 10 of his 25 points in a third quarter that was significant because it allowed Golden State to seize control of the contest at Oracle Arena.
Thompson hit his first five three-point attempts while Stephen Curry and Draymond Green scored 17 points each as Golden State won their second straight contest.
"We stuck to the program," Curry said. "Our defence stepped up. Klay hit some big shots. We got success off our offence and that opened up the game."
Curry also chipped in eight assists and Green was celebrating because he had his first game of the last three where he didn't get slapped with a technical foul.
Kerr, the 2016 coach of the year, became the fastest to 250 coaching wins in NBA history, achieving the milestone in 302 games. That betters his former coach, Phil Jackson, who reached the mark in 346 games.
Kerr received 39 victories during a leave of absence following complications from back surgery at the start of the 2015-16 season when his assistant Luke Walton coached Golden State.
Birthday boy
Zaza Pachulia celebrated his 34th birthday by scoring 12 points and Kevin Durant added a season-low 10 points but he also dished out six assists.
LaMarcus Aldridge and Kyle Anderson led San Antonio with 20 points apiece, while Manu Ginobili had 13 points and six assists off the bench in the loss.
Golden State plays their final home game before the all-star break against Phoenix on Monday.
In Dallas, Germany's Dirk Nowitzki scored a season-high 22 points and Harrison Barnes had 21 as the Dallas Mavericks spoiled Isaiah Thomas's Los Angeles debut with a 130-123 win over the Lakers.
Thomas finished with 22 points an ill-fated 15-game stint with the Cleveland Cavaliers. This is Thomas's fifth team in seven NBA seasons.
In Chicago, Czech point guard Tomas Satoransky had his career night cut short when he was left bleeding from the head after being fouled on a drive to the net by Chicago Bulls Bobby Portis.
Satoransky, who finished with 25 points in a 101-90 win, was taken to the dressing room with 2 1/2 minutes left.
Portis was ejected from the game by the officials for his hit on an unsuspecting Satoransky.
"Everybody knows the rule. It's a dangerous play," said Wizard coach Scott Brooks.
Sports
Nigeria, with six NBA players and former NBA head coach Mike Brown at the helm, became the first African nation to beat the USA, who were playing the first of a five of tune-up games before the Tokyo Olympics.
Sports
Giannis Antetokounmpo scored 42 points and added 12 rebounds, but the Bucks could not offer the 26-year-old Greek forward enough support as they went down 0-2.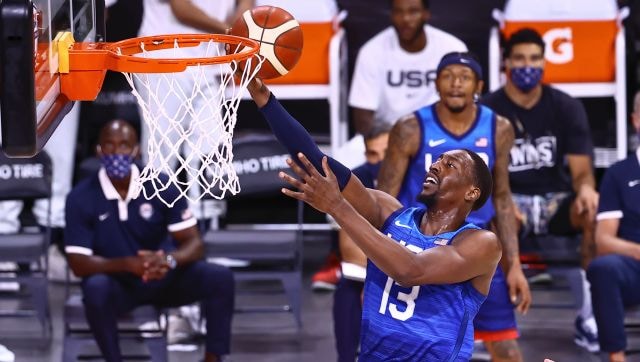 Sports
Americans shot 51%, scored 33 first-quarter points to get off and running and beat Argentina for the 10th consecutive time