NBA All-Star 2019: Anthony Davis' participation in doubt after New Orleans Pelicans star picks up shoulder injury
Davis was selected to play for Team LeBron James in Sunday's contest. if he cannot participate, NBA commissioner Adam Silver will select a replacement player from the Western Conference
New Orleans Pelicans star Anthony Davis will see how his bruised left shoulder responds before deciding whether or not to play in Sunday's NBA All-Star Game, according to multiple reports Friday

Davis has averaged 28.5 points and 13.1 rebounds this season for the Pelicans and was chosen for the NBA All-Star Game for the sixth consecutive campaign

He was selected to play for Team LeBron James in Sunday's contest. if he cannot participate, NBA commissioner Adam Silver will select a replacement player from the Western Conference
Charlotte: New Orleans Pelicans star Anthony Davis will see how his bruised left shoulder responds before deciding whether or not to play in Sunday's NBA All-Star Game, according to multiple reports Friday.
ESPN and Yahoo Sports reported on the status of the 25-year-old forward, who suffered the injury Thursday in the Pelicans' 131-122 victory over Oklahoma City while fouling the Thunder's Nerlens Noel while trying to block a shot.
An MRI showed Davis suffered a muscle contusion but "nothing too bad," an unnamed source told ESPN, saying Davis plans to go to the All-Star Game in Charlotte and have treatment on the shoulder in the next two days.
Davis plans to play but a final decision will depend, according to Yahoo Sports, upon how well the shoulder responds to treatment.
Davis has averaged 28.5 points and 13.1 rebounds this season for the Pelicans and was chosen for the NBA All-Star Game for the sixth consecutive campaign.
He was selected to play for Team LeBron James in Sunday's contest. If he cannot participate, NBA commissioner Adam Silver will select a replacement player from the Western Conference.
Davis said last month that he does not plan to sign a long-term contract extension with New Orleans and wanted a trade to a contending NBA club, but the Pelicans did not move him before last week's NBA trade deadline.
Find latest and upcoming tech gadgets online on Tech2 Gadgets. Get technology news, gadgets reviews & ratings. Popular gadgets including laptop, tablet and mobile specifications, features, prices, comparison.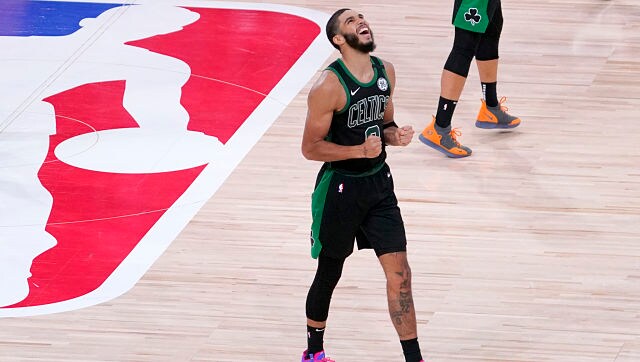 Sports
Boston will play the Miami Heat with game one of the best-of-seven series scheduled for Tuesday in the quarantine bubble in Orlando, Florida.
Sports
Paul George scored 32 points, Kawhi Leonard added 23 along with a big late block and the dynamic duo helped the Clippers rally in the fourth quarter for a win over the Nuggets in Game 3 of their Western Conference semifinal series.
Sports
Boston Celtics forward Jaylen Brown, who has been outspoken on social issues in recent months, said the goal is to have an immediate and direct impact.