NBA: 48-year-old former Portland Trail Blazers, Boston Celtics star Kenny Anderson suffers stroke
Anderson was named an All-Star in 1994 while playing for the New Jersey Nets, who selected him out of Georgia Tech with the No. 2 overall pick in the 1991 draft
The 48-year-old Anderson recently completed his first season coaching NAIA program Fisk University in Nashville

A family spokeswoman, Lina Catalfamo Plath, confirmed that Anderson had a stroke

He was named an All-Star in 1994 while playing for the New Jersey Nets, who selected him out of Georgia Tech with the No. 2 overall pick in the 1991 draft
Nashville: Former NBA All-Star Kenny Anderson has suffered a stroke.
The 48-year-old Anderson recently completed his first season coaching NAIA program Fisk University in Nashville. Fisk said in a statement Tuesday that the university community extends its "thoughts and prayers" to Anderson and his family.
Anderson's wife, Natasha Anderson, said in a statement that the family is "extremely grateful for all the prayers and love that we have received over the last few days." She added that "we appreciate you continuing to respect our privacy as Kenny heals."
Neither statement offered additional details. A family spokeswoman, Lina Catalfamo Plath, confirmed that Anderson had a stroke.
Anderson played for several NBA teams from 1991-2005. He was named an All-Star in 1994 while playing for the New Jersey Nets, who selected him out of Georgia Tech with the No. 2 overall pick in the 1991 draft.
Sports
Earlier this month, Lalhnehpuia Chhakchhuak became the sixth NBA Academy India graduate to commit to playing high school/prep school/collegiate level basketball in the US. But just how do these stints help Indian players, looking to make it to the NBA or its developmental league, the G League? Firstpost explains: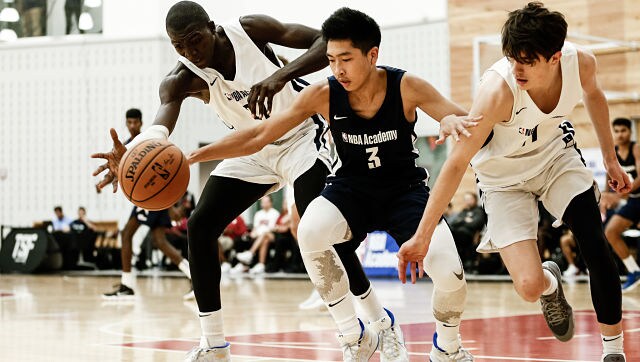 Sports
A 6'1" point guard from Mizoram, Lalhnehpuia Chhakchhuak is fascinated enough by the human mind to want to pursue a degree in psychology. But he is also drawn by the prospect of making history.
Sports
Embiid fell on top of John Collins on the court in Game 6. Collins then shoved Embiid before both rose to their feet