Narsingh Yadav fails dope test ahead of Rio Olympics, alleges conspiracy
Barely 10 days before the start of the Olympics, India suffered a huge embarrassment as 74kg freestyle wrestler Narsingh Yadav failed a dope test conducted by NADA, a development which has cast doubt on his participation in Rio Games.
New Delhi: Barely 10 days before the start of the Olympics, India suffered a huge setback as 74kg freestyle wrestler Narsingh Yadav failed a surprise dope test conducted by NADA on 5 July, a development which has cast doubt on his participation in Rio Games.
National Anti-Doping Director General Navin Agarwal confirmed that Narsingh's 'B' sample also tested positive for a banned steroid and he appeared before a NADA disciplinary panel on Saturday.
"Yes, he (Narsingh) tested positive for a banned steroid. His B sample was also found to be positive. Narsingh was personally present when his B sample was opened," NADA DG told PTI on Sunday.
"He appeared before a disciplinary panel on Saturday. The panel sought for more reports regarding the matter. We will proceed further and I am hoping that the panel will proceed quickly. Till then we will have to wait," he added.
A statement from the ministry confirmed that a wrestler had failed a dope test conducted by NADA.
"One wrestler has been detected by National Anti-Doping Agency (NADA) as dope positive. An Anti-Doping Disciplinary Panel (ADDP) has been constituted by NADA under its rules for hearing the case. Its first hearing was held yesterday in which the wrestler was given an opportunity to defend himself. After the hearing, the panel has asked NADA for some further reports. After these reports are received, the panel would hold further hearing in the matter," the statement released by the Press Information Bureau (PIB) said.
Asked if Narsingh will miss the Rio Olympics, Agarwal said, "It is too early to comment in that regard. We will try to complete the whole thing quickly. I cannot speculate on that."
Interestingly, Narsingh was selected for the Rio Olympics in controversial circumstances as double Olympic medallist Sushil Singh had also staked his claim to represent the country in 74kg freestyle.
But Narsingh was favoured as he had earned the Olympic quota in the World Championships last year. Narsingh had to fight a lengthy legal battle with two-time Olympics medallist Sushil, also in the same category, to get the chance to compete for India at the Olympics.
Narsingh Yadav responded to the dope test results claiming that it is a ploy to prevent him from competing in Rio. "It's a conspiracy. I have never taken any banned substance," Narsingh told NDTV. The wrestler though was confident the truth will prevail. "I'm sure the truth will come out. The Indian Olympic Association will support me," he added.
Narsingh is not the only one who smells a ploy, there have been voices in the WFI who have sounded out a possibility of a conspiracy against the wrestler who reportedly received death threats while practicing at the Sonipat training camp.
Sources close to Narsingh and in the Wrestling Federation of India have cried foul, claiming that the entire episode seems to be a conspiracy. "It is a sabotage, foul play. Narsingh has a very clean history. it is clearly a conspiracy against him. Decision on the representation in 74kg is to be taken later but in all likelihood there would be no Indian representation in 74kg in Rio. Narsingh has been handed provisional suspension as of now," WFI sources said.
"You must note the fact that the current training camp is in Sonipat. Narsingh was never comfortable practising at that centre, but he never complained about it. Once the Delhi High Court ruled he should go to the Olympics, the Haryana police confirmed that Narsingh received threats from a certain section of fans. The government must probe what exactly is wrong in the entire thing," said a senior official in the WFI, according to a report by Telegraph India.
The section of WFI wasn't the only voice citing a conspiracy. An unnamed wrestling coach also cast doubts over any wrongdoings on Narsingh's part with the stakes being so high.  "With the stakes so high, I doubt if Narsingh would have done something as stupid as using a banned substance. One has to look at his history as well. He has been a clean wrestler in his 10-year international career. And the tournament in Spain is insignificant as far as performance is concerned. So why would he dope? This creates a lot of doubt." the coach told Times of India.
Meanwhile, former Indian hockey player Rajpal Singh also refused to rule out a possibility of complot. Singh also suggested that Narsingh should be given another chance by conducting another test on the wrestler. "The possibility of conspiracy can't be ruled out. But I feel Narsingh should be given another chance and a re-test should be conducted," Singh told Times Now. 
On the other hand, Sushil Kumar's coach Satpal Singh called Narsingh's failed dope test a huge injustice on the nation. "If the news (that Narsingh Yadav has failed a dope test) is true, then its a huge treachery towards the nation the nation," Satpal told Indian Express
The WFI though have recalled Narsingh's Rio Olympics accreditation and stopped him from travelling with the rest of the Rio-bound men wrestlers to Georgia, where the contingent was supposed to have a fortnight long training camp-cum competition, as a precautionary measure, reported the The Tribune. 
It is unlikely that India will be able to send a replacement for Narsingh Yadav if he is barred from participating at the 2016 Olympics. The Indian Olympic Association President N Ramachandran said that the law will follow its course and no cheats will be allowed to take part in the Olympics. "If an athlete has tested positive, then the law will follow its course. The IOA will not allow any cheats to participate in the Olympics," the IOA President told Times Now. 
He also confirmed that it will be difficult to send a replacement at such a late stage
If Narsingh fails to make it to the Rio Olympics, it will come as a huge blow to India's medal credentials with him being one of the top contenders. The 26-year-old had a good time in the last couple of years, finishing on the podium in every major competition and is hailed by many as the future of Indian wrestling.
For the Indian fans who were hoping to see a good show from Narsingh Yadav in the 2016 Rio Olympics, must keep their fingers crossed and hope their star wrestler comes out of it unblemished.
With inputs from agencies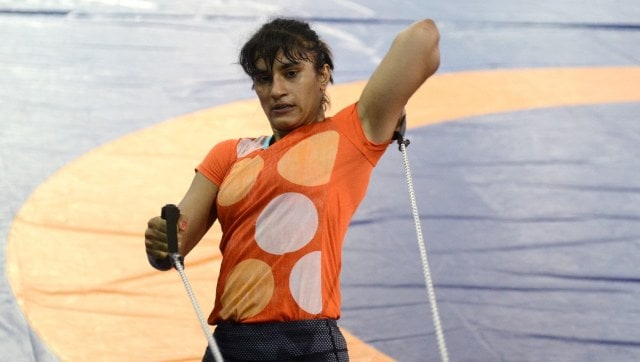 Sports
There was no stopping Vinesh in the absence of the Chinese and Japanese rivals as she cruised to the summit round without losing a point and can now win her first gold medal at the Continental championship.
Sports
Pooja's father Ajmer Dhanda said Pooja is currently undergoing treatment at a hospital in Hisar.
Sports
Sarita, who won gold at the 2020 championship in New Delhi, lagged 1-7 after a botched up challenge but turned it around with a tremendous fight back against Mongolia's Shoovdor Baatarjav.