NADA bans hockey goalkeeper Akash Chitke for two years after testing positive to prohibited substance
The National Anti-Doping Agency (NADA) has banned hockey goalkeeper Akash Chitke for two years after he tested positive for a prohibited substance earlier this year.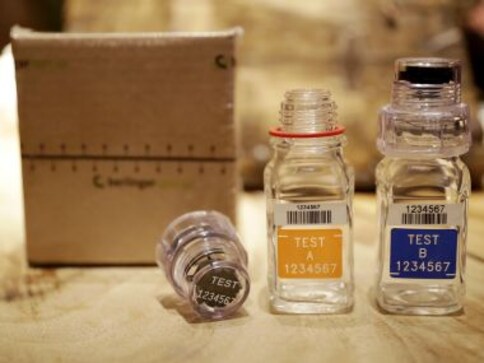 New Delhi: The National Anti-Doping Agency (NADA) has banned hockey goalkeeper Akash Chitke for two years after he tested positive for a prohibited substance earlier this year.
Chitke was provisionally suspended by NADA from 27 March and the minimum sanction of two years was imposed by the Anti-Doping Disciplinary Panel (ADDP) after a final hearing on 8 October.
Chitke was found positive for banned anabolic steroid (Norandrosterone) during an out-of-competition test during the senior team's hockey camp in Bengaluru on 27 February.
The final order was uploaded on agency's website late on Thursday where it was mentioned that his case of dope violation was "unintentional" as he had taken medicine for an injury on his left foot.
However along with Chitke, there were five other athletes across other disciplines, who were all handed four-year suspensions for violation of anti-doping code as they could not prove how prohibited substances entered their body.
The five others are wrestler Amit, kabaddi player Pradeep Kumar, weightlifter Narayan Singh, athletes Saurabh Singh, Baljeet Kaur and Simarjit Kaur.
One of the members of the ADDP Panel, which imposed sanctions on Chitke, is Olympian and former hockey captain Jagbir Singh.
All the athletes have three weeks to appeal against the sanction to NADA's highest body Anti Doping Appeals Panel (ADAP).
There is a possibility that NADA might push for tougher sanctions on Chitke, who was a part of the Indian squad that won Asian Men's Champions Trophy as well as Asia Cup in Dhaka.
According to the NADA order, Chitke's urine sample report had Adverse Analytical Findings (AAF) for 19-Norandrosterone (19 NA, metabolite of Nandrolone or its Precursor) at a concentration level greater than 15 ng/ml, Androgenic Anabolic Steroid, which is non-specified substance as per NADA/WADA prohibited list.
Once Chitke's 'B' sample also showed similar AAF finding, a hearing was conducted on August 13. The player appeared before the panel and he said he had consumed medicines prescribed by his doctor for treatment of his index finger on his left foot.
While it was proved that Chitke neither sought Therapeutic Use Exemption Certificate (TUE Certificate) nor did he mention about the injection taken on the Doping Control Form, he was able to establish that he had no knowledge of the injection prescribed by the physician, whom he consulted in Pune.
Thus, he was able to avoid the maximum sanction of four years although NADA still has provision to appeal against this decision.
Sports
Manpreet is set to lose the gold she won in the 2017 Asian Championships in Bhubaneswar as well as her national record as the panel ruled that all her competitive results from the date of sample collection would be disqualified
Sports
According to experts, India will lose revenue from the testing of samples from neighbouring countries like Pakistan, Bangladesh and Sri Lanka. Other WADA-accredited laboratories in Asia are in Tokyo, Beijing, Seoul, Doha and Bangkok.
Sports
It is understood that NADA can still carry on with sample collection (blood and urine) but will have to get it tested by a different WADA accredited laboratory outside India during the suspension period of NDTL.