My first target is to reach the final round: Dipa Karmakar on Rio 2016 medal chances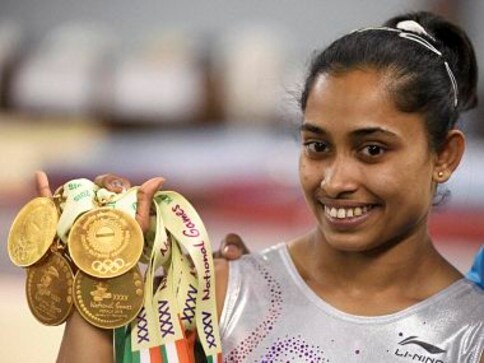 New Delhi:The first Indian female gymnast to qualify for Olympics in 52 years, Dipa Karmakar on Monday said she is trying to improve her score to 15.67 points and aiming to first reach the final round to enhance her chances of bagging a medal at next month's Rio Games.
"My preparation is going well. I want to do well in Rio. My first target will be reach the final first," the 22-year-old from Agartala said on the sidelines of IOA's official send-off ceremony of the Indian Olympic contingent.
"I am trying to improve my score by at least 0.34 points then also it will be great. My practice is going on well and I am trying to improve on that. I'm practicing in Indira Gandhi stadium."
Karmakar has logged the highest score on a Produnova in the world: 15.300, which is 7.000 for difficulty, and an 8.300 for execution, making her the rarest of rare phenomenons.
Only two of her contemporaries have attempted the Produnova: Yamilet Peña of Dominican Republic and Fadwa Mahmoud of Egypt but none have managed to garner a high of 15.100 in a high-profile competition.
Karmakar said:"I know Produnova vault is dangerous. But I have been doing it for two years. You have to take a little risk trying to do something. Since 2014, I have been doing it and I will try to do better at Olympics."
Her coach Biseswar Nandi said the competition is very high but remained hopeful of medal from his ward.
"We have high hopes from her. The competition is tough. There are many countries such as US, Russia and Switzerland -- they are the main competitors," he said.
"Vaulting table is her main event. Difficulty marks is 7 and execution is 10. So it is 17. We have to get to 15.67, now she is having 15.34 and she is trying to acheive that mark.
"If she can reach the finals then she can win a medal. I believe anything can happen."
Karmakar is the first Indian female gymnast to win a medal at the 2014 Commonwealth Games. She followed it up with another bronze at the Asian Championships in Hiroshima. She also reached the final round of the 2015 World Championships and finished fifth.
Indian wrestler Hardeep Singh, who booked Rio Olympic quota in Greco-Roman after finishing with a silver medal in the 98kg category at the Asian Olympic Qualification championship, is also optimistic about his medal chances.
"This is my first Olympics and I do not have anything to lose so I am putting all my efforts in winning a medal and will try to give it my everything," he said.
"When I went to World Championship, I learnt that who all are the players more fitter than me. Now I am also as fit as them and will give my 100 per cent to win the medal.
"My training is going well with our coaches and team at Sonepat. Earlier we went to Bulgaria and next we expect to go to Georgia before leaving for Rio."
also read
Sports
Top Indian wrestlers Vinesh Phogat, Bajrang Punia, Sakshee Malikkh and took their protest against WFI to the holy city of Haridwar in Uttarakhand, where they threatened to immerse their Olympic and world medals in the Ganga river.
Sports
The wrestlers reached Haridwar to immerse the medals in the Ganga river but were persuaded by the farmer leaders to wait for a few more days to address their grievances.
Sports
WFI chief Brij Bhushan Sharan Singh has once again declared he is not guilty of allegations of sexual harassment.