Murray raises expectations and pressure by picking Mauresmo
Murray's results will now be scrutinized not just to decipher his form and state of mind, but also to see if <em>Mauresmo as female coach</em> and not as an individual is helping or hurting.
Andy Murray has done it again. Three years ago he surprised the tennis world by picking former World No. 1 Ivan Lendl to be his coach. This time he has made even a bigger leap. Murray's choice of Amelie Mauresmo makes him the first professional men's tennis player to be coached by a former female pro.
In doing so, Murray has not only turned him and her into genuine path breakers but also ratcheted up the pressure just in time for Wimbledon. A female coach, even a former World No. 1 with a couple of Grand Slam titles, is going to attract more scrutiny because of her gender. While Lendl had never coached on the pro tour before, and his taciturn personality did not fit the profile, the courts are strewn with former male players coaching current ones.
Mauresmo is different because she is the first; turning her in to a representation of women tennis coaches everywhere. Murray's results will now be scrutinized not just to decipher his form and state of mind, but also to see if Mauresmo as female coach and not as an individual is helping or hurting.
The potential rewards though far outweigh the risks. Sport has always been inherently sexist. You need look no further for than the battle for equal prize money for evidence. Mauresmo and Murray (M&M anyone?) now have a chance to strike to a serious blow against that prevailing wisdom.
It helps that Mauresmo comes with serious credentials. She is a former World No. 1 and has Australian Open and Wimbledon titles of her own. She can also coach. Mauresmo was part of Marion Bartoli's coaching team when the unheralded Frenchwoman won Wimbledon. So Mauresmo clearly knows what it takes to win on and off the court at SW19.
You could argue she has no experience of men's tennis but then Sanjay Bangar managed just 49 runs in IPL across two seasons and had no coaching experience before Kings XI Punjab signed him as their coach this season. It didn't stop him from moulding the most exciting team of the tournament and taking them all the way to the final.
Murray has not been shy about his choice. ""From other players' point of view, I don't really care whether they think it's a good or bad appointment," he told the Guardian. "It's whether it works well for me and my team, and hopefully it will be a good move for my career."
The general reaction has been positive so far though, which is good to see. "I think it is very interesting," Roger Federer said. "I always enjoyed watching her play and she is a true professional. So from that standpoint, I think it's a great choice and I hope they're going to be a successful team together."
Former world number one Jim Courier also thought it was a good move: "It's a bold call, certainly an interesting one. Amelie knows her tennis and time will tell whether it turns out to be a good match. It's bold, it's fun, it's something we're all going to be talking about and good for Andy."
The true test will be in the results though. Lendl rewarded Murray's faith in him by coaching the Scotsman to a U.S Open title in 2012 and then, most memorably, the Wimbledon crown last year. He also started a trend – Federer turned to Stefan Edberg and Novak Djokovic to Boris Becker.
If Mauresmo can do something similar, it will not only be do wonders for Murray's career but change the very possibilities of the sport. Imagine Steffi Graf coaching Federer or Navratilova teaching Nadal the finer points of volleying. Now that really would be something.
Subscribe to Moneycontrol Pro at ₹499 for the first year. Use code PRO499. Limited period offer. *T&C apply
Entertainment
With The Girl on The Train, and recent series such as The Queen's Gambit and Sharp Objects, creators have refused to define their heroines by their vices or flaws.
Lifestyle
If God wasn't able to break the laws of physics, she arguably wouldn't be as powerful as you'd expect a supreme being to be. But if she could, why haven't we seen any evidence of the laws of physics ever being broken in the universe?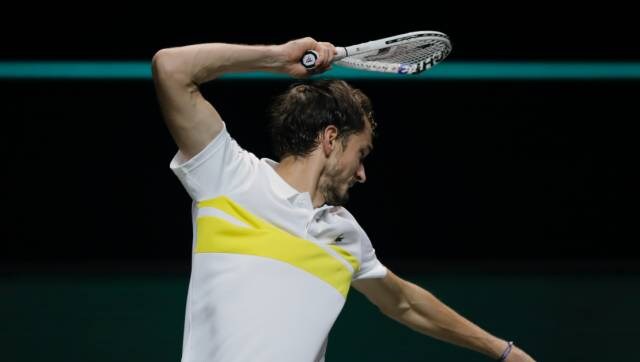 Sports
World number three Medvedev was the top seed for this week's tournament following his run to the Australian Open final but was dumped out 7-6 (7/4), 6-4 in just over 90 minutes by Serbian Lajovic, currently ranked 27th.