Mumbai Open: Aryna Sabalenka cruises into final; Dalila Jakupovic in line for double crowns
Dalila Jakupovic set herself up in line for a double crown at Mumbai Open by rallying from a set down to overcome her higher-ranked opponent Sabina Sharipova.
Mumbai: Unseeded Dalila Jakupovic of Slovenia set herself up in line for a double crown in the $125,000 L&T Mumbai Open by rallying from a set down to overcome her higher-ranked Uzbekistan opponent Sabina Sharipova on Saturday.
The 26-year-old Jakupovic, who entered the doubles final with her Russian partner Irina Khromacheva last evening, quelled a strong challenge from her younger and higher-ranked Uzbek rival to chalk out a 3-6, 6-3, 6-3 victory in one hour and 41 minutes in the WTA event at the Cricket Club of India.
Jakupovic will face top-seeded Belarusian Aryna Sabalenka in the singles final on Sunday.
Sabalenka will have a chance to claim the biggest title of her career this year, as she advanced to the championship match with a 6-2, 6-3 victory over unseeded Frenchwoman Amandine Hesse.
Jakupovic, ranked 252, dropped the first set after taking an early 2-0 lead as she was broken in successive games which helped her 23-year-old rival from Tashkent, ranked 186, take a 4-2 lead from where Sharipova surged to the set 6-3 in half an hour.
Jakupovic, who had not reached beyond the second round of a WTA event before reaching here, bounced back brilliantly to break her rival in the fifth game of the second set that she later clinched 6-3 in 31 minutes leading to the decider.
Sharipova, who had reached her second WTA event quarter-final after upsetting third seed Yanina Wickmayer on Friday in the round of 16, had a golden chance to take early control of the third set but frittered away three break-points in the sixth game that Jakupovic finally won after the third deuce call.
Encouraged by this escape, Jakupovic attacked her rival's serve in the next game forcing Sharipova to commit errors and broke the Uzbek's serve with a lovely drop shot followed by a double-fault by Sharipova.
The Slovenian player then held serve at 15 for a 5-3 lead and then put Sharipova's service under press again to prise out errors from the Uzbek's racquet.
Sharipova netted a forehand to be a match-point down, saved it but double-faulted to face the second match-point and dropped the serve and the match when she hit a forehand wide.
In the doubles semi final, the second-seeded pair of Jakupovic and Khromacheva got the better of fourth seeds Julia Glushko of Israel and Priscilla Hon of Australia 6-3, 6-2.
Jakupovic and Khromacheva will meet Victoria Rodrigues of Mexico and Bibiane Schoofs of the Netherlands in the final on Sunday which is to be played after the singles final.
Results (Semi-finals):
Singles:
Dalila Jakupovic (SLO) bt Sabina Sharipova (UZB) 3-6, 6-3, 6-3.
1-Aryna Sabalenka (BLR) bt Amandine Hesse (FRA) 6-2, 6-3.
Doubles:
2-Dalila Jakupovic (SLO)/Irina Khromacheva (RUS) bt 4-Julia Glushko (ISR)/Priscilla Hon (AUS) 6-3, 6-2; Victoria Rodrigues (MEX)/ Bibiane Schoofs (NED) bt Beatrice Gumulya (INA)/Ana Veselinovic (MNE) 7-6(2), 6-4.
With inputs from PTI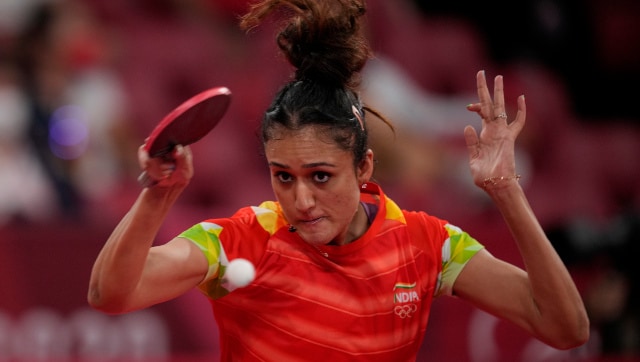 Sports
Manika, ranked 62, made a remarkable comeback after losing the first two games to prevail 4-11, 4-11, 11-7, 12-10, 8-11, 11-5, 11-7 in a second round match that lasted 57 minutes.
Sports
World number eight Berrettini picked up the injury in London where he became the first Italian to reach a Wimbledon singles final, losing in four sets to Novak Djokovic.
Sports
"The thought of participating in the Olympics has been a constant motivation for me over the past few moths," wrote Kerber, who is the highest-ranked German at 22.