More mature Gaganjeet Bhullar out to defend title at Yeangder TPC
The 25-year-old Bhullar has enjoyed a solid season so far where he was awarded with the prestigious Arjuna Award last month.
Taipei: Defending champion Gaganjeet Bhullar feels he has "matured" as a player since his title win last year and said he is really "pumped up" ahead of his title defence at the Yeangder Tournament Players Championship which begins here tomorrow.
Bhullar will headline the USD 500,000 Asian Tour event alongside reigning Order of Merit winner, Thaworn Wiratchant of Thailand, local hero Lin Wen-tang, who is a six-time Asian Tour winner and highly rated Baek Seuk-hyun, who ranks sixth on the Order of Merit.
The 25-year-old Bhullar has enjoyed a solid season so far where he was awarded with the prestigious Arjuna Award last month. A good finish or a successful title defence at the Linkou International Golf and Country Club will also strengthen Bhullar's position on the Order of Merit where he is currently ranked second.
He stands a chance to qualify for the WGC-HSBC Champions in China in October if he can remain in the top-two position before the cut-off date on October 14. "I think my game has definitely matured a lot since I won the Yeangder TPC last year. I learnt a lot from every tournament I play in. With my previous victories and experiences playing on both the Asian Tour and European Tour, I think these have helped build up my game a lot," said Bhullar.
"I don't think it's difficult to come back and play in a tournament where I'm defending the title. I've won a few times on the Indian Tour and four times on the Asian Tour now. I've got a lot of expectations but at the end of the day, this is what we play for. I'm really pumped up and feeling very positive with my game this time," he added.
Berry Henson of the United States hopes to overcome his putting woes after changing several putters since winning his first Asian Tour title in 2011. "I've been working on my putting process. I got a little bit out of my process when I made a putter change. Everything seems to be feeling okay but it is not where I want it. I changed more putters than I would like to," said Henson, who is currently ranked 10th on the Order of Merit.
"The putter I had was great but it worked only on certain weeks. I found the putter that I really like right now. I've been using that for most of the year and I'll continue to use that," he added.
Mithun Perera of Sri Lanka is bracing himself for a challenging week as he has yet to recover from a wrist injury which he sustained two weeks ago. "I injured my left wrist and I didn't play golf in the
last two weeks. I needed a lot of rest. This is my first practice round since I got injured. I tried to sharpen every aspect of my game during the break. I had to work very hard to keep up with these guys on the Asian Tour," said Perera.
Hu Mu of China, who won a local event last week, hopes to make a winning debut at the Yeangder TPC. He will be joined by countryman Zhang Lian-wei, a five-time Asian Tour winner at the Yeangder TPC.
"It's great to come back to play on the Asian Tour. I'm feeling confident with my game right now but I guess I still have to adjust it slightly when I go out to the course. I hope to finish inside the top-30 on the Asian Tour Order of Merit at the end of the season," said Hu.
PTI
Sports
Justin Thomas beat Will Zalatoris by one stroke in a three-hole aggregate playoff after a heartbreaking 72nd-hole collapse by Chile's Mito Pereira.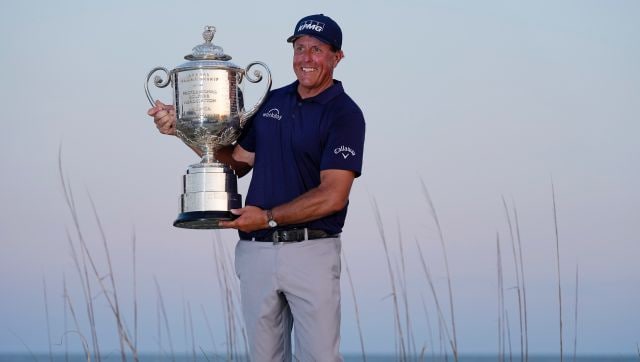 Sports
Phil Mickelson did not play in last month's Masters for the first time since 1994 and is missing the PGA Championship for the first time since he made his debut in 1993
Sports
With LIV Golf's first event next month in London set to pay a record $25 million, Rory McIlroy's tune has changed even with no players so far committed to the upstart series.