Monaco Grand Prix: Kimi Raikkonen pips Sebastian Vettel to secure pole position; Lewis Hamilton 14th
Kimi Raikkonen secured his first pole position for nine years on Saturday when he outpaced his Ferrari team-mate Sebastian Vettel in a dramatic qualifying session for Sunday's Monaco Grand Prix.
Monaco: Kimi Raikkonen secured his first pole position for nine years on Saturday when he outpaced his Ferrari team-mate Sebastian Vettel in a dramatic qualifying session for Sunday's Monaco Grand Prix.
The 37-year-old Finn, who had not taken pole position for 128 races stretching back to the French Grand Prix of 2008, dominated the afternoon's action to clock the fastest lap of one minute and 12.178 seconds.
That left him 0.043 seconds ahead of the world championship leader and three-time champion Vettel who in turn was just two-thousandths of a second faster than third-placed Valtteri Bottas of Mercedes.
The Finn's Mercedes team-mate Briton Lewis Hamilton failed to make progress from Q2 and missed the cut for the top ten shootout, qualifying 14th after a miserable afternoon.
"Obviously, it's great," said a mumbling and softly-spoken Raikkonen afterwards, showing little emotion. "We'll try to make the best of it tomorrow… Yes, of course, it is good, but here it is all about the fine details."
Dutch teenager Max Verstappen took fourth place ahead of his Red Bull team-mate Australian Daniel Ricciardo, Spaniard Carlos Sainz of Toro Rosso, Mexican Sergio Perez of Force India and Frenchman Romain Grosjean of Haas.
Briton Jenson Button, back from retirement to replace two-time champion Spaniard Fernando Alonso who is racing in the Indianapolis 500, was ninth for McLaren Honda ahead of his team-mate Belgian Stoffel Vandoorne.
Button has a 15-place grid penalty for engine replacements and that is expected to lift Hamilton up to 13th.
"I don't know what was wrong there," said Vettel of Mercedes' problems. "But this is one of the highlights of the season – to race at Monaco. It is a difficult one to get right, but if you do, it is great."
Bottas said: "It was a really good lap for me. This is one of the most mentally demanding circuits and I have felt support from the fans and appreciate it."
On a perfect azure afternoon, with an air temperature of 27 degrees and a track reading of 53, Q1 delivered few surprises other than the early exit of Frenchman Esteban Ocon of Force India, who had crashed at Casino Square in the closing minutes of the morning's final practice session.
The Q2 session began with the two Finns Bottas and Raikkonen on track swiftly followed by the title contenders Vettel and Hamilton, who survived a big 'moment' at the top of the hill en route to Casino Square.
It proved costly for Hamilton whose first flying lap was more than a second adrift of Raikkonen's early fastest. "No grip, Bono," said Hamilton, talking to his engineer before he was stopped at the weighbridge on his way to Mercedes' pits.
By then, Raikkonen had clocked a 1:12.231 to leap half a second clear of Verstappen at the front until Vettel slotted into second on his second run.
In his haste, Hamilton weaved to heat his tyres and then had a major slide at the exit of Casino Square before he locked up at Mirabeau. "Something wrong with the car," he reported.
With just seconds remaining, Hamilton's hopes were ruined when Belgian Stoffel Vandoorne went into the barriers at the Swimming Pool exit, yellow flags flying.
"That's me out, right?" said Hamilton, deprived of a clean lap and condemned to qualify 14th, one of five men eliminated along with Russian Daniil Kvyat of Toro Rosso, German Nico Hulkenberg of Renault, Dane Kevin Magnussen of Haas and Brazilian Felipe Massa of Williams.
"Yes, toasted," came the reply for Hamilton as he pulled in to the pits, his chest heaving and hands waving with frustration.
Find latest and upcoming tech gadgets online on Tech2 Gadgets. Get technology news, gadgets reviews & ratings. Popular gadgets including laptop, tablet and mobile specifications, features, prices, comparison.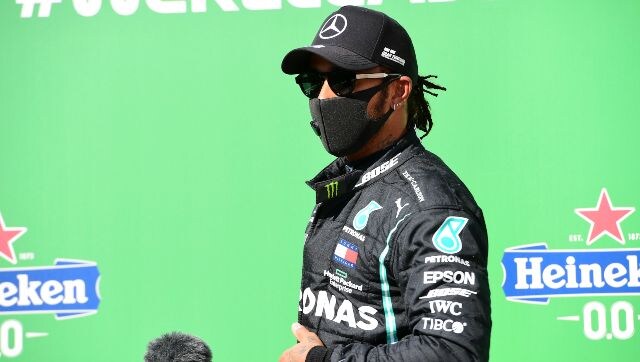 Sports
Ahead of Sunday's Eifel GP, Mercedes boss Toto Wolff said both Hamilton and Bottas were confined to their rooms due to two COVID-19 positive cases in their team.
Sports
The positive test is the first by a team member at a race weekend since Sergio Perez of Racing Point returned from Mexico ahead of the British Grand Prix in July.
Sports
Bottas set the pace in 1 minute 26.225 seconds, with Lewis Hamilton .136 off his Mercedes teammate in second. Ferrari showed a return to form after a run of uncompetitive races, with Charles Leclerc third fastest, .456 off Bottas, and Sebastian Vettel fifth.