Seventeen years back, he was stranded at the crease on 99 Tests. Now, Mohammad Azharuddin has decided he wants to hit a century by padding up as the captain of the Hyderabad Cricket Association (HCA). With many well-set administrators in Indian cricket being clean bowled by the Lodha Committee's spell of hostile bowling, the former India captain reckons he is in with a chance. But getting elected as the HCA chief will need more than just the sublime wristwork that Azhar was renowned for.
The Hyderabad cricket fraternity is divided over Azhar, given that a life ban was handed over to him in 2000 over allegations of match-fixing. Not everyone is happy about Azhar's entry and speak in hush-hush tones about his allegedly tainted past.
"The main problem with HCA is lack of integrity among office bearers where money has been siphoned off. Prejudice and exchange of money play a part in player selection. Into such a scenario enters a former India captain whose name was sullied by allegations of match-fixing. Hyderabad cricket will have to take a call on whether he will be the right man to lead the administration team,'' says a former Hyderabad cricketer.
Those who support him include the likes of India's manager for the 1983 World Cup, PR Mansingh, who believes Azhar has the stature. "And since the Andhra Pradesh High court in 2012 exonerated him of match-fixing charges and the BCCI did not challenge the verdict in a higher court, he has to be deemed to be clean,'' says Mansingh.
Azhar himself admits that getting into administration of the game has been on his mind for some time now. Former Hyderabad cricketer Vijay Mohan Raj says that while Azhar's involvement with Hyderabad cricket has been minimal so far, it will be a welcome involvement. "He has neither been in administration nor in a coaching role. But it would be nice to have someone who has not been entrenched in the power centres. He is passionate about the game and gives it 100 percent,'' says Raj.
Those opposed to Azhar have been raising technical objections over his candidature. That he is not a member of any of the 216 clubs which have voting rights. That HCA rules say that to contest for president, one has to serve at least one term as Executive Council member and another term as an office bearer and Azhar does not fulfill both qualifications.
Former HCA president and India off-spinner Arshad Ayub, whose exit as per the Lodha panel rules created the vacancy, says, "Our contention is that the BCCI has not lifted the life ban that was imposed on him in 2000. And HCA is governed by rules of the BCCI." However, Azhar's close associate, Mohammed Khaleequr Rahman, argues, "BCCI is not above the court."
But Azhar putting his hand up has focused attention on the muck in Hyderabad cricket. In 2011, Mansingh filed a complaint in the Anti-Corruption Bureau court against the alleged wrongdoings. The ACB was asked to investigate, but even six years later, the case is nowhere close to completion. There are 22 accused in the case, most of them HCA officials including Ayub.
"In the initial stage of the investigation, the ACB found far more than what we had listed in our complaint. The ACB served about 190 queries on finances of the association,'' says Mansingh. A scrutiny of HCA accounts by Deloitte revealed humongous corruption, including tax evasion, forged cheques, freebies for members and even electricity theft. The Lodha Committee relied heavily on the Deloitte report. The ACB probe also raised allegations of financial irregularities amounting to over Rs 87 crore between 2004 and 2011.
HCA members point out that the association is a den of petty corruption and nepotism. "Cricketers Ambati Rayudu, Pragyan Ojha, Hanuman Vihari, Ravi Teja all left Hyderabad for other teams. Why? Because in every team that was selected, there would be some surprise element in the form of some average players who would have got in because of other considerations,'' points out Raj.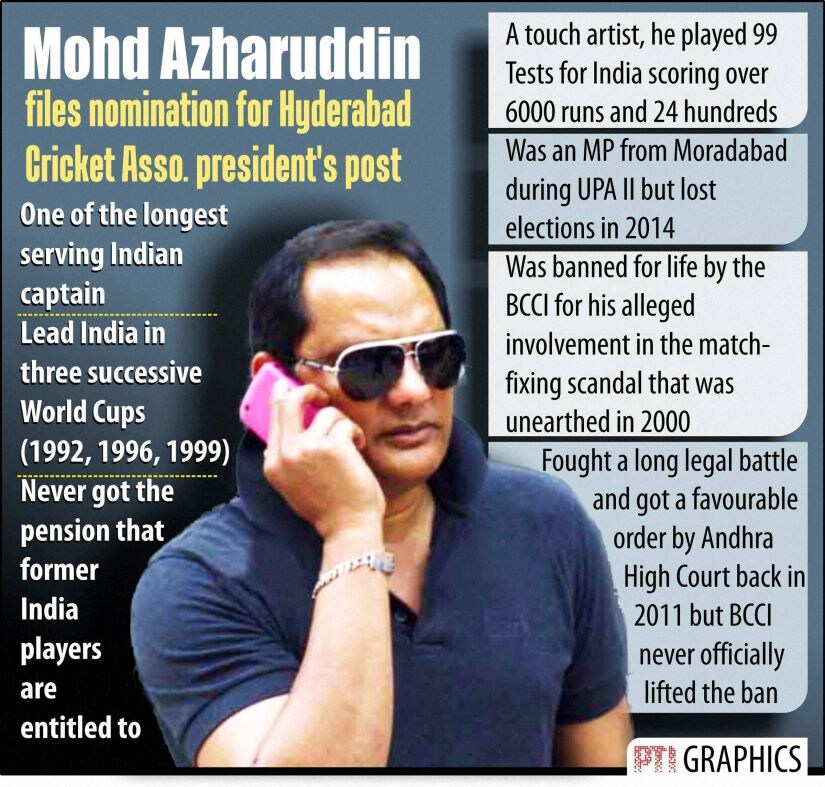 Former cricketers point out that corruption is so deep-rooted, that every aspect of Hyderabadi cricket commands a price. "Even if you are an average bowler, you can still get to bowl long spells in a match if you shell out Rs 15000 for a few matches in league cricket. Same goes for below par batsmen who will get promoted up the order for a similar amount,'' says a former Hyderabad batsman.
The example of a spin bowler who had quit cricket around 2011 after ordinary performances is cited. "Much to everyone's surprise, he made an entry straight into the Hyderabad Ranji team after three years in the wilderness and played for two seasons. Now he has given up on the game again,'' says a HCA member on condition of anonymity.
A former selector reveals an attempt to bribe him with Rs 5 lakh by the father of a budding cricketer for inclusion into Hyderabad's former IPL team, Deccan Chargers. "I threw him out of the room but was shocked to see the cricketer playing Ranji Trophy for Hyderabad soon after,'' he said.
These instances are mentioned to show that cricket is not priority for the powers-that-be at HCA. Hyderabad, that at one time boasted of several names in the Indian cricket team, now has none. "Cricket is not priority, only money making is. Forged bills have been submitted for just about everything. Even catering bills are inflated where food is ordered for 700 people but bills submitted for 1100 people,'' says Mansingh.
HCA has the strange tradition of giving Rs 3 lakh each to 216 clubs every year. Every club secretary has a vote and this is seen by many as institutionalised corruption, akin to buying a vote and furthering a 'you scratch my back, I scratch your back' system.
Ayub denies that the practise, which in vogue for some seven years now, is a cash-for-vote scam. "The clubs need to pay for kits, rental for nets and generally focus on development of the game. That is HCA's emphasis too. This grant is given from the amount we get from the BCCI,'' says Ayub.
The powers-that-be deny Hyderabad cricket is rotting. They have some reason for cheer this year as Hyderabad reached the quarters of the Ranji Trophy under two non-Hyderabadis, captain S Badrinath and coach Bharath Arun.
Azhar left Indian cricket, disgraced. Now he is making an attempt to get into the murky cesspool of Hyderabad cricket. He can only hope his cricketing whites don't get sullied again.
Updated Date: Jan 13, 2017 12:08:44 IST