Mira Erda interview: 18-year-old driver talks about her rise in motorsport, plans for her own racing team and more
Mira Erda talks to Firstpost about her early days in racing, her experience in the JK Euro Series, plans for her racing team and more in a special interview.
Coimbatore: Mira Erda is not your average 18-year-old. While her peers prefer to spend their weekends going to the movies or chilling with friends at the nearest mall, Erda likes to zip around a track in a Formula BMW car. Erda also happens to be the first and only woman in India to race in the JK Euro Series, the highest class of motor racing in India.
That she would take up the sport came as no surprise to her family and friends who had seen her whiz through the family-owned racetrack — Erda's Speedway, in Vadodara. She began racing competitively at the age of nine in the inaugural JK Tyres Rotax Karting Championship. Mira graduated to racing the Formula LGB class of race cars in 2014 as the youngest female driver before making her historic jump to the JK Euro Series in 2017.
Now in her second year in the Euro Series, Erda is showing no signs of slowing down. Against seasoned racers, the Vadodara native is showing that she truly belongs to the elite class of drivers in the country. At the third round of the 2018 JK Tyres National Racing Championship, Erda was involved in intriguing battles and could have had a much-better outing had it not been for a couple of crashes. Mira sat down with Firstpost at the Kari Motor Speedway where she spoke about her early days, experience in the JK Euro Series, plans for her racing team and more in an interview. Excerpts:
When the racing bug bit you, what were the reactions of your fellow racers when they saw a girl getting into the cockpit?
I started racing in go-karting events when I was nine, so it was quite difficult for the boys to accept a girl in racing. Since then, I have been proving myself on the track and giving guys tough competition. I had to fight to earn the respect of my peers. It wasn't easy because the competition is so tough. All throughout, it has been the passion and the aim to win races that keeps me going. They (fellow racers) respect me for who I am and they treat me as one of their own right now.
How has the experience of racing been so far?
In the beginning, I competed in karting events and won a national championship. After six years in karting, I realised I was ready to take the step up and I shifted to Formula 4 and won the Rookie Champion of the Year. I raced in the Formula LGB category for three years before being included in the JK Euro Series as the first female driver. There were issues in the first year, but this year, the car is perfect and I'm improving bit by bit. I am closing the gap on the leaders, and now, I'm just one second behind all of them and have a great pace. Now that I have become used to the car, my next target is to finish on the podium.
It has been a whirlwind year for you. How have you been dealing with the fame and attention you have been getting?
I choose to focus on the races rather than the fame, which is secondary. I want to use it to inspire women to get into racing. I also try to keep myself grounded. If I start worrying about people's expectations of me, it will affect my performance — be it positively or negatively. I am more concerned with my expectations and pushing myself to achieve them.
Your rise has gotten sponsors to flock to you for your endorsement, particularly Red Bull. How has this benefitted you?
I want to do my best so that I can go ahead and race with Red Bull somewhere in the world and they have been very supportive towards my goal. As for our partnership, we are working on organising amateur racing championships where we get racers on board and give them a chance.
Social media isn't always kind to successful women in any field. Have you faced any difficulties?
Luckily, I have never faced any trolling or people saying negative things about me. I am a person who believes in talking about the sport rather than myself, so I feel that doing better and shutting them out before they come and say anything about me is the best.
Sarosh Hataria launched Ahura Racing this year, an all women's team in the Formula 4 category. What are your thoughts on it?
I'm really glad that now I have girls around me. A few of them have exceeded our expectations and are doing really well. I hope that this makes more girls take up the sport. Speaking about Ahura, I am also planning to include my racing team — Erda's Racing — in go-karting where, hopefully, we can get kids to take an interest in racing from a young age.
Could you elaborate on your plans for your team?
We're planning to have two different teams. One will be boys and girls together, and one will be made up of girls, just like Ahura. We are planning to get it up and running for the next year in time for the Rotax Championships. We already have a couple of boys racing for us so our next plan is to conduct qualifiers and expand our team. Hopefully, we'll get girls interested and start training them.
Are there any plans to get Erda's Racing into the JK Tyres National Racing Championship?
That's a long-term goal. It is quite tough to directly jump into the Formula 4 cars. We are planning to prepare the newcomers with go-karting, followed by driving in the JK Euro series, in the hope to provide them with stepping stones to reach the top.
How has the mentorship experience been for you?
To mentor kids has been a really great experience, but it's also a responsibility. I have to make sure that they get the best treatment and the best experience and learn as much as they can during races, during practice sessions, and during training. I'm still learning to be a mentor from the drivers I race against, who are very encouraging and always look out for other drivers.
Coming back to Mira, the racer, what are your plans for the future?
Right now, I just want to get done with JK Euro Championship and hopefully come back next year. I also want to go out and compete in the Formula 4 South East Asia Championship and also on the European cicuit. Frankly, it all depends on the budget we get next year.
Is the proposed W series something you are targetting?
Of course, the W Series is something I am really looking forward to. However, I need to get used to the Formula cars first and work to improve my fitness levels. Hopefully, one day I will be in a position — physically and financially — to compete.
The writer was in Coimbatore at the invitation of JK Tyres.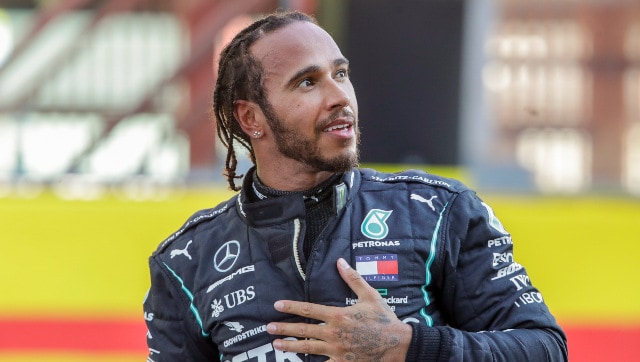 Sports
Here are some of our predictions for the new Formula 1 season which kickstarts with Bahrain GP.
Sports
Silverware stolen from the Red Bull Formula One factory in Milton Keynes has been found in a lake, police said on Tuesday.
Sports
Australian Daniel Ricciardo finished with the best time after the first practice session ahead of the Hungarian Grand Prix, with Sebastian Vettel putting his German Grand Prix failure behind him to also record an impressive time.