Mikhail Youzhny's elegant play, single-handed backhand will remain in public memory long after retirement
He may not have reached the heights of the Federers and Nadals of this world, but Mikhail Youzhny carved out a respectable place for himself in the golden era of men's tennis.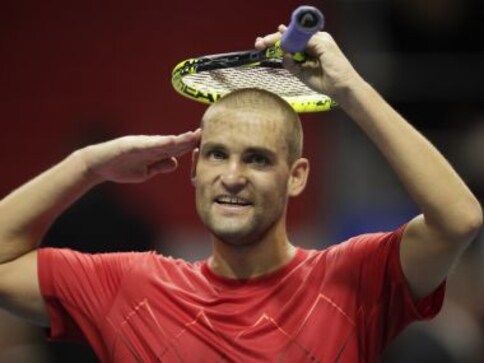 Memories can be tricky things; some would even say they can be cruel. In an ideal world, we would always remember the best and forget the worst. But the human mind, being the complicated can of confused worms that it is, stores memories of pain and loss far more vividly than it does those of glory and joy.
For many tennis watchers, the single most enduring memory of Mikhail Youzhny is the sight of him cracking his head open after losing a point against Nicolas Almagro at the 2008 Miami Masters.
It was a fleeting moment, but it was outrageous enough that it will probably live on forever in the hall of infamy. The Russian hit a routine backhand into the net on break point with Almagro serving at 5-4 in the third set, and those watching the match live probably let out a sigh of resignation at the lost opportunity. But what came next was something that nobody could have possibly been prepared for.
Youzhny smacked the edge of his racquet flush into his forehand… not once, not twice, but thrice. The sudden violence was completely at odds with the generally calm atmosphere of a tennis match, and made everyone sit up in apprehension. As the blood came pouring down Youzhny's face in a trail of misplaced anguish, the spectators didn't know whether to feel sorry for him, or afraid.
That was many years ago though — 10, to be precise. And Youzhny has done and achieved plenty, both before that incident and after it, to ensure that nobody will ever feel sorry for him too long.
He may not have reached the heights of the Federers and Nadals of this world, but he carved out a respectable place for himself in the golden era of men's tennis. Quarter-final appearances at all the four Slams, 10 tour titles, as many as four wins over Rafael Nadal (one of which came at the US Open, in 2006), two Davis Cup trophies — Youzhny's list of achievements is as diverse as it is hefty.
The 2006 US Open win over Nadal was particularly impressive, as he almost outdid the Spaniard at his own game. Youzhny saved three set points in the third set before going on to dominate the rest of the proceedings with a mix of consistent play and smart shot-making.
The Davis Cup wins were not entirely his doing, but no one can deny the importance of his role in Russia's 2002 triumph. As a 20-year-old with little more than raw talent and youthful exuberance to bank on, Youzhny was thrown to the wolves, in a manner of speaking.
France and Russia were deadlocked at 2-2 in the final, and the cauldron of catcalls and cacophony that is the Bercy Stadium in Paris was desperate to play its part in ensuring a home win. The French crowd is notorious for getting too involved in matches even during regular tournaments, so their 'enthusiasm' during a Davis Cup match was bound to be highly stressful for any visiting player.
Predictably, Youzhny was a bundle of nerves in the all-important fifth rubber, and conceded the first two sets to Paul-Henri Mathieu in tame fashion. But then, something changed; the Russian suddenly found inspiration in the din that was threatening to drown him, and he hit back sensationally to win the next three sets and claim the trophy for his country.
Admittedly, Youzhny never quite soared to those heights again in his career. But what he did achieve instead, in an era filled with GOAT candidates and physically intimidating specimens, was probably just as impressive. He made a steady, if unspectacular, player out of himself, cracked the top 10 (and stayed there for a while), and frequently ran those GOAT candidates close in matches that he would have won in an alternate universe. That's a lot more than most of us can boast of.
Another thing that will feature prominently in Youzhny's legacy, of course, is his easy-on-the-eyes playing style. He always seemed well-balanced on the court, and his groundstrokes had a clean-cut look to them that is sometimes hard to find in today's all-muscle generation.
His single-handed backhand in particular was a thing of understated beauty. It was unique in the sense that it almost wasn't a single-hander; Youzhny would keep both hands on the racquet for the longest time before releasing his left hand at the very last minute, just in time to complete the final elegant flourish.
While the topspin backhand was a major weapon in his arsenal, his sliced backhand was even more remarkable. Widely regarded as one of the best in the world, the Youzhny slice hissed and teased and sucked his opponents into false shots, making it both an offensive and a defensive tool.
At his best, Youzhny was an intelligent shot-maker who used a combination of topspin, slices and volleys to counter the challenges posed by stronger opponents. He never had a great serve, and he wasn't the quickest mover on the court, but he was smart and fit enough to outlast many of his opponents even when he was drawn into long battles of attrition.
The one battle of attrition that Youzhny would have dearly loved to win was his second round clash against Roger Federer at the US Open last year. The Russian had never defeated Federer despite being roughly the same age as the Swiss, but now, with both men nearing the twilight of their careers, he could smell his chance. He went up two sets to one, and Federer's back troubles seemed to be enough of a balancing factor to make the Russian the favorite.
Unfortunately for Youzhny though, his own fitness couldn't keep up. Dealing with injury had become a habit of sorts for him in his career after the age of 30, and this match brought forth those struggles once again. As the match wore on, Youzhny's energy levels kept dropping, and by the fifth set he was limping between points.
He still made a fine contest of it, refusing to throw in the towel till the very end; Federer was forced to come up with some clutch play in order to escape. And that pretty much sums up Youzhny's career — he was good enough to challenge anyone on his day, and he would give his best every time he stepped on the court, but in the end his physical limitations would make him fall just short of the finish line.
He did have his moments though, and his gutsy Davis Cup win of 2002 will always be remembered by both Russians and the rest of the world. As will that unique one-handed backhand, and that bloody racquet-swinging incident of 2008.
We can only hope that as time passes, the Davis Cup and the backhand are entrenched deeper in our memories than the slit forehead. That much, at least, is owed to Youzhny for his years of toil and hard work on the tour.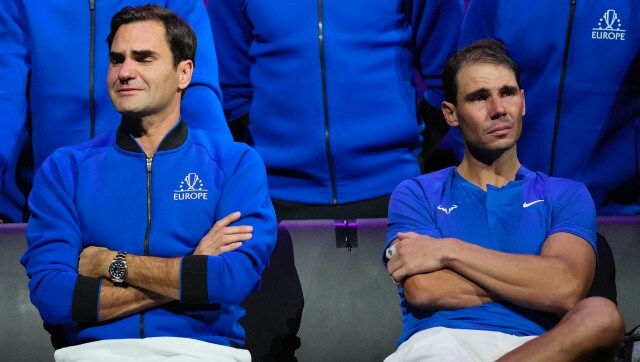 Tennis
Roger Federer's last career match expectedly produced plenty of tears with the Swiss, his wife, kids, family and even longtime rival Rafael Nadal reduced to tears.
Tennis
Roger Federer hogs the media attention ahead of the Ryder Cup-style Laver Cup team event that gets underway in London on Friday.
Tennis
Laver Cup: Team World's Jack Sock and Frances Tiafoe denied Roger Federer a fairytale goodbye as he played his last match