Michael Schumacher's aura of invincibility gives us hope
Schumacher currently faces the toughest fight of his career. Lying in an induced coma in a hospital in France following a skiing accident, Schumacher, according to his doctors is, quite simply, "fighting for his life."
"I've always believed that you should never, ever give up and you should always keep fighting even when there's only the slightest chance" – Michael Schumacher, congratulating Kimi Raikkonen and Ferrari on their last-gasp title win in 2007.
Michael Schumacher currently faces the toughest fight of his career. Lying in an induced coma in a hospital in France following a skiing accident, Schumacher, according to his doctors is, quite simply, "fighting for his life."
The seven-time world champion's condition following the accident has plunged the motor-racing world -- and to a certain extent the world at large -- into shock, but there is a sense of underlying optimism that if anyone can pull through an accident of such severity, it's Michael Schumacher.
Schumacher is, after all, a fighter. Never one to shy away from a challenge, whether it be tackling the daunting Spa-Francorchamps circuit for the first time in a Formula One car after only having ridden around the track on a bicycle, or taking on the mammoth task of restoring an ailing Ferrari team to greatness, or putting his legacy on the line to test himself against the next generation of drivers despite having nothing left to prove, Schumacher has always relished the challenge of having to fight against the odds.
And indeed it was this thirst for challenging himself married to a relentless attention to detail and uncompromising work ethic that saw Schumacher rise from his humble roots as the son of a bricklayer pounding around on a dusty kart track in the small German town of Kerpen to a seven-time world champion who stood astride his sport like a colossus for over two decades.
Perhaps no driver before or since has influenced Formula One as Schumacher has, though in a sport that evolves as fast as Formula One, where he fits in among the greats and whether he is the greatest ever will continue to be debated.
Yes, Ayrton Senna was far more charismatic than Schumacher and yes, the intensity of emotion that Senna brought to his driving was far more poetic compared to Schumacher's robotic, calculated, but no less effective, approach to racing.
But Schumacher took driving a racing car to a completely different level. To put it quite simply, Schumacher's level of application was unprecedented and if drivers like Sebastian Vettel and Lewis Hamilton arrived in Formula One so well prepared, it was because Schumacher set the benchmark that high.
He knew that to have an edge over his rivals, simply being fast wouldn't be good enough, that to become a relentless winning machine, he would have to work on the little details.
"He turned up in Formula one with a level of fitness that we weren't used to. He could drive every corner of every lap, including the whole race flat out and we had to raise our game," former Formula One driver Martin Brundle, who drove alongside Schumacher at Benetton in 1992, said in a segment produced by the BBC in 2011 to mark Schumacher's twentieth anniversary in Formula One.
He also worked hard behind the scenes to forge a bond with every member of the team, taking the effort to get to know each person, sending them Christmas and birthday gifts, making them feel valued and appreciated, thereby creating a fierce sense of loyalty so they would willingly move mountains for him when he demanded it just as he, in return, would perform miracles for them on track every other Sunday. This was the foundation on which his success at Ferrari was built.
Then there was the way he carried himself around the paddock, radiating tremendous confidence and absolute self-belief, so that his rivals were psychologically buried before they even got into their cars.
Without a doubt, this same fierce will to win that spurred Schumacher on to perfect so many areas of his craft also drove him to commit the professional fouls that turned him into a tainted champion in the eyes of many.
Unable to accept defeat, Schumacher's career is littered with controversial incidents -- like trying to take Jacques Villeneuve off during the title decider in Jerez in 1997, or the collision with Damon Hill at Adelaide in 1994 or parking his Ferrari during qualifying for the Monaco Grand Prix in 2006 in an attempt to disrupt his rivals' qualifying laps.
"He really struggled to know where to draw the line and he couldn't understand why he was being criticised," Brundle said in the BBC segment.
All these elements together -- his fitness, his confidence, his bearing, his uncompromising approach to racing -- combined with his consistency on track that saw him deliver win after win lent Schumacher a certain aura of invincibility which perhaps makes his current state all the more shocking and hard to believe.
"What Michael represented in Formula 1 was the fight, the spirit and the absolute determination to win. Second was never good enough," Rob Smedley, Felipe Massa's race engineer at Ferrari told BBC Radio 5 Live following Schumacher's accident.
"He pushed everyone else along, and that's what's giving me a lot of hope right now. He's lying in a hospital bed in Grenoble and he needs that fighting spirit to pull through."
Find latest and upcoming tech gadgets online on Tech2 Gadgets. Get technology news, gadgets reviews & ratings. Popular gadgets including laptop, tablet and mobile specifications, features, prices, comparison.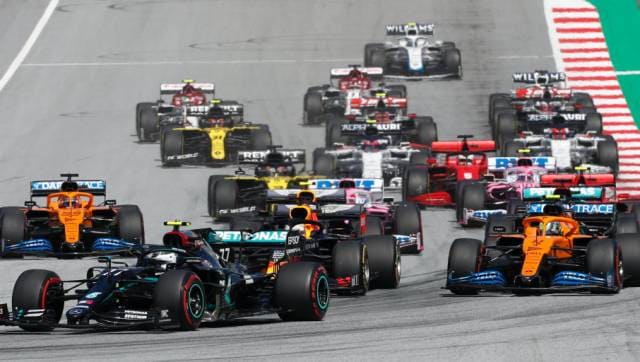 Sports
Planned for early April, the Grand Prix in Hanoi was set to be the third race of the season and the first ever held in the communist nation.
Sports
Gasly has been one of the best drivers of the season, securing his first win at the Italian Grand Prix on 6 September.
Sports
In a post on Instagram, Stroll said he spent 10 days at home in self-isolation with mild symptoms and returned a negative test on Monday.