Meeting Mika Hakkinen: Here's what it's like to be driven around in a Caparo T1 by the 'Flying Finn'
Mika Hakkinen laid down some rubber on the streets of Delhi /Gurgaon during his road show, which was part of his itinerary in India.
When I first got to know that Mika Hakkinen would be visiting India and that I would have the opportunity to work closely with him, I was delirious. "THE Mika Hakkinen!" I asked, incredulous. After all, for anyone who has watched Formula One through the 1990s, Hakkinen is a double world champion and a legend, much like his contemporaries Michael Schumacher and Ayrton Senna.
We had the privilege of Hakkinen joining us as a special guest on our Facebook Live show, the 'Firstpost Pole Position' and on the 'Inside Line F1' podcast. Apart from the show, I had the once-in-a-lifetime opportunity to sit alongside Hakkinen in his F1-inspired Caparo T1 racing car as he laid down some rubber on the streets of Delhi /Gurgaon during his road show. I am still on a 'Mika Hakkinen high' as I write this column!
During my days at Force India, I was driven around the Buddh International Circuit by Paul Di Resta in a Mercedes road car. However, being driven in a proper racing car by a former world champion driver was that much more special. Unlike a lot of racing cars used for two-seater rides, the Caparo T1 seats the passenger and the driver next to each other — thanks to the wider cockpit design. By being seated next to Hakkinen, I had the rare view of seeing his steering inputs, gear changes and the steering display from close quarters.
After a thumbs up from the track team, Hakkinen revved the V8 engine, dipped the clutch, engaged first gear and floored the throttle as he made his way around the two pedals. The grunt of the engine revving was replaced by the screeching sounds of the wheel spin as we leapt forward on the course — a long straight split by a small chicane. The first time around, Hakkinen was cautiously fast through the chicane. However, after reaching the far end of the course and after spinning the car around to perform a u-turn, Hakkinen put the throttle pedal to the metal and unleashed the actual acceleration power of the Caparo.
As we neared the chicane on the way back, I played the role of the 'passenger driver' in my mind (like we do in our Mumbai cabs ever so often!) as I slammed the brakes (in my mind, again) a few seconds before Hakkinen actually did. Clearly, despite retiring from all forms of racing a decade ago, the 'Flying Finn's' late braking skills were intact. Along with the braking, his downshifting and the engine notes that accompany the act were music for my years. As I jumped out of the cockpit, I thanked Hakkinen for the ride and knew that this was the best day of my Formula One career yet.
In the past few days, a lot of people have been asking me what Hakkinen is actually like. Well for starters, he is really friendly and warm. He loves good conversation — a far cry from the monosyllabic Finnish stereotype that Kimi Raikkonen publicly embodies. Hakkinen is also extremely humble and down-to-earth, wearing his world champion title with utmost humility.
Now, back to the interview. In days building up to the Hakkinen moment, our heads were buzzing with questions that we wanted to ask the legend. Apart from the current affairs, we wanted to know about his famous rivalry with Schumacher and on being team-mate with Senna.
Also, how did he cope with the loss of his hard-earned trophies after an electrical fire burnt them down in 2008? In his Formula One career cycle, does he believe he could ever take up a team management role with McLaren? And finally, across his Motorsport career (in and apart from Formula One), who was Hakkinen's most-challenging rival? We wanted to ensure that the questions we asked him weren't 'Google-able' (oh, the perils of the digital age).
Hakkinen's claim to fame were his twin titles in 1998 and 1999, years when he beat the Schumacher-Ferrari combination. Their battle stories would've been far more spoken about and shared had social media been around in those years. Irrespective, their rivalry will remain etched in memory for time to come.
However, Hakkinen made a very surprising revelation when he shared that one of his most challenging rivals ever was actually a female racer who competed against him in karts. "I raced against many tough drivers in my career. If I start at the beginning, when I was probably 10 or 11, and I was racing go karts, it was a girl. She drove a great line and was an amazing talent. But something happened and she went into motorbike racing and fell down a couple of times and had to end her career. What a shame!" revealed Hakkinen.
Lastly, the turmoil that the Mclaren-Honda partnership has gone through in the last few seasons has been well documented. But does Hakkinen feel that the McLaren-Renault partnership will win races next year? "Of course, they will win next year", said an optimistic Hakkinen.
Does he see himself joining McLaren's team management and steering them out of their recent troubles? "No. At the moment I say no, because it requires massive commitment from your life. It really requires me not to live in Monaco. I would have to move and live in England. I have five children, the youngest one is going to be four years old. So it would need a massive sacrifice from your private life. It's great to work but I am not ready for that yet," explained the 'Flying Finn'.
Hakkinen was on a flying visit to India to urge its citizens to #JoinThePact for his 'Never Drink & Drive' campaign. "It's great to be in control with your car and enjoy driving. But if you drink and drive, you are not in control, and you are in massive danger", warned Hakkinen.
According to reports released by the Crime Record Bureau and the Road Accidents in India earlier this year, between 8 to 18 Indians lose their lives to drunk-driving cases everydat. Over his three-day visit, Hakkinen found support from over 1.5 million Indians (and counting) who signed up for his social cause. But if there was one Indian whose life he touched a little more, it was me!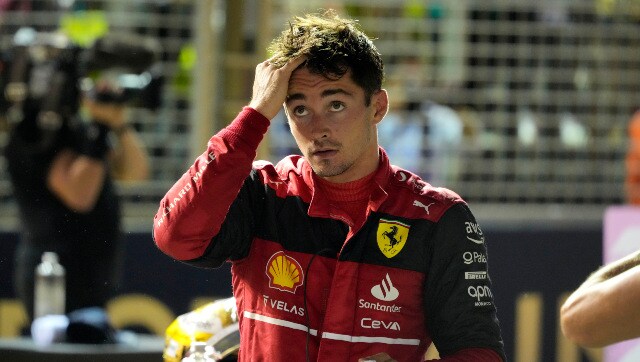 Sports
Verstappen, who has a mathematical chance to retain his world title this weekend, had looked set to challenge Leclerc's time on his final flying lap before being told to abandon by his Red Bull team.
Sports
The FIA, which had introduced a budget cap of $145 million last season, backed Horner's statement, calling the paddock rumours "unsubstantiated".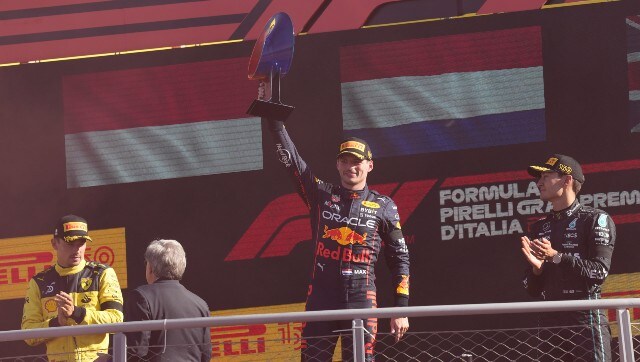 Sports
Max Verstappen opened up a 116-point lead in the drivers' standings over Charles Leclerc following his victory at the Italian Grand Prix.