Meet Aryna Sabalenka, the 19-year-old rising star from Belarus, who won her first WTA title at Mumbai Open
Aryna Sabalenka won her maiden WTA title at the Mumbai Open. Her power game and determined approach make her one of the rising star to watch out for.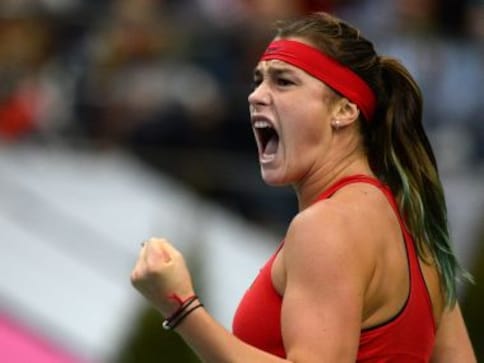 Aryna Sabalenka of Belarus was one of the biggest ranking movers of 2016, rising from No 548 in the world to 155. But her incredible ascent largely went under the radar as she had mainly competed on the ITF circuit and had won two $60,000 titles in Asia.
At the start of 2017, Sabalenka leapt into the limelight with her stunning performances in the Fed Cup. In the absence of Belarus' top-ranked player, Victoria Azarenka, the unheralded teen upset all odds to beat Netherlands' Michaella Krajicek and seal a historic semi-final spot for her country.
Sabalenka, along with teammate Aliaksandra Sasnovich, then went on to beat Switzerland in the semi-finals. They agonisingly missed out on the title after a heartbreaking loss in the deciding doubles rubber to USA in the final.
For the 19-year-old Sabalenka, the Fed Cup campaign proved to be a massive career boost as she recorded upset wins over 54-ranked Viktorija Golubic and US Open champion Sloane Stephens.
On Sunday, Sabalenka capped off her breakthrough year by winning the biggest title of her young career at the WTA 125K Series L&T Mumbai Open. She eased past Dalila Jakupovic of Slovenia 6-2, 6-3 in the final in just over an hour and has now climbed 23 spots for a career-high ranking of 73.
The Mumbai Open title was her maiden one on the WTA tour. In the last couple of months, the rising star had made the final of Tianjin Open, where she ultimately lost to a resurgent Maria Sharapova, and the semi-finals at Tashkent.
"Of course, I am very happy. This season, it had a lot of ups and downs. (Towards) the end of the season, I had really good matches, a really good experience for me and lot of wins in the Fed Cup matches. The Fed Cup was really important for me. It helped me get better in my game. So I have to say this was a good season," Sabalenka told Firstpost in an exclusive chat at the Cricket Club of India, the venue for the Mumbai Open.
Chance beginning
Though tennis is among the popular sports in Belarus, Sabalenka picked up the sport completely by chance. She credits her dad, who used to be an ice hockey player, for introducing her to tennis. 
"One day, my dad was just driving me somewhere in the car, and on the way he saw tennis courts. So he took me to the courts. I really liked it and enjoyed it and that's how it was. That's how it started," she said.
Sabalenka's Fed Cup heroics have made her a household name back in Belarus, and she was quite surprised by the reception the team received in the capital city of Minsk, which was the host venue for the final.
"We have two sports which are popular in Belarus – (Ice) hockey and tennis. But after Fed Cup final, I think tennis has become more popular."
The Belarusians donned the red and green colours of their flag while playing the Fed Cup matches, but it was Sabalenka's green-streaked hair that became the talk of social media.
However, she revealed that the green hair colour was a complete co-incidence. When asked if she had specifically got the green streaks done for Belarus' maiden Fed Cup final appearance, Sabalenka had a surprising tale to narrate. "No, it was blue. I did it (coloured my hair) blue two months ago. And then every time I washed it, it started to change and it slowly faded. And then I went for Fed Cup, and it was green!" she said with a chuckle.
Power game
Sabalenka's astonishing victory over then 13th-ranked Stephens was a perfect example of her aggressive all-or-nothing style of play. The 6'-tall teenager loves to pound the ball from the baseline and her explosive groundshots make her one of the biggest hitters in the sport.
She also has a booming serve that she uses quite effectively to her advantage. Sabalenka isn't too shy of coming towards the net either, and has an all-round game that should help her make her way to the top in the near future.
She has been playing under coach Khalil Ibrahimov for over a year, and the duo spend hours on the court every day to improve the young Belarusian's game.
"We have cameras (while practice), so we watch my videos and try to find somethings to improve and we have a lot of training sessions.
"Before matches, my coach watches my opponents' videos and then he tells me what to do, how to play against someone. My coach does all of that," she explained.
When asked what shot in her arsenal is her strongest, she replied: "I hope all my shots can be strong, but my serve, I feel is the best. I have to keep improving every shot. And, I have to improve my movement on court. That is important."
Tennis love 
Her love and passion for tennis clearly shone through when she spoke about the sport. In her candid chat, Sabalenka's hunger to improve and her desire for success stood out.
"I like the tennis life. Being on the court is my favourite part.
Tennis life, the way it is, you have to grow up early. This sport is such that you have to start early, and learn from a young age to have as much experience (as possible)," she spoke with a maturity well beyond her age.
Just 19, Sabalenka, like her young peers on the tour, has quickly adapted to the grinding life on tour. She enjoys the travel that the sport brings and has already played in various ITF events across the globe.
"I don't have too much time (away from tennis). I like to watch cinema, I like to walk around in Minsk, the capital of Belarus. And I like to spend time with my friends and family, that's very important for me. Because you are at tournaments all the time, you don't see your family as much because of the travel," she said.
Eye on the future
Now that she has broken into the top-75 of the world, Sabalenka will receive direct entry into Grand Slams and other WTA events in the next season. It will be interesting to see how she transitions from the ITF circuit to the WTA tour, but going by her results so far, the leap shouldn't cause her too much trouble.
She seemed quite excited at the prospect of competing at the top level in 2018, but couldn't pick one favourite tournament. "Every tournament has something special, so I can't pick one. If you win a tournament, then that place is special. Wimbledon is one that I would really like to win. Maybe even Miami Open, even though I have never been there. I want to play there," she said.
Among the things she is looking forward to next year, she spoke about playing on her favourite surface grass. "This year I played for the first time on grass courts (during Wimbledon qualifying). And I really liked it. I enjoyed my game on the grass courts, the feeling of grass, that's nice. I think my game is suited for grass and for hard courts."
The Mumbai Open was her last tournament in 2017 and now she heads back home for a small break and will then resume training for the upcoming season. She plans to start her 2018 season at Shenzhen in January and will then head to Hobart before the Australian Open.
Speaking about her goals for 2018, she said winning, and not the numbers, is her only focus. "My goal is to be better in my game, to be better in everything on which I work, in training and on court. My goal is not some ranking or points. It's all about winning, to get better with every game, every match."
Talented, determined and hard-working – Aryna Sabalenka is a name to remember. Watch out for her in the future as she looks all set to keep soaring.
Sports
Aryna Sabalenka battled back from a set down to beat Elena Rybakina and win the Australian Open on Saturday for her first Grand Slam title
Tennis
Australian Open 2023 Women's Final Highlights: Aryna Sabalenka defeated Elena Rybakina 4-6, 6-3, 6-4 to win her first Grand Slam title.
Tennis
Aryna Sabalenka collapsed to the court in tears after winning 4-6, 6-3, 6-4 against the Wimbledon champion in a high-quality 2hr 28min arm-wrestle on Rod Laver Arena.